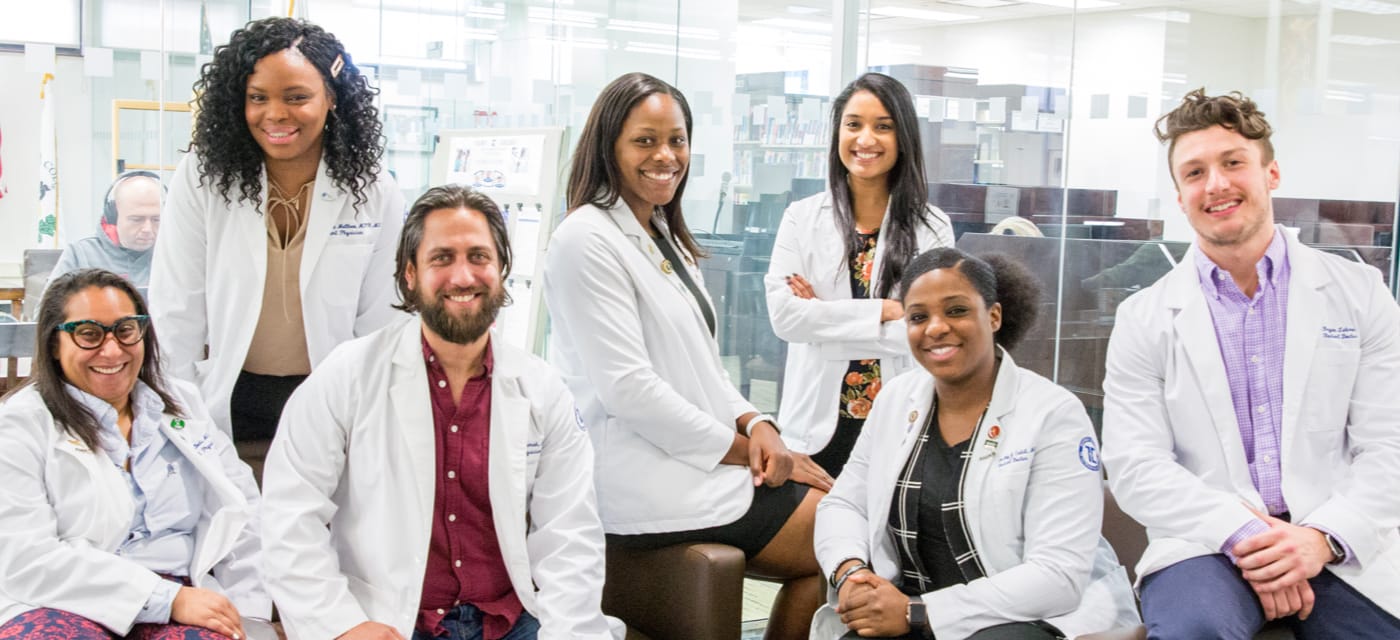 Doctor of Osteopathic Medicine
Health & Wellness
Whether your campus is in a big or small, new or old, city, you're never in it alone.
There are many people on campus that you can turn to for guidance and counseling. In addition to our counseling staff and academic support, the deans of student affairs, directors of financial aid, registrar, bursar, department chairpersons, and professors all consider it among their responsibilities to assist students in need.
Below you'll find contacts for where to go for your physical health, and in the pages information and contact for your mental health and wellness, as well. Take advantage of our counseling and wellness student support services. At TouroCOM, finding support is as easy as asking for it.
Physical Health Services
Primary Care Services in Harlem, NY
TouroCOM Family Health Center
2257 Adam Clayton Powell Jr Blvd
(7th Ave @ 133rd Street)
New York, NY, 10027
Phone: (212) 281-5252
Hours:
Monday - Friday: 9 am - 5 pm
Saturday: 9 am - 3 pm
Sunday: Closed
Primary Care Services in Middletown, NY
Garnet Health Doctors - Middletown
Primary Care Office
707 East Main Street
Middletown, NY 10940
Phone: (845) 333-7575
Hours:
Monday - Thursday: 8 am - 6 pm
Friday: 8 am - 4 pm
Open 2nd and 3rd Saturday of the Month: 8 am - 4 pm
Primary Care Services in Great Falls, MT
Benefis Family Medicine East
1401 25th Street South, Building 4
Great Falls, MT 59405
Phone: (406) 731-8394
Benefis Family Medicine Northwest
25 14th Avenue NW
Great Falls, MT 59405
Phone: (406) 455-4777
Hours:
Monday - Friday: 8 am - 5 pm
Saturday - Sunday: 7 am - 8 pm (Urgent Care/Walk-in only)
In case of illness or injury while you are in class, notify your instructor immediately or the Dean of Student Affairs. As always, in case of emergency, dial 911.
Counseling
Counseling services include confidential short-term counseling, referrals to off-campus resources, and various ways to promote wellness in support of the student's medical training.
The TouroCOM mental health counselors are licensed clinicians who provide a safe environment that prioritizes a student's emotional well-being and growth. Counseling is a chance to talk over what is on a student's mind with an objective person, and an opportunity to develop skills in order to better manage the demands of medical training. Counseling is a process that is in many ways tailored to fit a student's individual needs.
To schedule an appointment or to inquire about services, please feel free to contact:
HARLEM
Shelbi Simmons, LCSW-R
2090 Adam Clayton Powell Jr. Blvd 6th Floor, Room 603D
(212) 851-1199 x42563/(929) 333-8359
shelbi.simmons3@touro.edu
MIDDLETOWN
Lenora Koffman, LCSW-R
60 Prospect Avenue, Room 119
(845) 648-1331
lenora.koffman2@touro.edu
Student Affairs Contacts
Middletown Campus
Jerry Cammarata, PhD
Dean of Student Affairs
O: (845) 648-1331
M: (646) 789-2321
jerry.cammarata@touro.edu
Harlem Campus
Nadege Dady, Ed.D.
Dean of Student Affairs
O: (646) 981-4517
M: (646) 832-0908
nadege.dady@touro.edu
Great Falls Campus
Haley Denzer
Assistant Dean of Student Affairs
O: (406) 401-8102
hnunberg@touro.edu