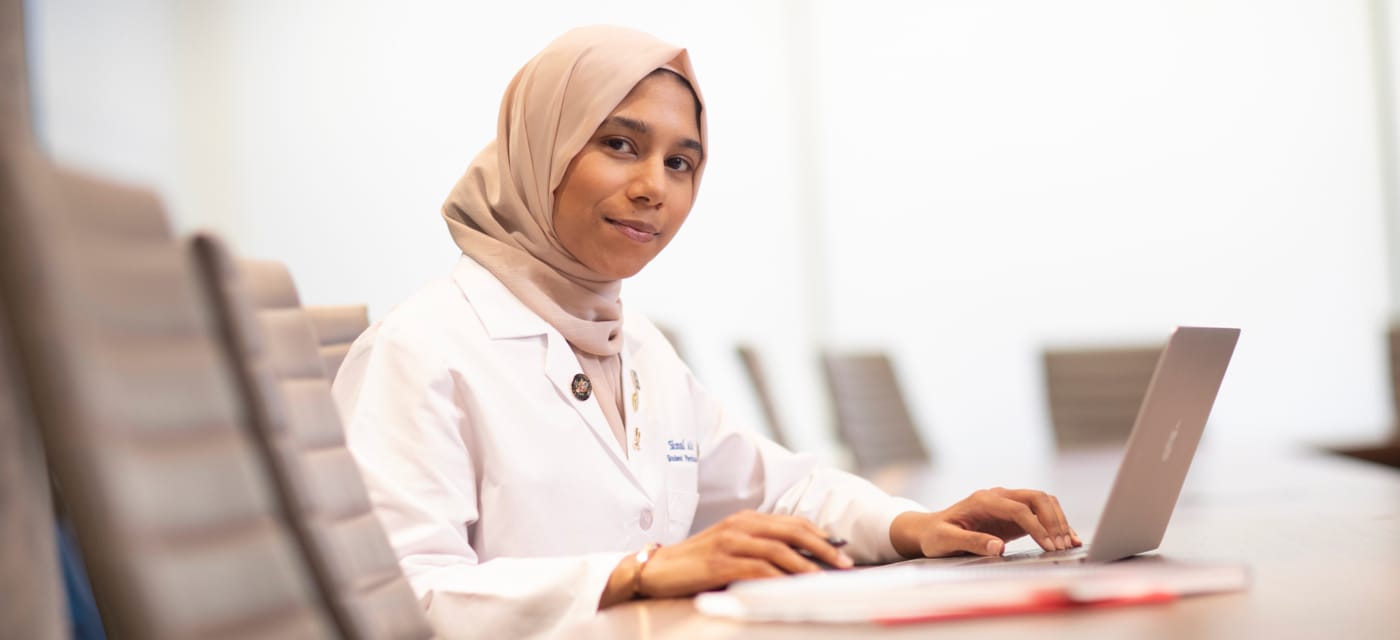 Pathologists' Assistant MS
Pathologists' Assistant MS Program
The intensive full-time, two-year Pathologists' Assistant master's program prepares you for an in-demand career based primarily in the lab.
The Pathologists' Assistant (PathA) Master of Science program is the first of its kind in New York and was designed to meet the great demand for pathologists' assistants over the coming decades. Hospitals and healthcare facilities need PathAs right now, and this program provides a valuable pipeline of highly trained professionals for these institutions.
As a pathologists' assistant, you will support the work of pathologists and pathology departments. A pathologist is a medical doctor who examines body tissues and fluids, conducts lab tests, and works with other medical professionals to address patient health. As a pathologists' assistant, you will play an important role in the healthcare community and work under the supervision of a pathologist to dissect and examine specimens. Our program will train you to assist with surgical pathology, forensic pathology, and more.
What Does a Pathologists' Assistant Do?
A pathologists' assistant is a highly-trained medical professional with working knowledge of human anatomy, biochemistry, and other important biomedical disciplines. PathAs are adept at examining and processing pathological specimens from organs and tissues affected by disease.
As the job title suggests, pathologists' assistants help pathologists in the laboratory and work under their supervision. Depending on the task at hand or the organization, PathAs may also work directly with other medical professionals like nurse practitioners or other lab scientists. PathAs work in forensic and pathology labs, hospitals, medical examiner's offices, and in academic research.
Pathologists' assistants perform gross examinations and dissect and process organs and tissues in the pathology lab. More specifically, PathAs might be tasked with:
Dissecting and preparing tissues from biopsies and surgical specimens
Documenting organs with photos
Examining specimens under the microscope
Collecting and preparing tissue samples
Training pathology lab technicians
Conducting post-mortem examinations
Pathologists' assistants are similar to physician assistants in that they work alongside a pathologist in the same way as a physician assistant helps a medical doctor. The main difference, aside from being separate disciplines, is that pathologists' assistants don't participate in surgery on a living person. While a physician assistant may help during surgery and during patient interactions, pathologists' assistants help a pathologist with intraoperative examination, post-surgical examination of a patient's tissues, and assist with autopsies. If you're more interested in solely focusing on the science of medicine and lab work than patient interaction, becoming a pathologists' assistant can be a great career fit.
How Do I Become a Pathologists' Assistant?
To become a pathologists' assistant, you'll need to first earn a bachelor's degree, usually in the sciences. Either while a student or after graduation, you'll need to shadow a practicing pathologist or pathologists' assistant. Following this experience, you can then go on to earn your pathology assistant MS from a NAACLS accredited program. After graduation, you'll need to pass the American Society for Clinical Pathology (ASCP) certification exam in order to become a certified pathologists' assistant. After all of these requirements are fulfilled, you can apply for state licensure.
Are Pathologists' Assistants in Demand?
There are a number of reasons why pathologists' assistants are coming into the spotlight. For one, a high rate of practicing pathologists are now entering retirement age, leaving a field where their expertise is needed. At the same time, the number of biopsy and surgical specimens are increasing.
The best solution to this dilemma is to hire highly trained pathologists' assistants that have a similar skill set and knowledge as a pathologist and can help address this increased demand. With a two-year master's degree, new PathAs can enter the workforce quickly, increase productivity in the field, and become a valued member of a healthcare team.
How Our Program Fills an Urgent Need for Pathologists' Assistants
As one of only 15 PathA programs in the country, this unique program fills a very urgent need in the medical community right now for scientists trained in pathology. Since this demand is relatively new, we're currently the only school in New York to offer this exciting master's program. As a newly registered professional degree in New York, earning this particular MS over the next few years will equip you with a rare but highly sought-after skill set. The limited number of certified PathAs in the country cannot meet the current demand, and a master's degree is what you need to enter this field and help meet that demand.
Based on data from similar programs in the United States, there's generally a 100% employment rate for Pathologists' Assistant graduates within 6 months. As a PathA student, you can expect similar results after certification, and look forward to a long and stable career in pathology.
Pathologists' Assistant Salary
Pathologists' Assistant salaries range based on location, experience, and certification. The current national median salary is around $95,000 (ZipRecruiter). Our clinical affiliates, where the Touro PathA students will conduct their clinical rotations, report numerous job openings for certified PathAs with salary ranges of $135,000 to $155,000. The job outlook for pathologists' assistants is excellent, so much so that there are approximately four jobs waiting for each graduate. Openings for pathologists' assistant jobs will only increase as more pathologists retire, and many of their responsibilities are shifted to PathAs.
What You'll Learn in the Pathologists' Assistant Program
Our full-time PathA program is structured to provide you with a solid foundation in graduate-level biomedical sciences which leads to more advanced pathology coursework and clinical rotations. You'll need a firm understanding of human anatomy, physiology, and other subspecialties before learning to analyze pathological processes. During semesters one through three, you'll learn mainly from lectures, virtual microscopic and gross slide review, simulated dissections, and other instructional methods from our expert faculty.
The program includes 40 weeks of clinical rotations in hospitals and labs in the tristate region. During semesters four, five, and six, you'll apply what you've learned with practical, full-immersion participation in anatomic and autopsy pathology activities in an active pathology lab.
By the end of the program, you'll be thoroughly trained to prepare and dissect tissues from biopsies and surgical specimens. You'll be ready to assist a pathologist with documenting samples, making diagnoses, and performing autopsies. With your assistance, pathologists can make informed determinations and help other physicians and medical professionals assess their patient's health.
Here are a few of the courses you'll take as part of the Pathologists' Assistant program:
Clinical Anatomy and Embryology (I & II)
Medical Genetics
General and Systemic Pathology (I & II)
Laboratory Management
Visit the Pathologists' Assistant academics page for a more detailed overview of coursework in the program.
Pathologists' Assistant Faculty
Our faculty consists of highly trained and knowledgeable MDs and PhDs in pathology and related disciplines, such as cell biology, medical genetics and immunology. With expertise in areas like anatomical and forensic pathology, our faculty work closely with students and guide them through examination and dissection in the lab and during clinical rotations. Working directly with our experienced faculty helps prepare students for their future medical career assisting pathologists, lab scientists, and other medical professionals.
Visit the faculty page to learn more about the varied backgrounds and specializations of our faculty members.
Program Prerequisites and Admissions Requirements
In addition to at least a 3.0 GPA for your undergrad degree (and preferably science courses), you'll need to have completed certain prerequisites before applying. These include courses (with labs) in Biology, Chemistry, and Behavioral Science. In addition to three relevant letters of recommendation, entry to the program also requires 20 documented hours shadowing a pathologist or pathologists' assistant.
To apply to the program and for a full list of prerequisites and requirements, visit our Pathologists' Assistant admissions page.
Program Accreditation
The Pathologists' Assistant (PathA) Program at Touro College has received approval of the preliminary report from the National Accrediting Agency for Clinical Laboratory Sciences (NAACLS). Further information about the NAACLS Accreditation process can be found on the NAACLS Website.
National Accrediting Agency for Clinical Laboratory Sciences
5600 N. River Road, Suite 720
Rosemont, IL 60018-5119
Phone: (773) 714-8880
Program Administration
Piotr Kozlowski - Director, Pathologists' Assistant MS Program
Albretha Conner - Coordinator, Pathologists' Assistant MS Program