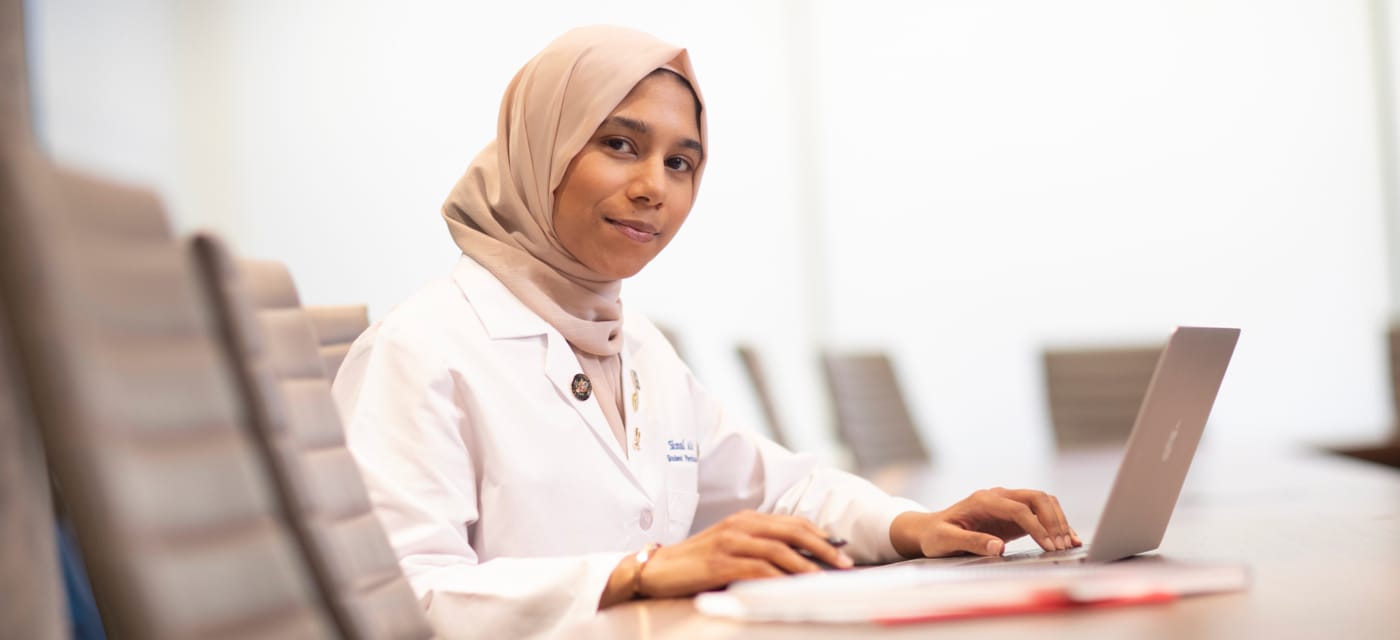 Pathologists' Assistant MS
Pathologists' Assistant Academics
The Pathologists' Assistant program begins with a foundational exploration of biomedical science and pathology. As the program continues, you will learn how to dissect tissues and assist in performing autopsies. The program culminates in clinical rotations that will allow you to gain real experience applying what you have learned in the classroom and lab. Explore the sections below to learn in more detail about each component of the program.
Academic Schedule
The Pathologists' Assistant program is a full-time, two-year program that includes summers. The first year of study focuses on didactic coursework and lab training, while the second year focuses heavily on clinical rotations. During the second year, rotations conclude in late July, with an anticipated September graduation.
Didactic Coursework
During the early semesters of the Pathologists' Assistant program, you will take courses in a range of biomedical disciplines, such as cell biology, genetics, and physiology. Much of this early coursework follows the same curriculum as first-year medical students. You will have a chance to learn about topics as varied as embryology, protein structure, and how gene expression works. Through this foundational coursework, you will develop an understanding of how the human body functions in a healthy individual, at both the cellular and anatomical level.
This prepares you to delve into the study of pathology; you will explore how abnormal processes and diseases begin, and how to analyze specific illnesses. Applying the knowledge you have learned in your biomedical coursework, you will learn how pathogenesis develops in organ systems like the circulatory, endocrine and reproductive systems. Didactic coursework continues into your fourth semester and is accompanied by practical lab training once you have developed a firm theoretical foundation in biomedicine and pathology.
Some of the essential didactic courses you will take include:
Medical Biochemistry
Biomedical Terminology
Introduction to General Pathology
Microbiology and Immunology
Lab Training
Early lab training will begin during your second semester. You will learn how to conduct basic lab processes and gain experience working alongside faculty. The Histotechnology and Medical Imaging course will train you to prepare and stain microscopic slides. You will also learn the essentials of medical photography for documentation and for further analysis by a pathologist. In the Practical Pathology course taken during your third semester, you will gain experience processing and sampling specimens and developing pathology reports.
As part of your training, you will also learn about lab management, including areas of compliance, safety, and quality assurance. By the end of your lab training, you will be able to apply your knowledge of histology, clinical anatomy and other specialties to practical challenges in the lab. Fully trained in the day-to-day lab duties of a pathologists' assistant, you will be able to process samples from organ systems like the central nervous system and lymphatic system, from patients at all stages of the life cycle.
Clinical Rotations
Clinical rotations are the final component of the Pathologists' Assistant program. During your second year in the program, you will take part in 40 weeks of clinical rotations in a variety of area hospitals and labs. Equipped with foundational knowledge in biomedicine and practical knowledge of pathology lab work, you will be ready to explore the everyday work of a pathologists' assistant.
Working under the supervision of a pathologist or pathologists' assistant, you learn to assist with autopsies and dissect surgical and biopsy specimens. You will also document specimens and apply diagnostic techniques and methodologies. Each clinical rotation focuses on either surgical pathology or autopsy pathology.
Surgical Pathology
Clinical rotations in surgical pathology allow you to participate in the dissection of gross surgical specimens and submit appropriate tissue samples. You will gain first-hand experience assisting and interacting with an attending pathologist. As part of these rotations, you will also be able to perform tissue triage, slide preparation, and section frozen tissues. Specific techniques, like flow cytometry and electron microscopy, will be used to assess cellular and subcellular pathology. In addition to working with tissue samples, you will also gain experience in managing the lab and ordering radiologic and other special tests.
Autopsy Pathology
Clinical rotations in autopsy pathology let you gain experience practicing gross dissection and examination, including in a forensic context. You will expand on your knowledge gained in the classroom and lab and learn additional specialized dissection techniques, under the supervision of a pathologist. You will also conduct detailed analysis of the different manifestations of illness, including biochemical, morphologic and physiologic processes. In addition to assisting with autopsies and writing initial autopsy reports, you will also gain experience assessing patient medical history and following government procedures and regulations.
To explore all of the courses in the program, see the full academic schedule, and read detailed course descriptions, visit the Pathologists' Assistant curriculum page.