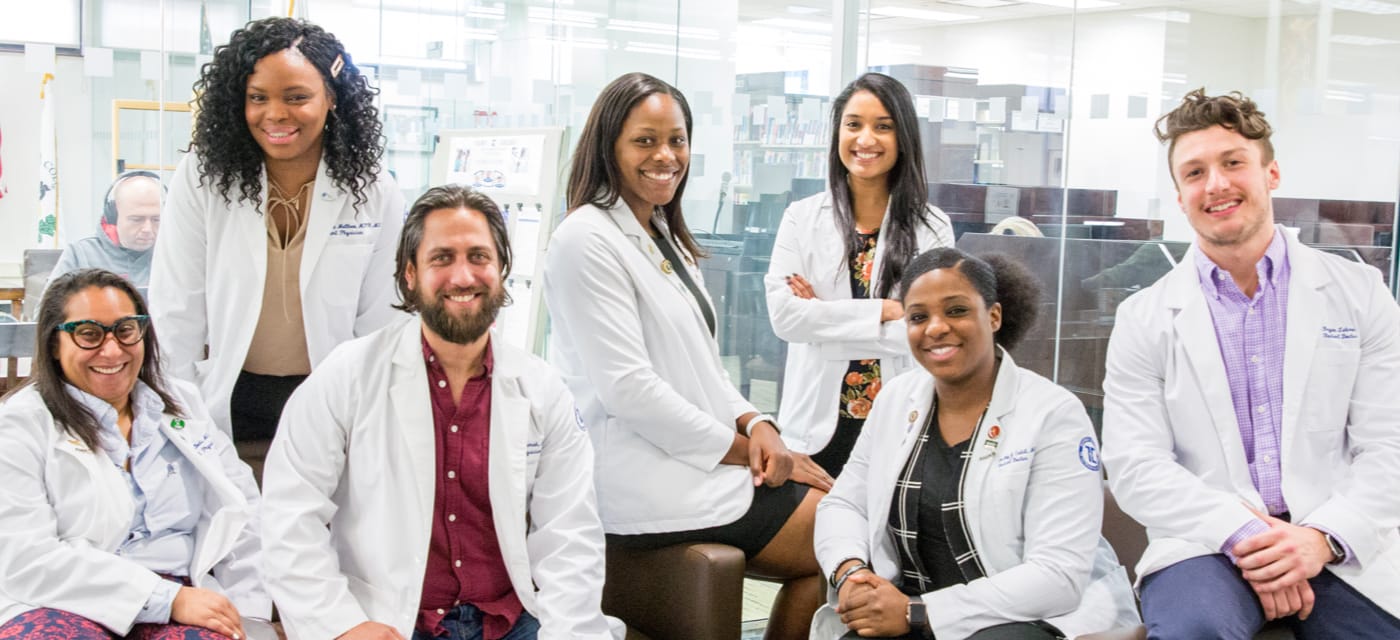 Doctor of Osteopathic Medicine
DO Program
We take both a patient-centered and scientific approach to health and disease. In our program, you'll not only learn the foundations of medical science and disease treatment, but also how to navigate complex situations with cultural competence and ethics. You'll go a step beyond a traditional MD education and learn therapeutic osteopathic techniques that add another layer to your medical practice.
What is Osteopathic Medicine?
A Doctor of Osteopathic Medicine (DO) learns the same medical science foundation and patient care skills as an MD. Both MDs and DOs undertake residencies and are licensed to practice medicine. However, DOs receive hundreds of hours of additional training in osteopathic care techniques that target the musculoskeletal system and promote healing. Osteopathic physicians also generally follow a more holistic patient care philosophy that focuses on treating the whole patient, rather than solely targeting a specific ailment. While DOs prescribe medication and recommend surgery when necessary, they often try find a less invasive treatment option first.
Today, the number of practicing osteopathic physicians is growing, and 1 in 4 medical students in the US are studying to become a DO. Many physicians in high-level positions are DOs, including the current White House Physician and NASA's Chief Health and Medical Officer.
Pre-Clinical Education
During the first two years of study, you'll become deeply immersed in the basic sciences. You'll learn that all factors—biological, psychological, and environmental—must be considered when diagnosing and treating patients. We use the latest educational technology available to give students the chance to start problem-solving and thinking like a doctor. Our faculty track your progress and can step in to help whenever needed.
Along with classroom study, you'll learn important clinical and patient care skills in our simulation and osteopathic manipulative medicine labs. You will have the opportunity to conduct simulated clinical examinations and get helpful feedback from your professors, peers and Standardized Patients. All of this is in preparation to apply your knowledge on clinical rotations during the second half of the program.
As a DO student, you'll also be expected to accomplish certain learning objectives that demonstrate your skills and knowledge around biomedical science, public health, osteopathic medicine, and more.
Innovative Medical Education Technology
Our program seamlessly integrates new classroom learning tech that improves student engagement and helps to create a supportive learning environment. We feature a flexible setup that allows you learn the material at home and dedicate in-person class time for problem solving and discussion. Our digital analytics and tools also allow your professors to track your progress and provide extra support when you need it.
More Engagement, Better Learning
Our faculty understand how valuable your time is as a medical student. That's why our "flipped classroom" approach utilizes pre-recorded lectures and assigned readings that you engage with on your own time, whenever and wherever you work best. We dedicate our valuable class time to stimulating critical thinking approaches and solving challenges presented by the material. In-class "clicker sessions" help students gauge their learning and professors monitor your progress throughout the course.
Dynamic Curriculum, Digital Assessment
TouroCOM administers all formative quizzes and summative examinations using digital platforms which maximize feedback to students on their learning and give professors the analytics to closely track student progress. Laboratory exercises and practical exams, OMM training and evaluation, and clinical practice training and testing are conducted in person by the faculty. This helps faculty and administration intervene early if they see a student not attaining the necessary competencies, a key element for successful student outcomes.
Clinical Education
During the 3rd and 4th year, you'll train at one of our hospital affiliates to begin putting your skills to practice in multiple clinical areas, such as family and internal medicine, surgery, and psychiatry. We also offer a wide range of electives, including international study, so you can further explore your specific interests. You will treat diverse patient populations while cultivating your own interests and developing a well-rounded clinical skillset.
This highly structured clinical training program is designed to give you the best preparation for your career in medicine.
As a student in our D.O. Program, you will match to complete clinical rotations during your third and fourth years.
Third year core rotations include:
Emergency Medicine
Family Medicine
Internal Medicine
Obstetrics and Gynecology
Pediatrics
Psychiatry
Surgery
Fourth year core rotations include:
Family Medicine, Internal Medicine, OBGYN, Pediatrics, Psychiatry, or Surgery Sub-internship
Ambulatory Medicine
Clinical Education Contacts
Harlem Campus
Cynthia Figueroa
Director of Clinical Education
230 West 125th Street
New York, NY 10027
Phone: (646) 981-4559
Fax: (646) 745-8704
rotation.tourocom@touro.edu
Middletown Campus
Sarah Stoltz Kessler
Director of Clinical Education
60 Prospect Avenue
Middletown, NY 10940
Phone: (845) 648-1211
Fax: (845) 648-1019
midmed.clinical@touro.edu
Montana Campus
Stephanie Zeszutek DO, FACOG, RPh
Assistant Clinical Dean
2801 18th Avenue South
Great Falls, Montana 59405
Phone: (406) 401-8156
preceptor.tourocom-montana@touro.edu