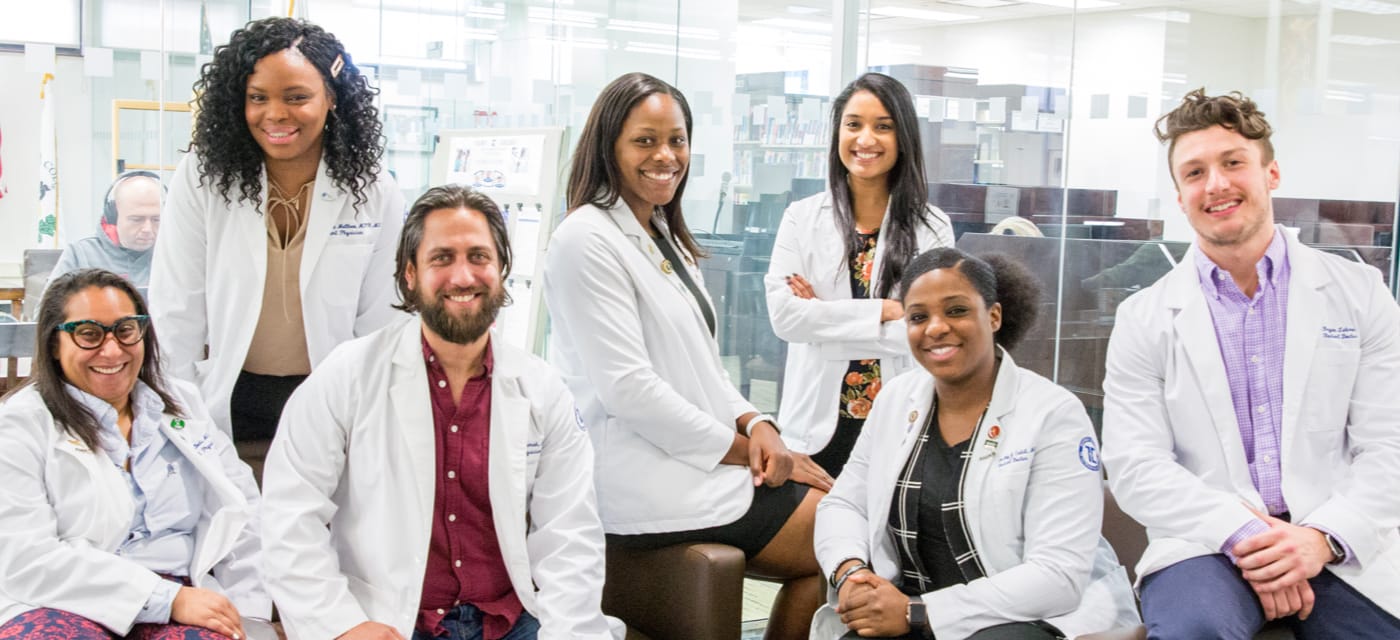 Doctor of Osteopathic Medicine
Rotations
Your third and fourth years of medical school are spent on various rotations, putting into practice what you've learned in the classroom. Here you'll find our rotation locations and the information you'll need for your rotations.
Rotation Locations
Information You'll Need to Get Started and While on Rotations
The clinical experience is highly structured and offers ample built-in support and flexibility.
Introduction to Clinical Rotations
Your clinical experience begins with the three-part Introduction to Clinical Rotations course, which every student must complete. Please see the New Innovations website for dates, location and any additional information needed.
Registration
You must register for rotations through the Registrar. Registering does not mean that the Registrar has each student's rotation schedule. Students will choose their specific core rotations on the scheduling software New Innovations.
Incoming 3rd year students
You will choose your rotations in March prior to beginning your 3rd year on July 1st.
Incoming 4th year students
You will choose your rotations the December before beginning your 4th year on July 1st. Schedule your 4th year electives as soon as possible after scheduling your core clerkships. Students will be granted access to VSLO the spring semester of 3rd year.
International Students
Please reach out to the International Students Department to ensure all requirements are met before beginning rotations.
Deadlines
Each schedule must be completely reflected on New Innovations including all cores and electives by September 1st. This is the schedule that will be submitted to the Registrar and will be seen on TouroOne and your transcripts.
Adding or Dropping a Rotation
If a student chooses to change a rotation and receives approval it is the responsibility of the student to complete a Clinical Rotation Change Request Form, obtain the proper signatures, and submit the form to the Registrar. If a Change Request form is not submitted, courses will remain as initially scheduled on TouroOne and on all transcripts released.
As registration is completed by semester, Add/Drop forms are only necessary if courses are changed from one semester to another. i.e. Fall to Spring Semester
Transportation
Students are responsible for their own transportation during rotaions.
Supportive, Mental, and Behavioral Health Services
Student Credentialing Forms & Dates
Deadline: Students must submit all health and credentialing forms to Verified Credentials by April.
Make sure all forms are up to date!
Students are responsible for updating all certifications and immunizations that expire annually and bi-annually.
Students must make sure their health credentials are up to date before beginning their 4th year rotations.
Students must make sure their health credentials are up to date before beginning their residency programs upon graduation.
Various rotation sites may require separate health and administrative forms in addition to the standard credentialing file. These forms must be received by your coordinator at least 30 days before the start of your rotation.
Pre-Rotation Certifications
This training is mandatory to begin rotations.
ACLS and BLS
Students will complete AHA online training and return to campus to complete the skills portion of their certification.
OSHA/HIPAA
Students are required to return to campus for training.
Please see New Innovations website for dates, times and location and any additional information needed.
New Innovations
All students will be utilizing the Clinical Education Departments' rotation software New Innovations.
Please follow the below instructions to log on for the first time:
Go to: www.new-innov.com
Enter the below login information:
Institution: Touro
Username AND password: first initial last name (ex. ksteier)
You will be prompted to change your password upon first sign in.
Evaluations and Preceptors
Preceptors are able to complete your evaluations online on New Innovations.
You have the ability to request that your preceptor complete your evaluation at the end of each month. This prompt will be seen on your home screen when available.
Please email the Department their name and contact information if a preceptor is not on the software. If a student preceptor is not a credentialed faculty member there may be a delay in their addition to the software while they complete that process as it is a requirement.
Student Schedules
If a student schedule is inaccurate on New Innovations please contact the appropriate student coordinator immediately.
Student schedules on New Innovations are the schedules used by coordinators at TouroCOM and rotation sites, therefore if you are not scheduled for a rotation, you may not receive credit for it.
Electives
Elective requests must be submitted at least 6 weeks prior to the month you are requesting. Failure to provide this information (as it should be on New Innovations) may result in a canceled rotation.
The schedules that are sent to the hospitals are created from New Innovations therefore not informing the school of any rotation requests will not be ensured full credit by administration.
Elective requests are mandatory for ALL electives regardless of the rotation site or usage of the VSLO system.
It is the student's responsibility to submit all necessary documentation to the elective site.
The clinical education department is only responsible for submitting credentialing files for core rotations.
Once the elective is approved the student will receive a signed elective request and letter of good standing from their coordinator to submit to the elective site with the rest of their credentialing file (health forms, immunization records, etc.)
The elective site must sign the elective request form as well. Upon receipt of this completed form the student's schedule will be updated in New Innovations.
Changing a Rotation
All changes in your schedule require the submission of a change of rotation request form.
All forms should be submitted at least 6 weeks prior to the rotation to ensure the ability to confirm with both the rotation site you are leaving and availability at the new site.
If you do not receive confirmation that this rotation has been changed and your schedule has not been updated on New Innovations then you are still scheduled for your original rotation.
Approval of elective requests do not grant approval of change in request forms. These are separate forms and should be used accordingly.
If you do not attend a scheduled rotation or change your schedule without notification you will not receive credit for that rotation.
In the Hospital
Orientation
All students should anticipate attending orientation scheduled prior to July 1st. Clinical site orientations are required.
Please check your email and your New Innovations homepage for updates regarding your rotation site orientation.
Time Off
If a medical student needs days off while on rotation that is at the discretion of the hospital as they must request the time off from the hospital coordinator or the preceptor with whom they are working. We do not grant excused absences for interviews. You should plan around your rotation schedule.
Students on rotation do not follow the TouroCOM academic calendar.
* Please see the Clinical Rotations Manual below for additional information.
Examinations, Evaluations and Electives
Evaluations
All evaluations must be submitted within 6 weeks from the last day of the rotation. Submitting an evaluation on New Innovations electronically is the most efficient method.
The evaluation must include student name, preceptor name, rotation name, and date or the evaluation will not be accepted
Evaluation forms can be found in the Department Manual section of New Innovations
All evaluations must have a signature from the DME/preceptor
COMAT Shelf Exams
Shelf Exams will be given the last week of each rotation block during 3rd year rotations, unless students are otherwise notified. The official schedule will be posted on New Innovations. Please refer to New Innovations for COMAT schedule.
If a student is taking an elective, that month students will take a shelf exam in OMM.
These exams will now be given electronically and students should bring their computer on the day of the exam.
Please visit www.comat.starttest.com and download the secure browser to do a system check on the computer being used and to download the appropriate browser. This process will take less than 5 minutes.
If you are experiencing technical issues prior to the exam, please contact your coordinator regarding use of a school computer.
Visiting Student Learning Opportunities
The VSLO program is solely for 4th year students. During the second semester of their 3rd year, students will be given access to VSLO to begin scheduling their 4th year electives.
Transcripts will be updated to VSLO by the administration periodically throughout the year in batch form, not at individual request.
ERAS
MSPEs
Students will be required to submit their noteworthy characteristics for MSPEs to administration, during 3rd year.
Upon completion of MSPEs by the administration, students will be given ONE opportunity to review and edit this document.
If the document is submitted after the deadline requested changes will not be honored.
If more than one response is sent to the administration with varying edits, only the first response will be honored.
MSPEs will be uploaded by administration to the ERAS portal by the MSPE release date.
Students going through the match and ERAS application process for the second time can request their old documents be uploaded. MSPEs will not be edited again for applicants reapplying.

ERAS will open at the beginning of your 4th year.
Students will receive their ID's from the TouroCOM Administration.
Documents that are uploaded by the school include: Transcripts and MSPE's.
Documents that are uploaded by the student: Application, Photo, Personal statements, Board Scores including COMLEX and USMLE reports.
Documents that are uploaded by the preceptor: Letters of Recommendation
MyERAS
Any questions a student has about using the MyERAS Applicant portal can be best answered by contacting the MyERAS applicant help resources.
TouroCOM Administration does not have access to your applicant site and cannot assist you. Please contact MyERAS for assistance in viewing uploaded documents, finalizing requests for LORs, etc.
Contact MyERAS at:
myeras@aamc.org
202-862-6264
Monday-Friday
8 a.m. - 6 p.m. ET
Non ERAS Residency Application Policies
Students must make an appointment with their coordinator to discuss the applications that must be submitted outside of the ERAS program
A pre-addressed envelope with sufficient postage should be provided by the student in order to submit the application
If a student is unable to meet with their coordinator in person due to extenuating circumstances then a pre-addressed envelope with postage and specific instructions listing documents to be included may be sent to the Department of Clinical Education
Students should note that administration only has access to the documents that students do NOT upload. All other documents are only accessible by the student and must be submitted by the student as part of the application to be sent to the program.
GME Opportunities at COM Affiliates