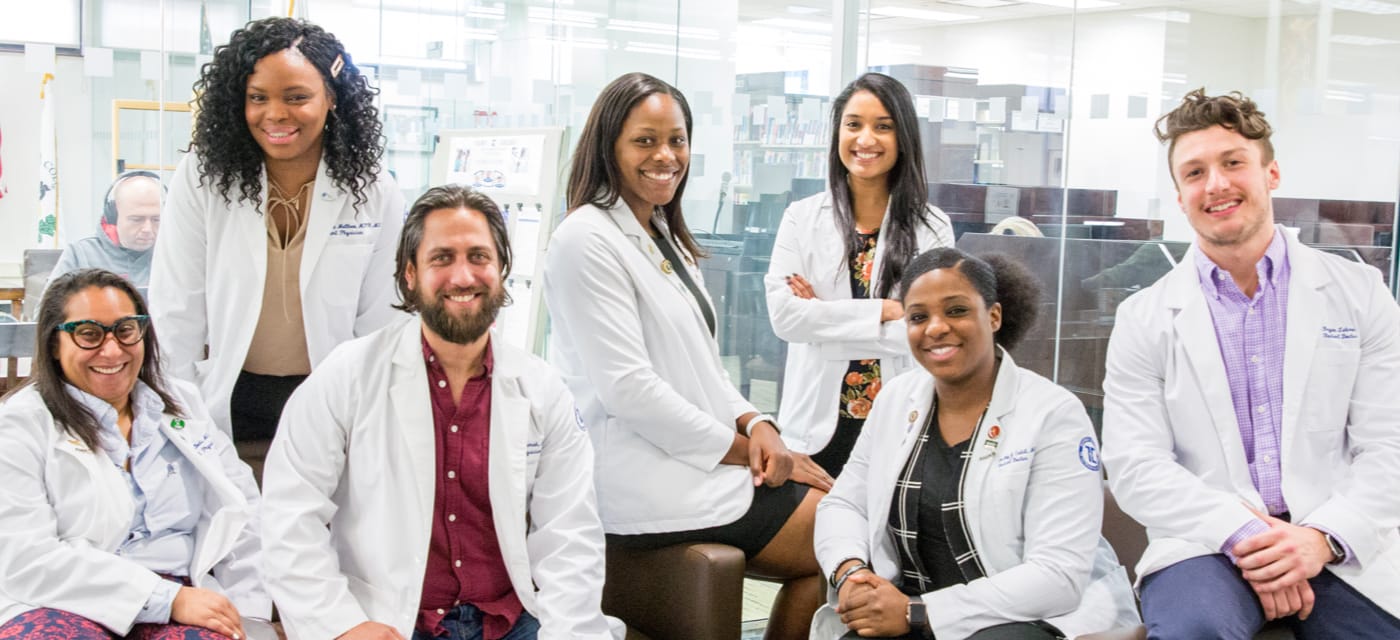 Doctor of Osteopathic Medicine
Academic & Career Counseling
Your mentors and advisors play a key role at TouroCOM. Every student has multiple resources they can turn to for academic, professional, and personal support.
Tutoring
Improve your test-taking skills or study habits, or concentrate on critical course material and content.
Through the Office of Student Affairs, peer-tutoring services are available throughout the academic year.
To receive tutoring services, you must first register in the Office of Student Affairs and ask your faculty advisor/mentor to endorse your request. Your mentor will work with you and your tutor to help you get back on track.
Become a Peer Tutor
To apply to become a subject-area tutor, the chair of the appropriate department must give their approval. All peer tutors should be in good academic standing, possess strong communication skills, and demonstrate mastery of the specific course material.
Work-study tutors are paid hourly. You must be registered in the Office of Student Affairs to be eligible for payment for services.
Academic Success and Support
Medical Education Learning Specialists (MELS) offer individual academic coaching to support you in your development as a self-reflective, adaptable, and resilient learners. MELS meet one-on-one with students during their pre-clinical years to discuss evidence-based learning strategies; as well as time management and test-taking skills. Individual academic coaching is also available to support Level 1 and Level 2 COMLEX preparation. Please visit the MELS Canvas Course for helpful resources and scheduling information.
Hope Brennan
Medical Education Learning Specialist | Middletown Campus
(845) 648-1000 ext. 60251
Jennifer Casriel
Medical Education Learning Specialist | Harlem Campus
Faculty Advisors
Medical school can be intellectually, physically, and even emotionally challenging. Our faculty advisor program helps students feel comfortable seeking support where they most need it.
We encourage you to take advantage of the insight, expertise, and help your professors can offer you. At a minimum, your faculty advisor can provide academic advising. But truly, your advisor will be your strongest advocate, taking a personal interest in your progress and helping you navigate the challenges you experience as a student.
You should contact your advisor as often as necessary for advice or encouragement. Your mentor will also assume a pro-active role in your academic performance, and will intervene to offer or find additional help as you need it.
Student Organizations
Student organizations are organized by career interest whereby the leaders of that student organization regularly host outside speakers on campus to present on topics of interest, keeping them professionally engaged to future career paths.
Conferences
The COM supports your exposure to future career choices by facilitating your attendance at annual conferences. Attendance provides opportunities to connect with future mentors, attend lectures and presentations within the field, present posters or abstracts on topics of interest as well as network with future colleagues.
Alumni Mentoring Program
The TouroCOM Alumni Mentoring Program matches third- and fourth-year students with alumni mentors that fit what current students are looking for in a residency – specialty, geographic area or particular program, or other factors (couples match, military scholarship, raising a family while in residency, for example).
To request one, contact Beth Portnoy, Coordinator of Alumni Affairs, alumni.tourocom@touro.edu, (646) 981-4576.
Director of Clinical Rotations
In addition, students can speak with the regional Director of Clinical Rotations to discuss topics such as: board exams, preparation, exam scores, residency programs, electives, conducting interviews, match selections, selection of a career, and the alumni mentor society. Students can meet with the Directors of Clinical Rotations during their third and fourth years, while at the clinical sites, or by appointment (contact the Clinical Education Department).
Clinical Faculty/Preceptors during Clinical Rotations/Clerkships
The Clinical Clerkship Program and the Directors of Medical Education at each affiliated hospital site further enhance opportunities to advance career interests. The overall clerkship program is designed to provide education and training in the general areas of family medicine, internal medicine, obstetrics & gynecology, pediatrics, psychiatry, emergency medicine, and surgery; as well as exposure to additional specialty areas not limited to anesthesiology, pathology, and psychiatry, while radiology and geriatrics are covered throughout most rotations.
The Clinical Education Department maintains a listing of preceptors, their specialties and contact information that have specifically volunteered to counsel students. A listing can be found on the rotations portal via www.new-innov.com or can be provided by the Clinical Education Department.
Touro's Writing Center
Students can utilize Touro's Writing Center. The Writing Center helps you prepare written documents related to the job search process including: Resumes, Cover Letters, Letters of Application, Letters of Recommendation, and Thank You Letters.
Office of Student Affairs Contact
Harlem Campus
Nadege Dady, EdD
Dean of Student Affairs
230 West 125th Street
New York , NY 10027
646-981-4517
nadege.dady@touro.edu
Middletown Campus
Jerry Cammarata, PhD
Dean of Student Affairs
60 Prospect Avenue
Middletown, NY 10940
O: (845) 648-1102
M: (646) 789-2321
jerry.cammarata@touro.edu
Great Falls Campus
Haley Denzer
Assistant Dean of Student Affairs
2801 18th Avenue S
Great Falls, MT 59405
(406) 401-8102
hnunberg@touro.edu