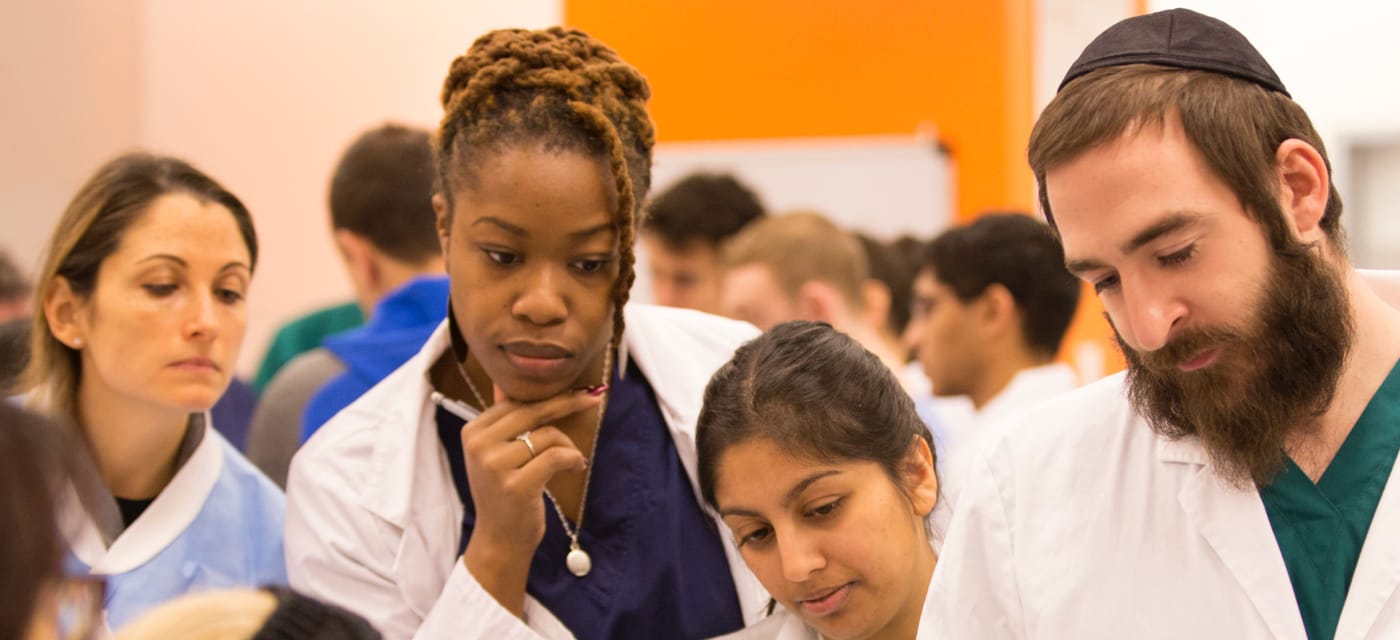 About TouroCOM
Diversity, Equity, and Inclusion
Our mission and goals at TouroCOM is to help the underserved and underrepresented so they are no longer underserved or underrepresented. It means we have a strong focus on encouraging our graduates to practice medicine in underserved areas geographically, like many rural areas, and in underserved areas of medicine, like primary care. It means we are committed to increasing the numbers of underrepresented in medicine (URM) physicians so the diversity of physicians matches the diversity of the communities they serve. We address this in our curriculum, events, student organizations, committees, staff & faculty development, and programs & pathways to medicine, and scholarships offered.
Pathway Programs
An important part of increasing the number of underrepresented minorities in medicine, is helping them get there. We have pathway programs for k-12 and college students. The Medachieve program is a vibrant one in our school and allows middle school and high school students, who might not have a physician role model, to see themselves in the field, to come to campus, meet our students, and get a taste of doctoring. We partner with Mentoring in Medicine to help students plan a path forward to graduate as a health professional with advanced science training.
Insight Into Diversity STEM Award
MedAchieve, our mini medical school, is the recipient of the Insight Into Diversity STEM award, which shows our commitment to encouraging and inspiring a new generation of people to consider careers in science, technology, engineering, and math.
"This award-winning program continues to make a significant difference through mentoring and teaching, research, and other efforts worthy of this national recognition. It's a fact that underrepresented professionals who work in STEM fields enjoy significant opportunities to engage in new discoveries and innovations on a global scale. To advance diversity, promote equality, and build a stronger U.S. workforce, we at INSIGHT recognize the importance of increasing the number of people from underrepresented groups entering STEM professions. Colleges and universities have the opportunity to accomplish this through innovative programs and initiatives for current and future students." (From Insight Into Diversity)
Our MS in Biomedical Sciences is designed for students who need to strengthen their application to medical school, or other health science programs such PA, PT, OT, and pharmacy. It serves as a strong feeder into our DO program, and many of our successful underrepresented minority graduates started in this master's program.
Scholarships
Our URM Scholarship Fund, Martin Diamond, DO Scholarship Fund, and Alumni Scholarship for Board Prep Materials are internal scholarships we have set up to try and alleviate the financial burden of medical school costs and loans and to encourage underrepresented minorities in medicine and increase diversity in the field. Our URM Scholarship Fun alone has been distributed to over 40 recipients since it was inaugurated in the 2015-2016 school year. We also encourage students to apply for external scholarships such as the AACOM Sherry Arnstein Scholarship and Health Professions Scholarship Program for the Army, Navy or Airforce.
Student Groups
Our student affinity groups represent the rich diversity of our student body, as do the events they plan. We have a student representative who serves as a mashgiach on-site to ensure kosher standards for our Jewish, and Muslim, students, and student groups that represent the African American, Muslim, Christian, women in medicine, Asian, LGBTQ+, and Latino communities. The student organizations organize educational workshops and health-related activities on campus focused on enhancing knowledge about their unique medical needs.
Asian Pacific American Medical Student Association (APAMSA)
American Medical Womens Association (AMWA)
Latino Medical Student Association (LMSA)
Muslims in Medicine Student Association (MMSA)
Student National Medical Association (SNMA)
Creating Osteopathic Minority Physicians who Achieve Scholastic Success (COMPASS)
Faculty & Staff Development
We host workshops as needed for faculty and staff to address specific implicit bias as it may present itself by faculty towards students, and students towards students. The workshops address the importance of understanding blind spots that are based on stereotypes and lifelong perceptions.
Meet Our Director
Director of Community Affairs and Diversity | Harlem Campus