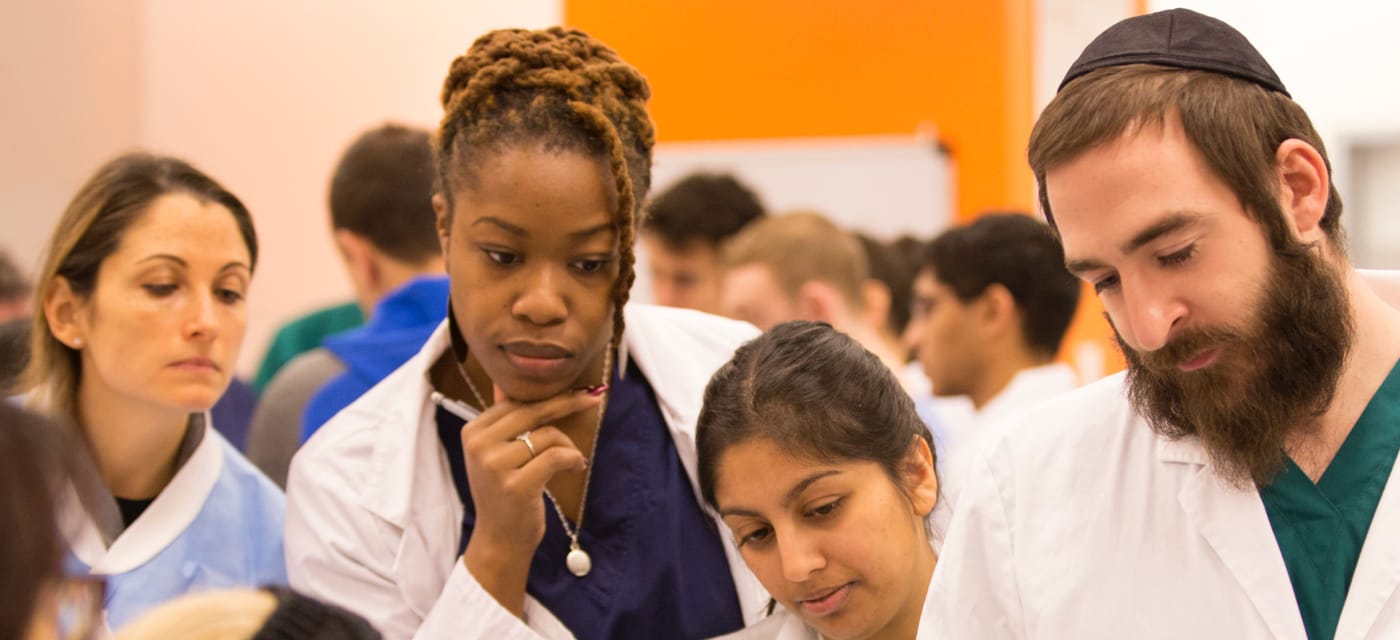 About TouroCOM
Harlem Community Advisory Board
Henry Cohen, PharmD (Dean and Professor, Touro College of Pharmacy)
John Crepsac, LCSW, CASAC (Senior Partner, Diversonomix)
Nadege Dady, EdD (Dean of Student Affairs & Assistant Professor, TouroCOM - Harlem)
Martin Diamond, DO (Dean Emeritus, TouroCOM - Harlem)
Dr. Hazel Dukes (President, NAACP New York State Conference)
Geoffrey Eaton (Director of Community Affairs and Diversity, TouroCOM - Harlem)
Walter Edwards (CEO, Full Spectrum of NY)
Icilma Fergus, MD (Director of Cardiovascular Disparities, Mount Sinai Medical Center)
C. Virginia Fields, MSW (President & CEO, National Black Leadership Commission on AIDS)
Abraham Jeger, PhD (Professor, Touro College of Pharmacy)
Michael Hardy, Esq. (Executive Vice President & General Counsel, National Action Network)
Lynne Holden, MD (President, Mentoring in Medicine)
John Palmer, PhD (President, John Palmer Associates, Inc.)
Arthur Prancan, PhD (Preclinical Dean, TouroCOM - Harlem)
Patricia Salkin, PhD, JD (Senior Vice President for Academic Affairs, Touro University; Provost, Graduate & Professional Schools)
Allyne Spinner, LCSW (Executive Director, First Steps to Recovery)
Kenneth Steier, DO (Executive Dean, TouroCOM)
Middletown Advisory, Advancement, and Advocacy Board
The AAA Board was created to assure that the medical school receives significant community input as it develops programs to serve the interests and needs of the Mid-Hudson Valley Region, New York State and the Nation.
Kenneth Steier, DO Board Chair (Executive Dean, TouroCOM New York)
Jack Berkowitz
Gerald Jacobowitz, Esq. (Partner, Jacobowitz & Gubits, LLP)
March S. Gallagher, Esq. (Chief Strategy Officer, Hudson Valley Pattern for Progress)
Tony Danza (Danza/Leser Group, Developer of the Horton Complex)
Jonathan Schiller (Chief Operating Officer, Orange Regional Medical Center)
Ronald Israelski, MD (Director of Medical Education, ORMC)
Scott M. Lask (President, Wedbush Financial Services)
Philip Dropkin, Esq.
Jerry Cammarata, PhD (Chief Operating Officer, TouroCOM-Middletown)
Kristine Young (President, SUNY Orange)