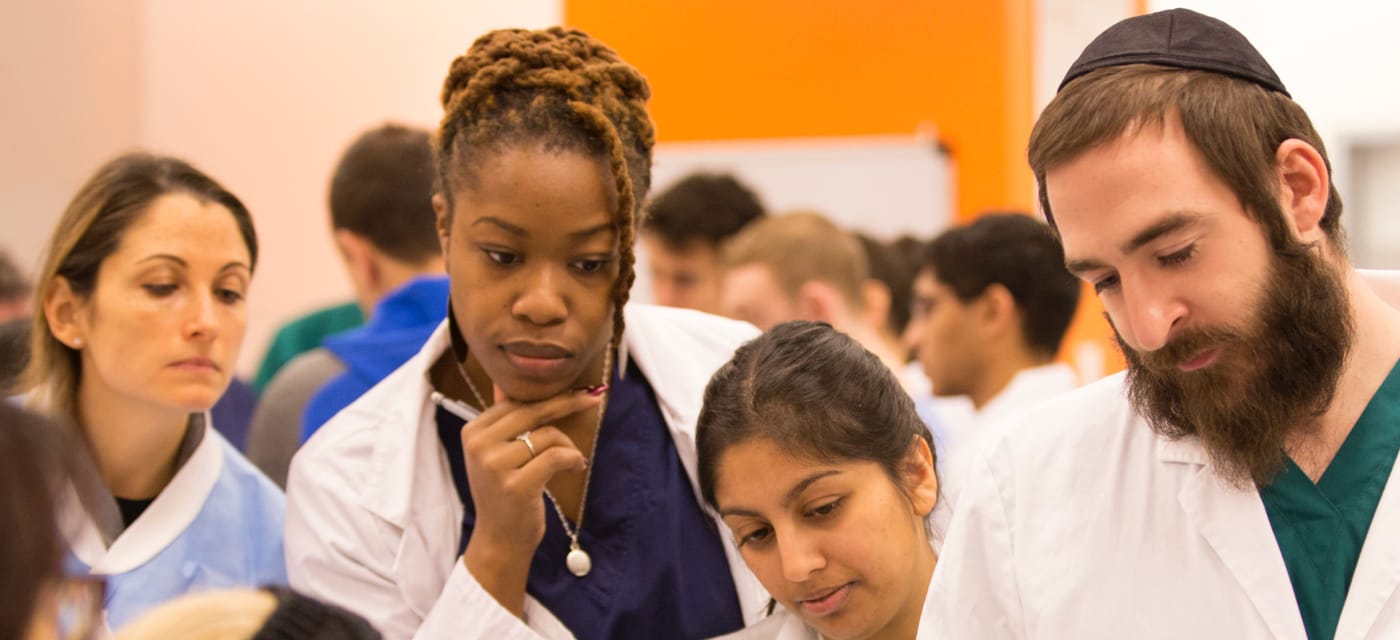 About TouroCOM
Geoffrey Eaton
Director of Community Affairs and Diversity
Touro College of Osteopathic Medicine - Harlem
Contact
(646) 981-4519

230 West 125th Street, Room 321
Biography
Geoffrey Eric Eaton is Director of Community Affairs & Diversity for Touro College of Osteopathic Medicine (TouroCOM) & The Touro College of Pharmacy (TCOP). Geoffrey was a founding member of the TouroCOM Harlem Community Advisory Board (CAB), which he serves as Co-Chair. In his role as Director, Geoffrey will continue Touro's mission and goal of improving the health of the Harlem's residents, by fostering more community and student engagement participation; and increasing the enrollment of underrepresented minorities into TouroCom's MedAchieve, Master's in Biological Science Program, Medical School and School of Pharmacy. Geoffrey will continue his work with the CAB to raise significant funding to its signature Underrepresented Minority (URM) Scholarship Fund program, which to date, raised over $200,000.00 and awarded $75,000.00 to TouroCOM students of color.
Geoffrey Eric Eaton also serves as First Vice President of the NAACP New York State Conference, and President of the NAACP Mid-Manhattan Branch, and one can say he was born into a career in public service. At a young age, Geoffrey made history as one of the first African-Americans to work on the deck of the New York City Circle Line Sight Seeing Yacht, in the positions of Deckhand, Quartermaster, and First Mate.
Mr. Eaton is a life-long Harlem resident with a distinguished career in public service, whose leadership has played a critical role in advancing the interests and the mission of the NAACP. Geoffrey embodies the spirit of the NAACP and knows what it means to both serve and to lead. Prior to ascending to the Presidency, Mr. Eaton served for ten years as First Vice President, where he oversaw several committees and learned the inner-workings of the organization.
Mr. Eaton previously served as Chief of Staff to legendary United States Congress Member, The Honorable Charles B. Rangel. In this capacity, he oversaw the day-to-day management of the Washington, D.C. and New York offices and was Congressman Rangel's designee to a number of important Boards, including the New York Empowerment Zone, the Upper Manhattan Empowerment Zone, the Harlem Community Development Corporation, and the West Harlem Development Corporation, Inc. Prior to his work with Congressman Rangel, Geoffrey amassed over 20 years of experience in New York City government, where he served in a variety of positions including deputy public advocate for community affairs for the first elected Public Advocate, Mark Green.
Geoffrey Eaton continues to volunteer with several civic, cultural, and community organizations, including The Harlem Arts Alliance, Inc. and The City College of New York (CCNY) President's Executive Advisory Board, to name a few. In recognition of his exemplary record of service, Geoffrey has received a number of unprecedented NAACP National and State Conference awards, including the first ever "Medgar Wiley Evers NAACP New York State Medal of Freedom Award," and many other community service honors.