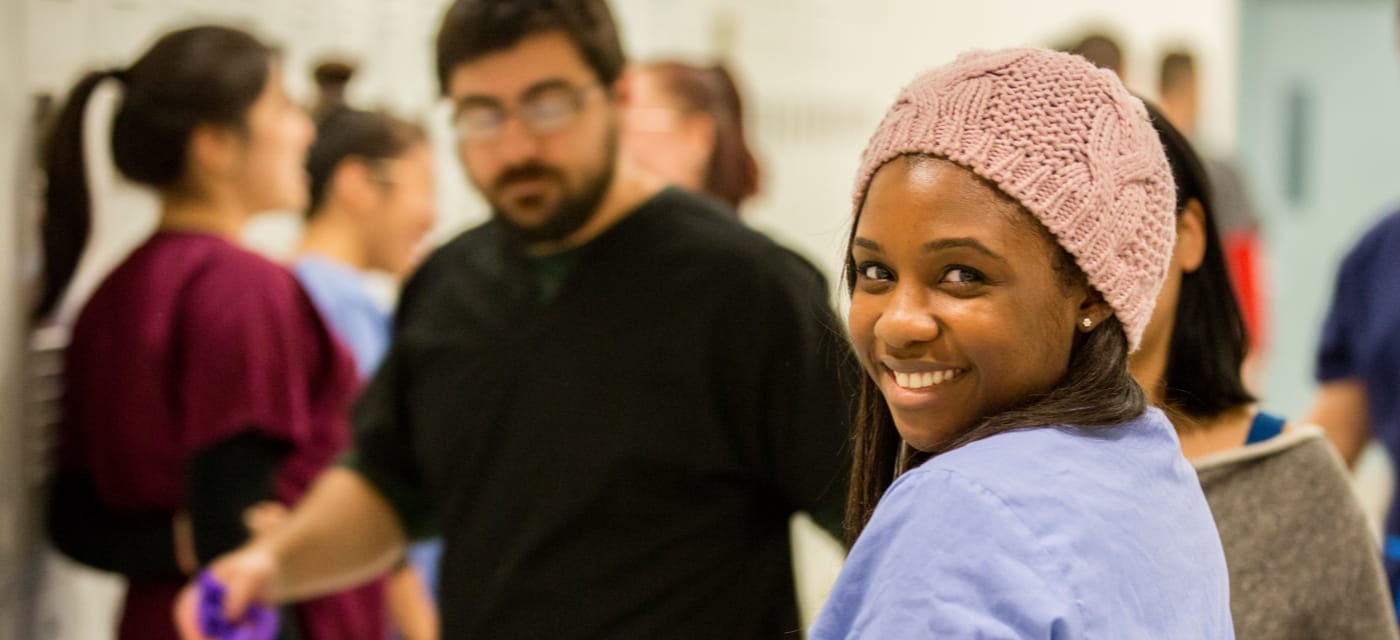 Admissions & Aid
Admission Requirements
You will apply through AACOMAS (American Association of Colleges of Osteopathic Medicine Application Service). Before you do, review the academic requirements below and our technical standards for becoming an Osteopathic Physician.
Our first admission requirement: you must have the passion and drive to become a physician.
TouroCOM uses a holistic approach to admissions. While academic success is important, we also evaluate you based on your research, clinical, extra-curricular, and community service experiences, as well as your interest in, and commitment to, practicing osteopathic medicine.
In Order to Apply You Will Need:
A Bachelor's Degree
A bachelor's degree from a regionally accredited college or university or its equivalent if completed in a foreign country. Students who are working toward the completion of their bachelor's degree, and have completed at least 75% of their undergraduate credits, can be considered for admission.
Pre-requisite Coursework
Candidates applying to the DO program should meet the following prerequisites in their undergraduate or post-baccalaureate studies. Please note the minimum grade for any course listed below is a 'C' or better. Also, 'P' or 'S' grades given during the Spring 2020, Summer 2020, and Fall 2020 semesters are also acceptable.
Biology: At least 8 semester hours (a 4 or 5 on the AP Biology exam or a 6 or 7 on the IB Biology are acceptable substitutes).
Inorganic Chemistry: At least 8 semester hours (a 4 or 5 on the AP Chemistry exam or 6 or 7 on the IB Chemistry are acceptable substitutes).
Organic Chemistry: At least 7 semester hours. 3 hours of Biochemistry may count toward your total.
Physics: At least 8 semester hours (a 4 or 5 on the AP Physics exam or a 6 or 7 on the IB Physics are acceptable substitutes).
English: If your BA/BS was completed in the English language, specific English coursework is not required. If your BA/BS was NOT completed in English 6 semester hours are required (a 4 or 5 on the AP English Composition or English Literature exam or a 6 or 7 on the IB Language A are acceptable substitutes).
Mathematics and/or Computer Science: At least 3 semester hours (a 4 or 5 on the AP Pre-Calculus, Calculus AB or BC, or Statistics exams, or 6 or 7 on the IB Mathematics are acceptable substitutes).
Behavioral Sciences: At least 3 semester hours. Behavioral Sciences include psychology, sociology, and anthropology, amongst others (a 4 or 5 on the AP Psychology exam, a 6 or 7 on the IB Psychology, or a 6 or 7 on the IB Social and Cultural Anthropology are acceptable substitutes within this category).
Please note any AP or IB score being used for a pre-requisite is subject to verification via a pdf copy of your AP scores from the College Board or the International Baccalaureate Organization (go to IBO.org and select school # 038943 - Touro College of Osteopathic Medicine).
Please refer to https://help.liaisonedu.com/ for a full listing of which courses may be used to fulfill each of the above requirements.
Students who have yet to complete all pre-requisites for the DO program may be admitted on a provisional basis, and are expected to earn a grade of 'B' or better in those pre-requisite courses still in progress. All incomplete coursework must be finished prior to matriculation at TouroCOM.
Coursework Completed at Foreign Institutions
An AACOMAS-approved evaluation service must review any undergraduate credits received from foreign institutions. For a list of approved evaluation services, review the AACOMAS Applicant Help Center.
Medical College Admissions Test (MCAT) scores
Only scores from MCATs taken no more than 3 years prior to the planned enrollment year are accepted (e.g., a January 2021 score for Fall 2024 enrollment is acceptable whereas a December 2020 score is not).
Letters of Recommendation
You will need to submit an evaluation from a pre-professional advisory committee, OR two letters of recommendation from natural science faculty (e.g., biology, chemistry, or physics) familiar with your academic work. A letter from a natural science/research laboratory supervisor can be used as a substitute for one natural science faculty letter.
An applicant who has not been in school for five years or more may submit one letter of recommendation from a current supervisor in place of the second natural science faculty letter. If the applicant is working in a medical career field (e.g., nursing or pharmacy), a letter of recommendation from a medical/ healthcare supervisor is preferred.
One letter of recommendation from a physician (DO or MD) who has observed you in a clinical/professional setting. Please note a letter from a DO is preferred. Also, it is highly encouraged, when possible, to shadow a DO.
Please note it is recommended that all letters should be on letterhead and must be signed. Letters from relatives will not be considered.
Secondary Application
Once you have applied, AACOMAS will grant TouroCOM access to your primary application. The Office of Admissions will contact select qualified applicants with an invitation to complete a secondary application online. If invited, you will need to submit:
Completed Secondary Application
You will need to submit the secondary application online, along with a $200 non-refundable secondary application fee. The fee will be paid at the conclusion of the secondary application submission process. TouroCOM will waive the secondary application fee for those eligible for the AACOMAS Fee Waiver Program.
Casper and Duet Exam Results
What is Casper™?
(Computer-based Assessment or Sampling Personal Characteristics) Casper™ is a computer-based situational judgment test designed to evaluate core personal characteristics considered essential for students to be successful in medical school and ultimately, as practicing physicians. Some of these include professionalism, ethical grounding, empathy, compassion, and cultural sensitivity. Casper™ can be taken anywhere you can access a computer with audio capabilities and a reliable internet connection in a quiet location.
Casper™ consists of a series of hypothetical everyday situations presented through video or text format. Each situation relates to one or more personal characteristics. Examinees are asked to provide short written responses to a series of questions asked about each situation. No studying is required to take Casper™ but taking the practice exams is highly recommended.
Casper™ results are considered a reliable and predictive tool for an admissions committee to broadly assess the personal attributes of an applicant.
What is Duet?
Duet is a value-alignment assessment that compares what you value in a program with what the program has to offer. Acuity developed this short assessment because each program is different and has something unique to offer, whether it's teaching style, research opportunities, and interactions with faculty. With Duet, your individual preferences are compared with programs' unique profiles to help assess your mutual alignment in a standardized way.
Why has TouroCOM incorporated Casper™ & Duet into our secondary application?
TouroCOM places a high value on personal characteristics, which we believe are essential to becoming a capable and compassionate physician. Casper™ and Duet are considered objective tools to evaluate an applicant's personal attributes. We believe using Casper™ and Duet makes the application review process fairer for the applicant.
The incorporation of Casper™ and Duet into our holistic review process represents the commitment of TouroCOM to evaluate each applicant as an individual – weighing personal attributes in equal measure with academic metrics and foundational experiences.
What do I need to do to take Casper™ and Duet?
Advanced registration is required. Casper™ and Duet are administered by an external testing company. There is a total fee of $52 associated with Casper™, which is not part of the TouroCOM application fee. It consists of a $40 test fee plus a $12 distribution fee, which is paid directly to the testing company upon registration.
Learn more about registering for Casper™ and Duet.
Note: Snapshot is not required