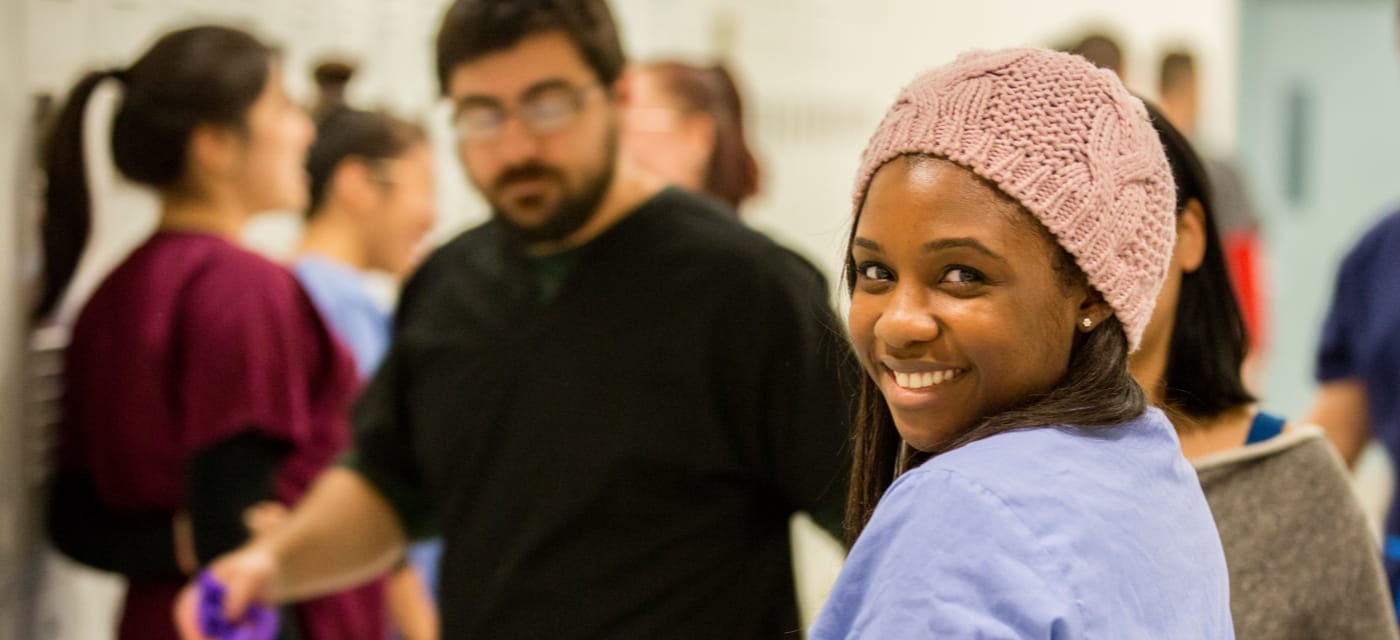 Admissions & Aid
DO Admissions
The journey to becoming a physician is challenging, but the positive impact you make on the lives of your patients and the health of your community ca not be underestimated. An osteopathic physician takes patient care a step further and is committed to understanding each patient's situation holistically, and finding the best possible care solutions. When applying to our program, it's important that you have a strong desire to become an osteopathic physician and are excited to embody the tenets of osteopathic philosophy in your medical practice.
We require specific undergraduate coursework, MCAT scores, and GPAs. We also consider your achievements and personal qualities when evaluating each application. For more detail on what you will need for your application and academic requirements see our application requirements and technical standards.
We accept applications on a rolling basis until the March 1 AACOMAS deadline.
How to Apply
To apply to the DO program, submit your application through the centralized application system at Choose DO.
If you need help with your application, see the AACOMAS Applicant Help Center or contact AACOMAS Customer Service: aacomasinfo@liaisoncas.com
See the student handbook for our non-discrimination policy.
Application Fee Waiver
Economically disadvantaged students may qualify for an AACOMAS application fee waiver. If a student applies to AACOMAS and is approved for the fee waiver, we will honor that approved waiver for the TouroCOM secondary application fee. You can learn more about how to apply for an AACOMAS fee waiver on the Choose DO website.
Transfer Students
If you're interested in transferring to TouroCOM, you must be enrolled in a COCA or LCME accredited medical school and in good standing at your prior institution. See our Transfer Students page for more details on how to apply as a transfer student and specific admissions requirements.
COVID-19 Temporary Admissions Adjustments
In conjunction with AACOM's COVID-19 admissions recommendations, Touro College of Osteopathic Medicine will be temporarily adjusting its admissions requirements for the 2023-2024 admissions cycle as follows:
All interviews during the 2023-2024 admissions cycle will be conducted remotely.
Pass/ Satisfactory Grading - TouroCOM will accept "pass/satisfactory" grading for coursework, including pre-requisite coursework fulfillment, for the Spring 2020, Summer 2020, and Fall 2020 semesters in the context of your entire academic history. Letter grading is highly encouraged when available.
Online Coursework – Although TouroCOM places high value on the in-person classroom experience, we will accept all online coursework.
Physician Letter of Recommendation - Although TouroCOM normally requires one letter of recommendation from a physician (DO or MD) who has observed you in a patient/ clinical setting, we recognize that live shadowing opportunities have become more difficult to obtain in recent years. Therefore, even though a "shadow" letter is ideal, in place of this letter we will accept either of the following:

A letter from a non-physician supervisor who has observed your interactions with patients.
A letter from a DO or MD who has supervised you in a lab or professional setting and can talk about your professionalism and your interactions with other staff members.
Please note, virtual encounters will be accepted.
Health Care and/ or Extracurricular Experience Hours - TouroCOM does not have a set requirement for experience hours. However, you should be able to explain how your experiences are relevant to your understanding of what the clinical environment is like.
Secondary Application and Admissions Interview
The Admissions Office will contact select qualified applicants with an invitation to complete a secondary application. See our Application Requirements section for more details.
Once we have received the secondary application, the Admissions Office will contact select candidates to schedule an interview. Submission of a secondary application is not a guarantee that an applicant will be interviewed.
The Interview Process
We invite selected applicants to participate in an informational presentation and a formal interview. Campus visits and interviews are conducted on a rolling basis from October through May.
When touring a campus, an Admissions representative will lead a tour of the medical school facilities, and provide some historical background about TouroCOM and our parent institution, Touro University. We will also provide details about the surrounding community, and available housing.
During the interview, candidates will meet with several faculty members. Faculty members will have full access to an applicant's record during the interview. Interviewers' feedback is considered alongside an applicant's academic credentials and experiences. An interview does not guarantee acceptance.
Acceptance to TouroCOM
The Admissions Committee submits their final recommendations for acceptance to the Dean of the College, who reserves the authority to approve all applications. We usually notify candidates of our decisions within two months of the formal interview, and make every effort to notify waitlisted candidates as soon as possible.
Citizenship Requirement
Individuals who have met all application requirements and permanently reside in the United States at the time of application, are permitted to apply and matriculate at TouroCOM. Currently, TouroCOM does not consider DACA or international students.
Eligibility for Federal Financial Aid is limited to US Citizens and US Permanent Residents. Additional information may be viewed by visiting the Eligibility Requirements on the Financial Aid page.
Foreign Transcripts & Evaluation
AACOMAS will only accept foreign transcript evaluations and not the transcript itself. An AACOMAS-approved evaluation service must review any undergraduate credits received from foreign institutions. For a list of approved evaluation services, visit the AACOMAS Applicant Help Center.
But please keep in mind that if you are offered a seat at TouroCOM and deposit, official foreign transcripts will need to be provided in addition to the evaluation report. Since this can take weeks or months, we advise you to procure a handful of sealed official transcripts that may also be needed in the future for licensure and/or employment purposes. Please note, TouroCOM only accepts evaluations from agencies accredited by the National Association of Credential Evaluation Services, listed at NACES.org.
Contact Our Admissions Office
Our admissions team is available to answer your questions about the admissions and interview process. If you have specific questions about the online application process, be sure to contact AACOMAS.
Email admissions.tourocom@touro.edu or fill out the request information form.
Harlem Admissions and Student Services
230 West 125th Street, Rooms 434-436
New York, NY 10027
Phone: (212) 851-1199
Fax: (212) 851-1183
Middletown Admissions and Student Services
60 Prospect Avenue
1st Floor Student Services
Middletown, NY 10940
Phone: (845) 648-1111
Fax: (845) 648-1018
Great Falls Admissions
2801 18th Avenue South
Great Falls, Montana 59405
Phone: (406) 401-8101