"The White Coat is a Superhero Coat"
Class of 2027 at Touro College of Osteopathic Medicine New York Dons White Coats
August 08, 2023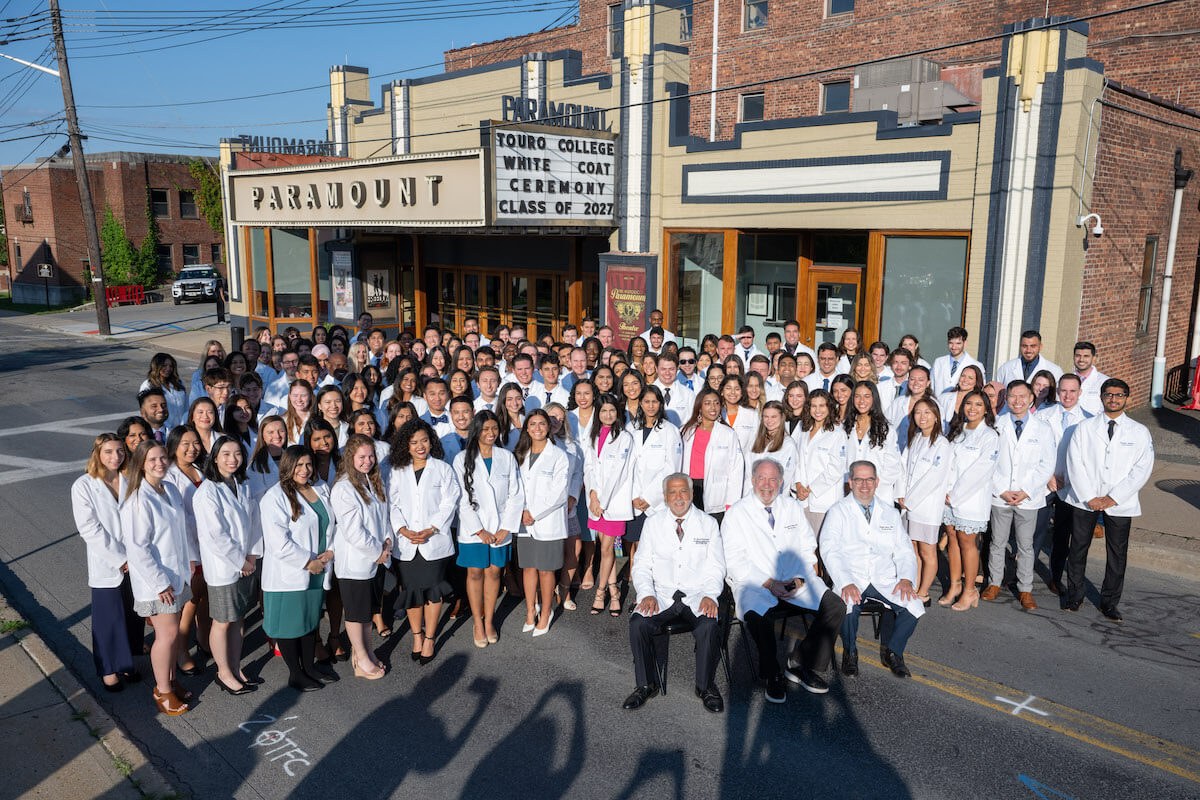 Members of the Class of 2027 in TouroCOM's Harlem and Middletown campus donned their white coats on July 31.
Members of the class of 2027 from TouroCOM's Harlem and Middletown campuses took the next step in their medical journey on July 31 as they donned their "superhero coat," as one speaker dubbed it. The schools' White Coat Ceremonies were held in Harlem's famed Apollo Theater and Middletown's historic Paramount Theater.
TouroCOM Harlem OMS-1 Allison Walker-Elders, of Maine, who possesses one of the most impressive backgrounds of her fellow students including a three-year stint with The Peace Core in Madagascar and several years working for an NGO promoting women's health, said that finally putting on her white coat "feels like it was a long time coming."
"I've spent so long seeing people I went to college with going through their own white coat ceremonies and wondering when it would be my turn—I'm excited to finally be here!" said Walker-Elders.
The location of the ceremony was especially important to many students like Walker-Elders who stated that one of the reasons she chose TouroCOM-Harlem was the school's work in treating the underserved.
TouroCOM Harlem OMS-1 Chloe Kwok echoed the sentiment. "Other schools I interviewed at talked about serving the underserved, but TouroCOM actually showed us what they do in the community."
Service and the obligation of the white coat was a recurring topic throughout the speeches of the day.
"It feels real now," said TouroCOM Middletown OMS-1 Colleen Chen. "We've had our white coats hanging in our closet and now we finally get to put them on."
Touro Vice President Rabbi Moshe Krupka opened the ceremonies with a benediction, and then in a change from most years, delivered a brief speech about the history of the university that he usually delivers during the school's orientation program.
"Touro was founded by a 56-year-old rabbi sociologist with 35 undergraduate students," Rabbi Krupka said. "Today, Touro has a worldwide enrollment of 19000 students." He estimated that roughly four percent of graduates from graduate-level health science programs—ranging from nurses to occupational therapists—are coming from Touro.
During both ceremonies, TouroCOM dean Dr. Kenneth Steier explained the significance of the white coat and how the lives of the students will change as soon as they put it on. "You are no longer a civilian, but a physician in training, responsible for everyone around you," he said. In the days ahead, when students faced the challenges of medical school, he advised "When you're locked in your room studying basic sciences, look in your closet and pull out your white coat and put it on. Think of your future. The patients and families you will help. These white coats will inspire you and help you get through the challenges… The white coat is a superhero coat. Wear it wisely."
Expanding on the topic of newfound responsibilities, Touro President Dr. Alan Kadish spoke of the lofty mission of the physician, not only to heal a person but a physician's responsibility to heal society.
"You have a chance to unify and make society a better place," said Dr. Kadish. "The white coat means you are uniquely qualified and responsible to help other people lead better lives… I know with the talent and the support of the people in this room and the education you'll get at Touro, each of you will make a real difference in a society that needs healing."
Continuing the theme in TouroCOM Harlem's white coat ceremony, keynote speaker Dr. Gregory Kerr, MD, MBA, FCCM, an attending anesthesiologist at the Harlem Hospital Medical Center and former TouroCOM Preceptor of the Year, spoke of what he said was the most pressing issue facing the new students: the health challenges resulting from climate change, which he said included heat stroke, heat exhaustion, and a plethora of new diseases.
"Each of you can, will, and must be involved," he said. "Not only care for the people but care for my home and your home: the planet Earth."
Dr. Shantie Harkisoon, MD, keynote speaker of TouroCOM Middletown's white coat ceremony urged the students to remember to take care of themselves during the long years ahead. "The path you have chosen is not an easy one," she said. "But if anyone can show the world how to keep your light bright it's you… And even on your loneliest day, know you are not alone."
View TouroCOM Middletown WCC photos View TouroCOM Harlem WCC photos