"Match Day" Success at Touro College of Osteopathic Medicine
Majority of Students Choose Primary Care and Hospitals in Underserved Areas Across New York and US
March 23, 2023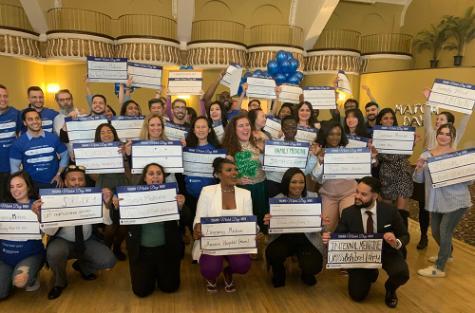 TouroCOM Harlem Class of 2023
The Class of 2023 at Touro College of Osteopathic Medicine (TouroCOM) gathered at their Harlem and Middletown campuses Friday with family and friends to learn where they would spend the next several years of their medical education.
The occasion was "Match Day", the annual ritual where graduating students from around the country open envelopes or go online at the same time to find out where they were matched by the National Resident Matching Program.
By day's end, all of Middletown's 131 students were successfully matched and Harlem was not far behind, with 111 of its 113 students matched.
Primary Care in Underserved Areas
"Our seniors did great, well above the national average. Very impressive," said Executive Dean Kenneth Steier, "The matches were very diverse – anesthesiology, radiology, emergency medicine, family medicine, internal medicine, pediatrics, OB-GYN, and psychiatry. More than half will be going to primary care and to hospitals in underserved areas, which meets our mission," he said.
Paul Loigine, a first generation Haitian American who matriculated into the DO program in Harlem from the master's program, was thrilled to learn he would be going to his first choice – the University of Kentucky for physical medicine and rehabilitation.
Waiting for the news? "It was tachycardia!'' joked Loigine. "I was nervous but excited. I knew I matched and no matter what I was going to be a doctor!"
Loigine said he was drawn to PM&R during a fourth-year rotation, "I realized how beautiful it was to have a relationship with a patient at bedside and ask them, 'Where do you want to be by tomorrow, or next week, and how can we get you there?"
When Janelle Wright learned she matched to Aventura Hospital in Miami in emergency medicine, she leapt for joy. Wright had come to the U.S. at age 19 from rural Jamaica after winning a scholarship to study at Mt. Holyoke College in Massachusetts. She became an EMT right away and loved it, setting her on a path to the M.S. degree and then the DO program.
"In rural Jamaica there's no such thing as 911 or emergency medical care. The first time I saw an ambulance was when I came to the U.S. I thought 'This is cool, interesting.' I kind of followed that path. I just really loved the sirens, lights and the action. That's my calling."
Gabriel Saffran was relieved to find out he matched to his first choice, NYU Langone Hospital - Long Island, for internal medicine. He had been treated for three years at the hospital, previously known as Winthrop University Hospital, when he was a child.
"It's a full circle story," he said, explaining with a baby due in July, he was "super relieved" to learn he'd be staying close to home and the family would not have to move as he's starting residency. "It takes a lot of the stress away."
Matched in Romance and Residency
Tony Song met his girlfriend Krista Rounds on his interview day at Middletown and they matched together to Virginia Commonwealth University. Song, who worked for a Silicon Valley startup before medical school, will be going into PM&R and Rounds into family medicine.
"We were unable to be at the same place at the same time, which added to the stress, but we were able to get on the phone with each other and FaceTime," said Song. "We were both ecstatic when we learned. We were hoping to get our #1 choice. We're over the moon."
Luiza Czernia, who volunteered to set up the day's celebration at Middletown, matched into general surgery at SUNY Downstate Medical Center. Czernia came to the U.S. from Poland and said she knew at an early age she was headed for medicine.
"I knew I wanted to be a surgeon since I was a little girl. It's been in the works for the past 15 years," she said. "I'm ecstatic. One step closer to my dream. Surgery [involves] a unique trust between physician and patient you can't get in any other specialty."
Other hospitals and medical centers receiving TouroCOM graduates are, in the northeast, NYU Grossman School of Medicine, Rutgers-R W Johnson Medical School, Zucker School of Medicine-Northwell Staten Island University, Albert Einstein Medical Center, New York-Presbyterian/Weill Cornell Medical Center, Hackensack University Medical Center, Mount Sinai Morningside-West, Westchester Medical Center, Montefiore Medical Center/Einstein, Stony Brook Teaching Hospital, Garnet Medical Center and Vassar Brothers Medical Center.
Elsewhere around the U.S. graduates will be residents at Cleveland Clinic, George Washington University, Baylor College of Medicine, and Loma Linda University, among others.