A Summer of Learning
Touro College of Osteopathic Medicine Students Pursue Research: Making Scientific Discoveries and Rounding with the Team
November 16, 2023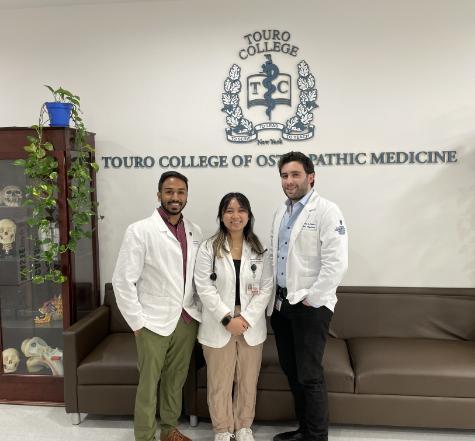 L-R: TouroCOM students Faatin Salekin, Laura Velasquez and Jonathan Graber
Faatin Salekin, a second-year student at Touro College of Osteopathic Medicine Harlem, was always interested in neurology. As an undergrad, he majored in neuroscience, and during his first year of medical school he did a poster presentation about a small discovery. But this past summer, he took his interest to a new level as a summer research intern at the National Institute on Aging, at Johns Hopkins in Baltimore, Md.
Tasked with helping investigate how insulin is secreted, Salekin also learned the benefits of summer research can extend beyond scientific discoveries. The most valuable part of the experience, he said, was the relationships developed with mentors and faculty.
"I discovered a variant of insulin in the muscle tissue and brain, through the microscope," he said, but added the relationships he formed were what made his experience worthwhile.
Having A Good Mentor
"At the end of the day, anyone can learn. But having a good mentor and good people around you are underrated blessings. They helped me, gave me advice and were always there for me. I learned everything about the insulin pathway from the relationships."
Jonathan Graber participated in a summer research program at Staten Island University Hospital, Northwell Health, where he did a literature review on the effectiveness of treatment options for patients with atrial fibrillation and end state renal disease. Specifically, he looked at oral anticoagulants.
Despite being frustrated at having to write and rewrite the review, Graber said he felt a sense of accomplishment and recommends summer programs for medical students – especially those with no research experience.
"Besides weekly lectures about research that serve as a good springboard into this world, it's a laid-back way to get your feet wet. And you can continue with your resident/attending throughout the year," he said.
Shadowing the Team
Lauren Velasquez participated in the National Multiple Sclerosis Society Mentorship Program at Stanford University. Based in a neurology clinic, Velasquez participated in case conferences, went on Grand Rounds and engaged with patients. She shadowed members of the healthcare team - including physicians, a physical therapist, neuropsychiatrist and speech language pathologist.
"They were wonderful mentors, and as a future physician, it helped me think about how I wanted to be a better member of the team. It helps improve the care of the patient," she said. "They always included me. I was allowed to ask questions of the patients and get very involved in the care they were providing."
The clinical exposure helped put into context what Velasquez had been learning at school and she felt recharged to return for fall semester.
Other summer programs TouroCOM students participated in were the USC/CHLA Summer Oncology Research Fellowship (SORF) Program, for students considering biomedical careers involving cancer research; the U.S. Department of Veteran Affairs Summer Research Program; and the National Institutes of Diabetes and Digestive and Kidney Diseases, part of the National Institutes of Health.
Back on campus in the fall, Salekin helped organize a symposium where the student researchers shared their experiences. It would be the second such gathering, the first organized in 2022.
"It was to showcase our research but also to pass on the torch, to get first-year students motivated to apply" for research opportunities, he said, noting he was the third TouroCOM student to do the NIA internship. "It's a streak now, let's keep it going for #4!!" he posted on his slide presentation to classmates.