Med School Alum is Back at TouroCOM, Now as a Professor
TouroCOM Alum and Current Adjunct, Dr. Nicole McGill, Sees Herself in Her Students
August 02, 2021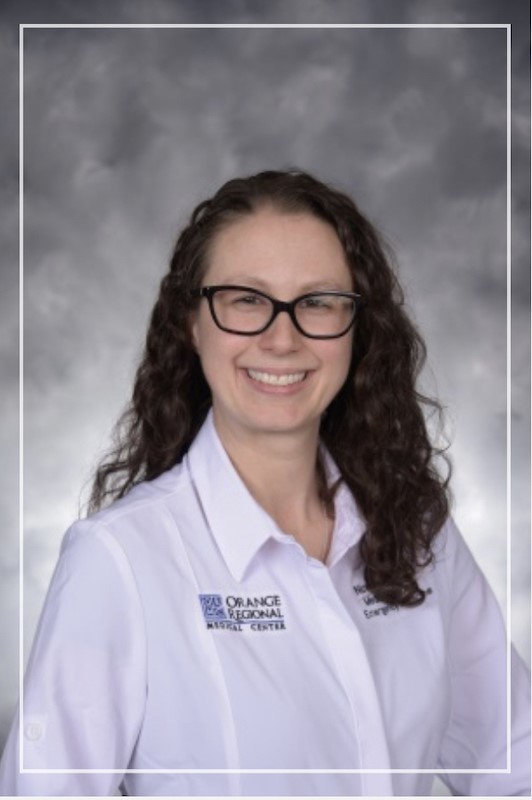 Nicole McGill, DO
Like many a good professor, TouroCOM's Dr. Nicole McGill sees herself in many of her students. In Dr. McGill's case, the connection/resemblance is a bit stronger. In 2012, after working in the restaurant industry for ten years, Dr. McGill decided she wanted a change and enrolled in TouroCOM Harlem.
After graduating she became an emergency medicine specialist at Orange Regional Medical Center and also began working at TouroCOM Middletown as an adjunct professor. Dr. McGill teaches the Medical Simulation class with one of her favorite professors, Dr. Joyce Brown. (Recently, Dr. McGill alongside Dr. Brown hosted an intense MedSim Boot camp for twenty-two hours over two days.) We caught up with Dr. McGill to learn why she chose medicine as a profession and what it's like to move from being a student to becoming a professor.
What made you choose to become a physician?
I worked in restaurants for many years (everything from dishwashing to management) and decided that I needed a change. While deciding exactly what to do I got a job as a telemetry tech at a local hospital and took a summer course in anatomy and physiology. I fell in love with that course and didn't see any other way to make a life out of it except to go to med school.
What made you decide to attend TouroCOM Harlem?
It was somewhat of a new school at the time. They graduated their first class the year before I started. The school was always looking for non-traditional students which is definitely what I was. I liked the "flipped classroom" idea as it would allow me to remain here in Ulster County and travel by train to the city easily.
How did you decide on emergency medicine?
While I was taking prerequisites for MCAT/med school I left my job as telephone tech and became a scribe in the ER of the same hospital. I felt like I belonged there. After working in restaurants for so long, which in themselves have a special kind of staff population, I felt that the ER had that same kind of feeling amongst the workers. A team atmosphere of fun, sarcastic people like myself that can pull together at a second's notice to fix a problem—in the ER to save a life.
What was TouroCOM like for you?
I did not live in NYC while attending med school, I was a commuter, which is not traditional but I was older and had obligations to the area.I did not do the normal amount of fraternizing during my first two years. My last two years of med school were spent doing clinical rotations (mostly at Garnet Health - formerly Orange Regional) with a small group of fellow students. We grew very close, and I still talk to most of them today. School is school—it's really not that different no matter where you go but the people you meet really make your experience.
Is there a piece of advice you were given in med school that made a difference for you?
In terms of choosing a specialty and a place to go for residency, the best advice that I was given was to only do what you want and only go to a place you like. Many people feel like they have to apply broadly and just go where they take you. If you concentrate your efforts on the place(s) you love it is much better than spreading yourself thin over 15 programs.
How was the transition from osteopathic medical school to becoming an ER physician?
I didn't feel like there was much of a transition. I mean, obviously there is, but it's so gradual from didactic learning to clinical learning to clinical training to clinical practice that you hardly notice.
What made you decide to return to TouroCOM as a faculty member?
Clinical work is stressful and sometimes draining. Teaching is rewarding and fun. I like to have balance in my life, and it just seemed like a no-brainer to want to go back to a place that gave me my start. It was very helpful that some of the teachers that I had in Harlem had moved up to Middletown, so I had some contacts. (Shout out to Dr. Joyce Brown—who also interviewed me for med school!)
Do you see yourself in your students?
Absolutely! It is great to come back and see first year students struggling with the same stuff that I did and be able to give them hints and tricks that I wish I had back then. And then to see them get it before I did…there's nothing better.