Three Sisters Pursue a Medical Dream
TouroCOM's Master's Pathway Program Gave Angela, Jenifer, and Mishelle Centeno-Gavica the Chance to Become Doctors
October 04, 2023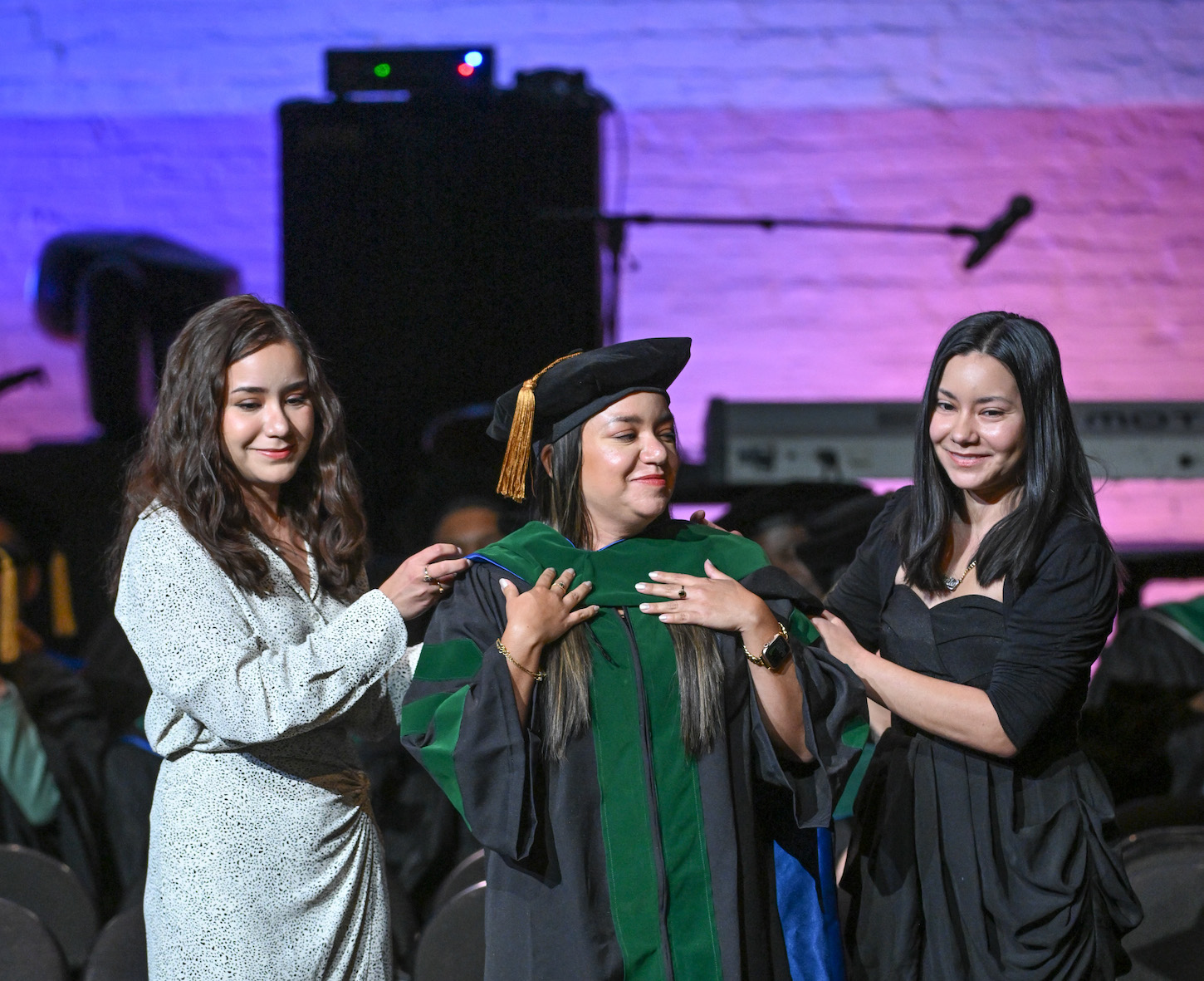 Drs. Jenifer and Mishelle Centeno-Gavica hood their sister Angela during TouroCOM Harlem's 2023 graduation ceremony.
For the Centeno-Gavica sisters—Angela, Jenifer, and Mishelle— medicine is a family affair. All three are in their internal medicine residencies: Angela is in her first year at New York-Presbyterian; Jenifer and Mishelle are in their third year at, respectively, Naples Community Hospital in Florida and Renaissance School of Medicine at Stony Brook University Hospital. And all three are proud graduates of Touro College of Osteopathic Medicine-Harlem.
The three sisters moved with their family from Ecuador to Florida when they were teenagers. Adapting to a new country without knowing English was a difficult struggle for the three, especially Angela, who at 17, already completed high school in Ecuador and didn't have the benefit of adapting to her new country through school.
During a Zoom meeting the three sisters all agreed that their love of medicine was instilled in them by their father, a marine biologist, who had once debated becoming a doctor.
"He always talked to us about science because he always wanted to be a doctor," said Jenifer. "His encouragement really motivated us."
While her sisters began school in Florida, Angela spent her first year in the country taking ESL classes at a local community college while working at a flea market with a cousin. Being the oldest by two years (the sisters are two years apart), she blazed a trail for her sisters. Like Angela, Jenifer and Mishelle attended community college to earn an associate degree then earn their Bachelor of Science in biology at the University of Central Florida (UCF).
Angela's first brush with medical school ended in disappointment. Without knowing much about the application process, she applied to a small number of Florida medical schools and when she wasn't accepted, thought her dream of becoming a doctor was over.
"I didn't have much guidance," Angela recalled. "I felt that there were too many obstacles to becoming a doctor."
Her two sisters had better guidance and when they completed their degree at UCF, they applied to Touro College of Osteopathic Medicine-Harlem's Master of Science Program in Interdisciplinary Studies in Biological and Physical Sciences. Students who graduate in the top of the program are guaranteed admittance to the DO Program the following year. Jenifer and Mishelle moved together to an apartment in Washington Heights.
"It was very challenging," admitted Mishelle. "But having each other was incredibly important since it was also the first time we were living without our parents."
"We left everything behind," continued Jenifer. "But being able to support each other made it easier."
Living in Washington Heights had an added benefit for the sisters who spoke of wanting to help the underserved and members of their Hispanic community.
"That was part of our interest," explained Jenifer. "We served around the community doing free hearing and vision tests and we were able to help this diverse population. That was one of the things we wanted to do as doctors: finding an area that needed to be served."
As soon as the two were accepted into the TouroCOM-Harlem Class of 2021, they moved closer to the school to the neighborhood of Hamilton Heights. At the same time, they reached out to Angela who was then working in a non-medical role in a hospital.
"I was very excited," Angela recalled. "At that point in my life, I thought going into medicine wasn't possible. But knowing that my sisters had succeeded in the master's program and were becoming doctors came to me as a sort of relief."
The following year, Angela was accepted to the master's program and moved in with her sisters. "Whenever I had a question, I could knock on their door," laughed Angela.
All three said they found support from their classmates and all of TouroCOM's faculty members.
"My experience was really great," said Jenifer. "We used to study together and basically do everything together. Touro offered us leadership and research opportunities as well as the ability to serve in the community. We were well-prepared when we applied for residencies."
"We connected really well with other students," added Mishelle. "We made friends with people that we're still close with."
The three singled out TouroCOM anatomy professor and fellow Ecuadorian Dr. Carlos Quinteros as an especially important mentor.
"He helped us out if I had any type of doubt or questions," said Angela. "He was my to-go person."
All three said they were drawn to internal medicine during their rotations, finding it the perfect mix for their skill set and desire to help in their community. Jenifer and Mishelle graduated in 2021. Jenifer is considering a fellowship in rheumatology and Mishelle is considering endocrinology. When Angela graduated in 2023, her sisters hooded her.
"Touro gave me the opportunity to pursue a dream," said Angela.