Touro College of Osteopathic Medicine Celebrates Class of 2023
TouroCOM Middletown and Harlem Graduates Honored at Back-to-Back Commencement Ceremonies
June 01, 2023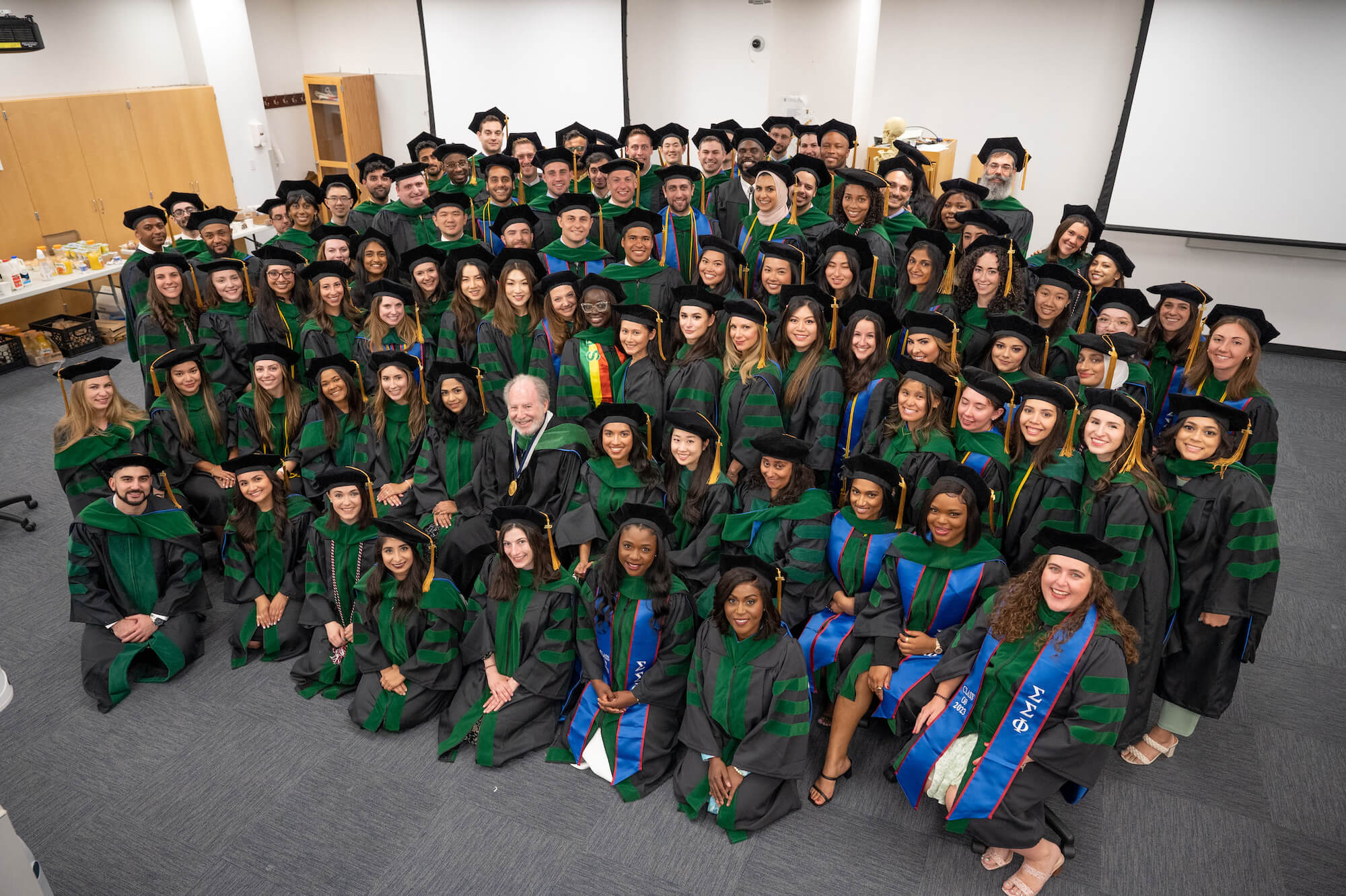 TouroCOM Middletown and TouroCOM Harlem students celebrated their graduation in May.
Graduates of Touro College of Osteopathic Medicine (TouroCOM) Class of 2023 were awarded their diplomas last week at festive ceremonies held at both the Middletown and Harlem campuses.
The total of 244 graduating physicians crossed the stages at Middletown's Paramount Theater and Harlem's Apollo Theater, where they were hooded and conferred degrees while cheering friends, family and faculty wished them well on the next phase of their training.
The graduates will begin residencies at hospitals and medical centers all over the country in a diverse range of specialties including anesthesiology, radiology, emergency medicine, family medicine, internal medicine, pediatrics, OB-GYN, and psychiatry.
More than half will be going to primary care and to hospitals in underserved areas, a cornerstone of TouroCOM's mission.
"Work-Life Balance"
In welcoming remarks delivered at both ceremonies, Touro University President Dr. Alan Kadish spoke to the graduates about the importance of blending their professional and personal lives as they embark on their next chapter.
"Don't view life and work as distinct time frames, but rather as concentric circles where you can serve humanity, make friends, use your social skills and occasionally enjoy yourselves during the time you spend working - which will probably be most of your waking hours for the next few years," Dr. Kadish advised. "If you view it that way, residency will be the start of the next phase of your life rather than the time when you're working too hard to enjoy it."
The President expressed his confidence that the graduates will continue to succeed and optimism about the future despite the challenges ahead.
"I believe that humanistic well-trained physicians are the most important thing in a society that's facing increasing challenges," said the president.
TouroCOM Executive Dean and Chief Academic Officer Dr. Kenneth Steier congratulated both Middletown and Harlem graduates and thanked them for their hard work.
"Your experience in medical school was complicated by the COVID-19 global pandemic. You responded most admirably and many of you volunteered to help fight this disease and save lives," he said.
Congratulatory remarks were delivered in Middletown by keynote speakers Dr. Timothy Hall, Deputy Chief of Staff, VA Hudson Valley Healthcare System and in Harlem by Jo Wiederhorn, President and CEO of the Associated Medical Schools of New York from 2002 to 2023.
Recognition Awards
Many student awards followed remarks. The Dean's Award, given to the graduating student with the highest academic standing, went to Lorina Bolea, Zaeem Chaudary, Sunnie Lee, Jenna Scanlon, and Leizer Steppa in Middletown and Phillip Ma and Lili Mohebbi in Harlem.
The DO Student of the Year Award for outstanding service to TouroCOM leadership, research and dedication to the profession went to John Zakhary in Middletown and Pamela Matthew in Harlem. Zakhary also addressed the class as student speaker, and in Harlem graduates heard from student speaker Asher Lippe.
The Excellence in Public Health Award went to Leydricah Saint Louis in Middletown and Angela Centeno-Gavica and Ndeye Kane Diaw in Harlem. Centeno-Gavica also received the Community Service Award from the Medical Society of the State of New York, which went to Krista Rounds in Middletown.
The Sheldon S. Sirota Medal, awarded every year in Harlem in recognition of the work and accomplishments of Dr. Sheldon Sirota in establishing four colleges of osteopathic medicine, went to Dr. Judith Binstock. Dr. Binstock recently retired as professor of biochemistry and course director of medical biochemistry and medical genetics.