Giving Back to the Community One Patient at a Time
As an Underrepresented Minority, Great Falls, Montana, Native Erica Bonilla is Determined to Make a Difference and Serve the Underserved
August 30, 2023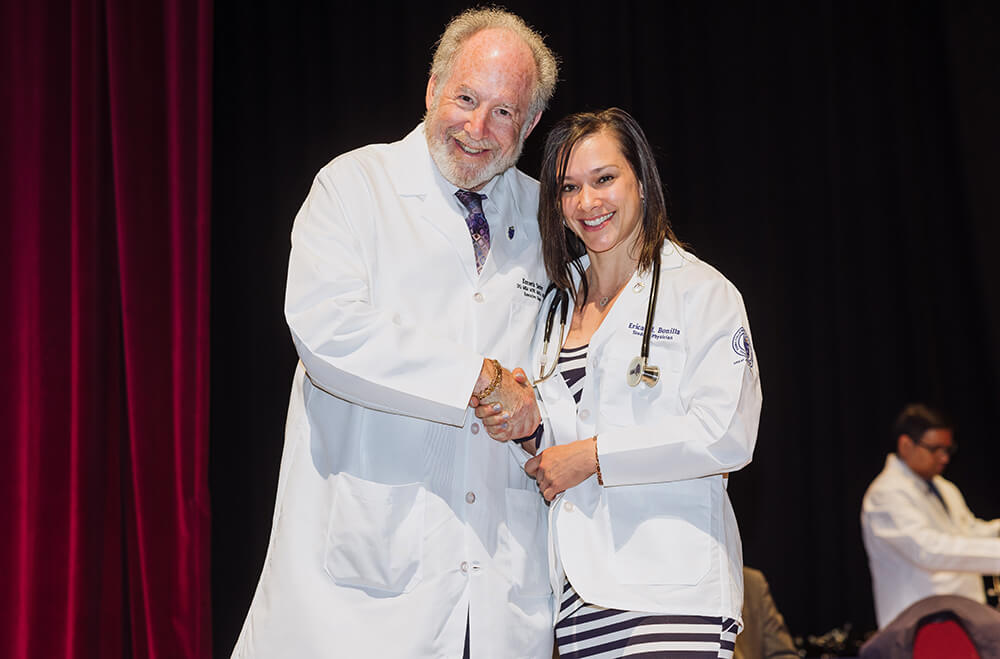 Erica Bonilla with TouroCOM Executive Dean, Dr. Kenneth Steier, at the White Coat Ceremony
Erica Bonilla grew up in rural Great Falls, Montana, one of 11 children born to mixed race parents. Her family was very poor, and her childhood was challenging. "We rarely had new clothes, or food and presents for holidays," she explained. And with no health insurance, she also did not have access to regular medical care, only seeing the doctor when she needed her vaccines to start school.
Erica's childhood experiences made her determined to pursue a career in healthcare. "I was part of a minority group and part of the underrepresented individuals in healthcare. This shaped my life and my profession," she said. Erica began her medical career attending the University of Washington in Seattle and earning her Doctor of Physical Therapy (DPT). "Much like osteopathic medicine, we aim to treat patients as a whole individual. This can include physical health, behavioral, emotional and mental health," she said.
Part of the appeal, too, is working with diverse patients from different socioeconomic backgrounds. "Although I live in a rural community, I have worked with individuals as young as three weeks old to elderly patients who are over 100. They come from a variety of backgrounds and conditions. I have worked with people who do not have insurance, people with Medicaid, TriCare, etc.," she said.
Most of Erica's career has been spent working with individuals in orthopedic outpatient services including patients with fractures, rotator cuff issues, total knee replacements, ACL repairs and more. She's also worked in acute care and rehab. "I have worked with people who cannot walk, people who cannot talk, people who speak different languages and people who have dementia," she said of her experiences. Erica is excited to begin medical school. "My undergraduate training, my DPT program, my annual continuing education courses and my real-life practice as a PT for the past six years have prepared me well for medical school," she explains. As a practicing PT, Erica is also well versed in assessing and diagnosing patients, communicating with physicians and implementing a care plan.
Above all, Erica credits her childhood for motivating and inspiring her to reach for more and serve the underserved. "I have sympathy and empathy for the individuals I encounter in my daily practice as a DPT because of my unique background. I am also fortunate to have years of experience working with a variety of individuals who have a diverse set of needs. My background has influenced me to continue to pursue further education and a more in-depth study of medicine," she said.