Seeing the Need for Medical Care in Her Home State
Future Doctor Kelli Shai Koehmstedt Shares Why She Chose Brand New Medical School
September 12, 2023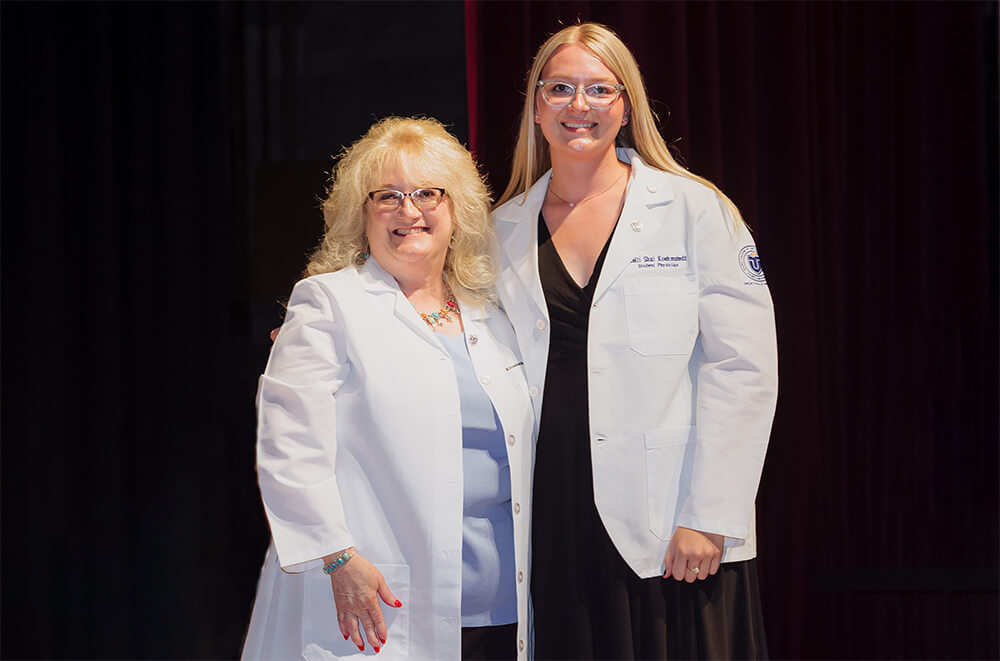 Kelli Shai Koehmstedt with TouroCOM Montana Dean Elizabeth Palmarozzi at the White Coat Ceremony.
Montana native Kelli Shai Koehmstedt, has seen first-hand the need for improved medical care in her home state and looks forward to serving her community as a member of Touro College of Osteopathic Medicine Great Falls, Montana Class of 2027.
Undergraduate degree:
Montana State University, B.S. in Biochemistry
Why I chose a career in medicine:
I chose a career in medicine because of my genuine interest in learning and being challenged daily. I have a genuine passion and interest for all people and enjoy the connection between patient and physician! I look forward to learning from all my future patients and colleagues.
Why I decided to attend Touro College of Osteopathic Medicine Montana Campus:
From the day I interviewed with the Touro-MT campus, I felt welcomed and supported, and that alone made me want to pick the school that so clearly wants me to succeed. I also love the outdoors and was happy to have that access while entering a more stressful part of my life. I also have seen firsthand the need for more physicians in the state of Montana and was thrilled to have a state-of-the-art medical school that is willing to support the community and the future physicians to practice here in the state.
My first impressions of Touro Montana:
It has been nothing short of amazing, and I am truly impressed with all the staff and students here at Touro. The Touro campus is beautiful, and I am still in awe of the facility they have brought here to Great Falls, Montana. I am excited and thrilled to start this new journey surrounded by such a supportive staff and community!