Providing Homecare to the Most Fragile
As Director of Long-Term Care at Ezras Choilim Health Center, TouroCOM Harlem Alumnus Chaim Poper Treats Patients with Chronic Conditions
February 11, 2022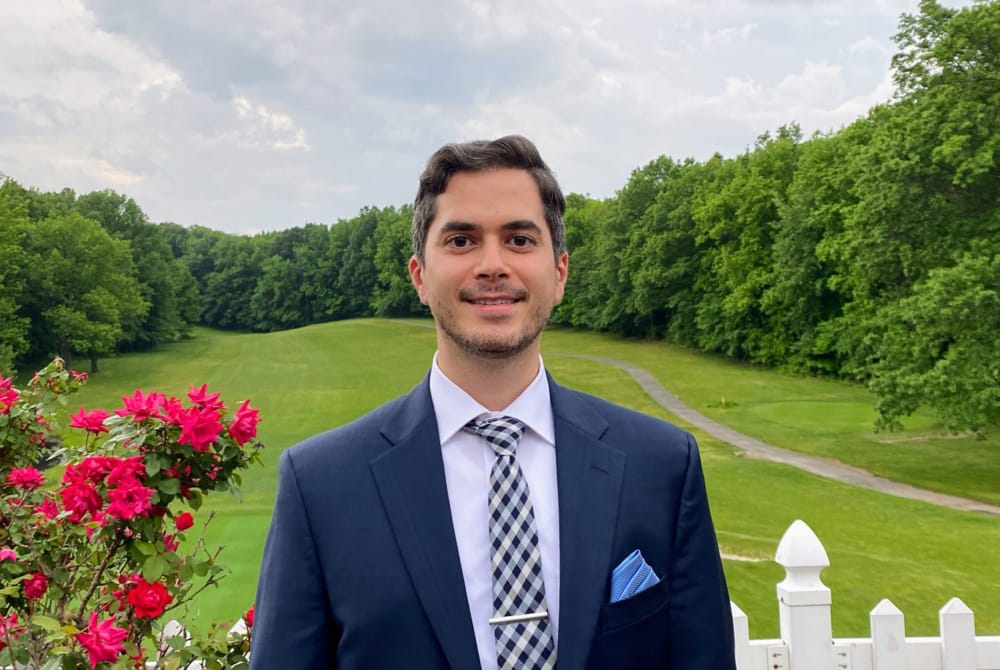 Every day, Dr. Chaim Poper's patients face a bewildering array of complications caused by chronic conditions such as ALS, MS, Alzheimer's disease and Parkinson's Disease. For his patients, Dr. Poper, the long-term care director for Ezras Choilim in Monroe, NY, has two goals: to ensure a stable quality of life and—especially given the pandemic—to keep his patients in their homes and out of the hospital.
"It's an honor to treat the most vulnerable and fragile," said Dr. Poper, a 2018 graduate of TouroCOM Harlem. "It's extremely rewarding to be able to ensure that my patients are able to receive high-quality care while remaining at home."
Dr. Poper's employer, Ezras Choilim, is a nonprofit federally qualified health center (FQHC) that primarily serves medically underserved communities and populations. As part of caring for older adults, Dr. Poper is particularly interested in this innovative medical care model: hospital-at-home, in which certain patients with stable but serious and chronic conditions receive high-quality hospital level care in the comfort of their own home. While the concept is more prevalent in Europe, it is quickly gaining traction in the beleaguered US healthcare system. "The benefits are threefold. It reduces healthcare costs, relieves stress from hospitals, and patients prefer it because they can stay in the comfort of their own homes while we provide them with the care they require," Dr. Poper explained.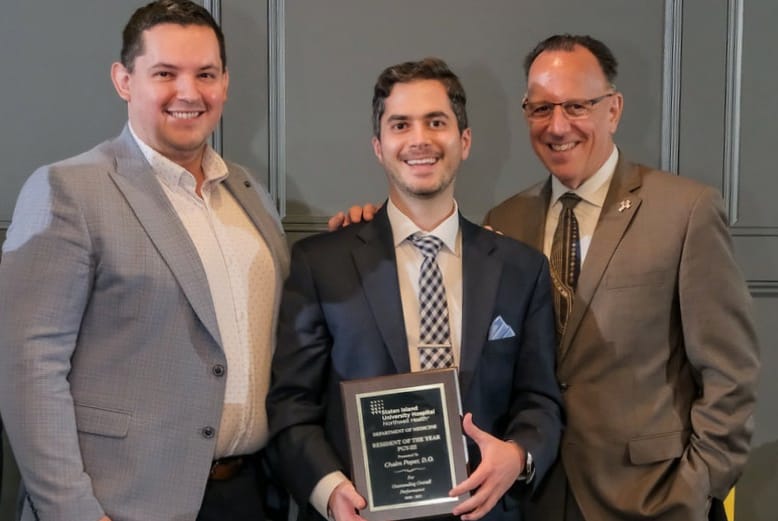 Chaim Poper (center) receiving the Resident of the Year award in 2021 from Northwell Health System in Staten Island.
From the Vishnitz Chasidic Sect to Osteopathic Medical School
Dr. Poper grew up as a member of the Vishnitz Chasidic sect in Williamsburg. At the age of 21, with barely any secular education, he enrolled in Touro's School for Lifelong Education (SLE). Dr. Poper took pre-med courses at the School for Lifelong Learning, Lander College of Arts and Sciences, and New York School of Career and Applied Studies in Manhattan. After graduating, he enrolled in TouroCOM Harlem's Master of Science in Interdisciplinary Studies in Biological and Physical Sciences and then entered the TouroCOM DO program the following year.
"I felt like a kid on a treasure hunt," said Dr. Poper about his education. "It was very challenging at first, but with each step I took, it became easier and more manageable until I could see the light at the end of the tunnel. I started my education at Touro and finished it there. Touro taught me that as much as I wanted to learn, I could learn."
Touro taught me that as much as I wanted to learn, I could learn.
After graduating in 2018, Dr. Poper spent the next three years as a resident at Northwell Health System in Staten Island. During his final year, he was named Resident-of-the-Year. "I trained during the height of COVID-19, when our ICUs were completely full," said Dr. Poper. "That level of intensity prepares you for a position like this."
Speaking for Patients Who Can't Speak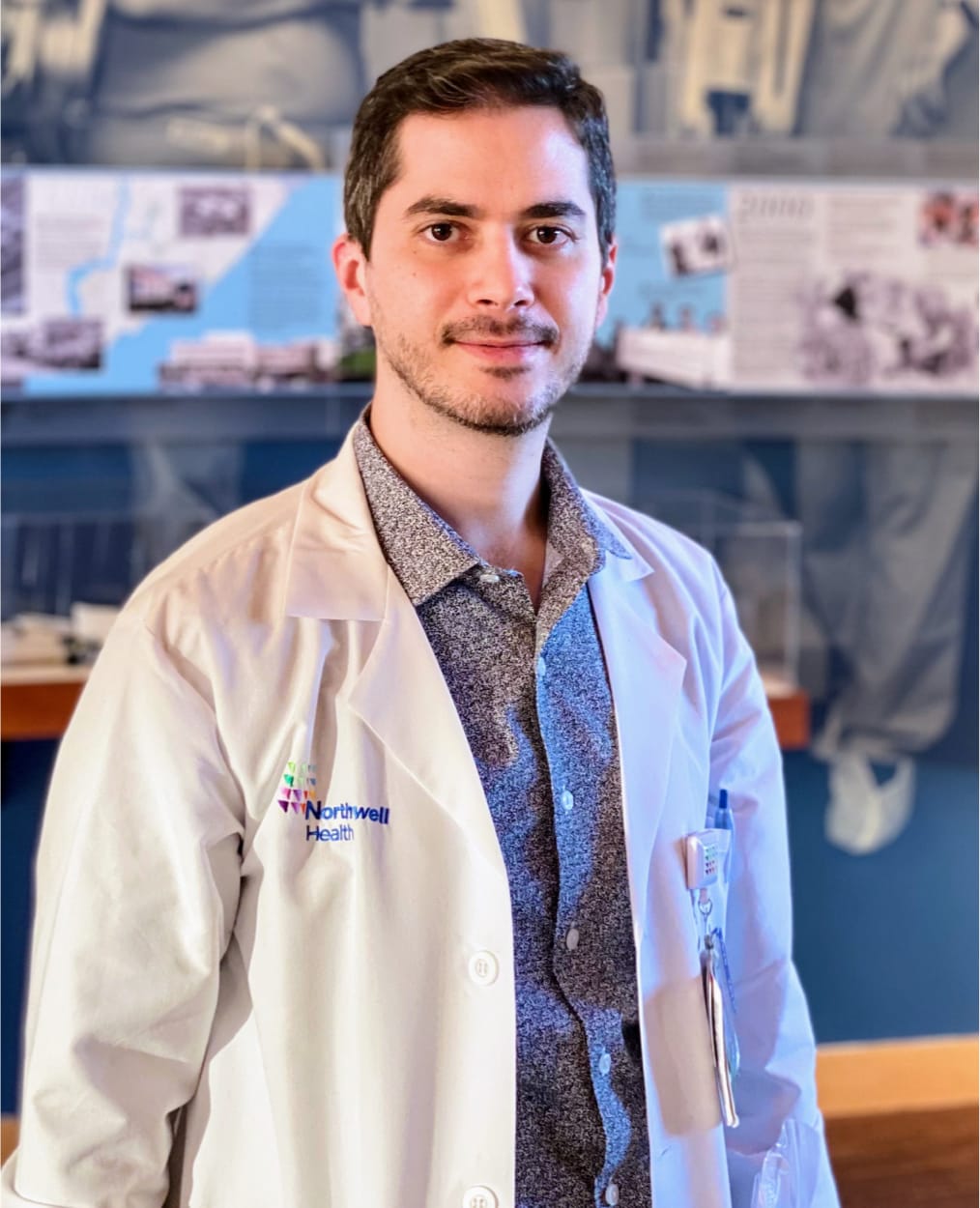 During his time at Northwell, he found himself drawn to the long-term care patients.
"I preferred long-term and higher-acuity care," said Dr. Poper. "These patients require a far more focused decision. Each decision must take into account all aspects of the patients' conditions and comorbidities. There's great satisfaction in being able to help out and prevent complications in patients who are usually turned away due to the severity of their illnesses."
Dr. Poper began working for Ezras Choilim in June. Most of his day is spent making house calls to his patients. He performs simpler procedures such as midline placements, assesses his patients using Point-of-Care Ultrasonography (POCUS), monitors their conditions and prescribes treatments. Another challenge is that many of his patients have lost their ability to speak. "I have to figure out what's bothering them," said Dr. Poper. "It's a very rewarding experience to be able to figure out what's wrong simply by looking at their vital signs."
His own religious background allows him to connect with his patients and their families. "People in the ultra-Orthodox community don't believe in giving up on their loved ones, even at the end of their lives," he explained. "A 'Do-Not-Resuscitate Order' is uncommon. I think for someone on the outside, it's much more difficult to understand—both religiously and fundamentally—the importance of remaining with the family and providing individualized care. I believe it was Roosevelt who said that people don't care how much you know until they know how much you care. That is something I take that seriously. When I pick up the phone to check on a patient on a day that I'm not working—it means an incredible deal to them."