A Mini Medical School at Touro in Harlem
NYC High School Students Graduate from STEM Afterschool Program Having Learned Foundations of Medicine
April 20, 2023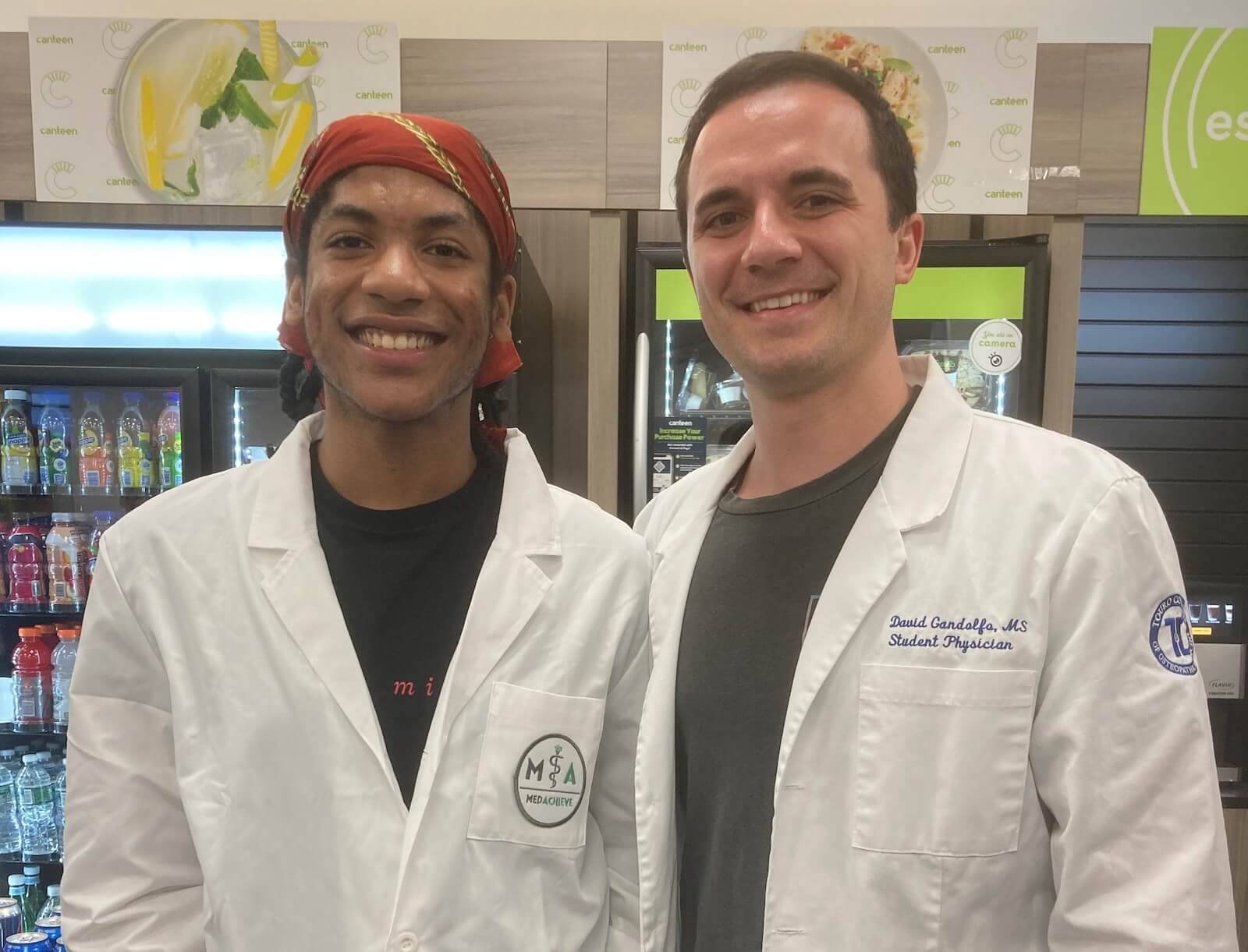 L-R: Emmanuel Chery with mentor David Gandolfo
Ninety-five high school students from throughout New York City recently celebrated their completion of an afterschool STEM program called MedAchieve, run by Touro College of Osteopathic Medicine (TouroCOM) in Harlem. The graduation ceremonies and after party were held on the medical school's Harlem campus.
MedAchieve started in 2011 to inspire and encourage underrepresented minority (URM) high school students to consider careers in STEM. Through intensive support from their medical student mentors, who provide many of the weekly lectures and labs, the high school students learn over the course of two years about the foundations of medicine in human anatomy, physiology and genetics, as well as how the body responds to stress injury and disease.
Seated next to their TouroCOM medical student mentors in the school's large lecture hall, the students received accolades from faculty and administration, followed by certificates, stethoscopes and lab coats as they were called up one by one to the lectern.
"Don't ever forget this opportunity – build on it!" said TouroCOM Dean of Student Affairs Dr. Nadege Dady, who spearheads the program, in congratulatory remarks. "Some of our MedAchieve alumni have gone all the way to medical school, so come back, keep in touch with your mentors, and most of all stay committed!"
Addressing Health Disparities
"I'm definitely interested in being a doctor. I want to do surgery," said Emmanuel Chery, a senior at Columbia Secondary School in Harlem who just completed his second year of MedAchieve. Chery is currently weighing acceptances from Harvard University and Brown University's Program in Liberal Medical Education (PLME), which includes acceptance to the Warren Alpert Medical School at Brown after completion of the undergraduate degree.
"MedAchieve is a good program," said Chery. "I recommend it to students at my own school. It delivered on what it promised." Among the highlights he cited were learning about the osteopathic approach to medicine and talking about health care disparities in class.
"It's important to discuss health disparities," said Chery, who is Black. "Every week, whether we covered microbiology or another medical topic, they always brought up environmental conditions and health disparities and [how] those often reflect on the minority communities."
While MedAchieve was founded as a science enrichment program for high school students in the local Harlem community, it has attracted students from other underserved areas in New York City.
Of the 65 high schools that have participated, 60% are from Manhattan (21% Harlem), 24% from the Bronx, 10% from Queens, and 6% from Brooklyn.
The majority of alumni responders to a recent survey said MedAchieve helped prepare them for college or university, that they intended to apply to medical school, and that MedAchieve influenced their career choice.
Colleges and universities attended were CUNY, Yale School of Public Health, Lehigh University, New York University, CUNY School of Medicine/Sophie Davis Biomedical Education, SUNY, Cornell University, UCLA and New York Institute of Technology.
Barriers Remain
Following the graduation ceremonies, the MedAchieve Class of '23 adjourned to an after-party in the TouroCOM cafeteria where there were lots of laughs, singing and photos – and information about graduate programs at Touro schools in addition to TouroCOM.
MedAchieve alumni who meet academic requirements for admission and apply to Touro's School of Health Sciences, College of Pharmacy, College of Dental Medicine, and TouroCOM's DO or Masters in Interdisciplinary Sciences programs will be granted interviews.
According to Dean Dady, research that discusses barriers to STEM fields for URMs points to a lack of clinical shadowing opportunities, mentorship and proper guidance around applications.
David Gandolfo, a second-year TouroCOM student who was Chery's MedAchieve mentor, cited lack of financial resources, as well.
"The cost of everything is definitely a barrier – taking the MCAT, study materials, taking board exams….if you're not willing to go into debt it's very intimidating," he said, noting the application, interview and admittance process is "not friendly to people who are not financially stable. That's something that needs to change."