Grand Opening for Touro College of Osteopathic Medicine (TouroCOM) Great Falls Campus
TouroCOM in Great Falls Celebrates New Campus, Inaugural Class, University Leadership, and Local Community
August 28, 2023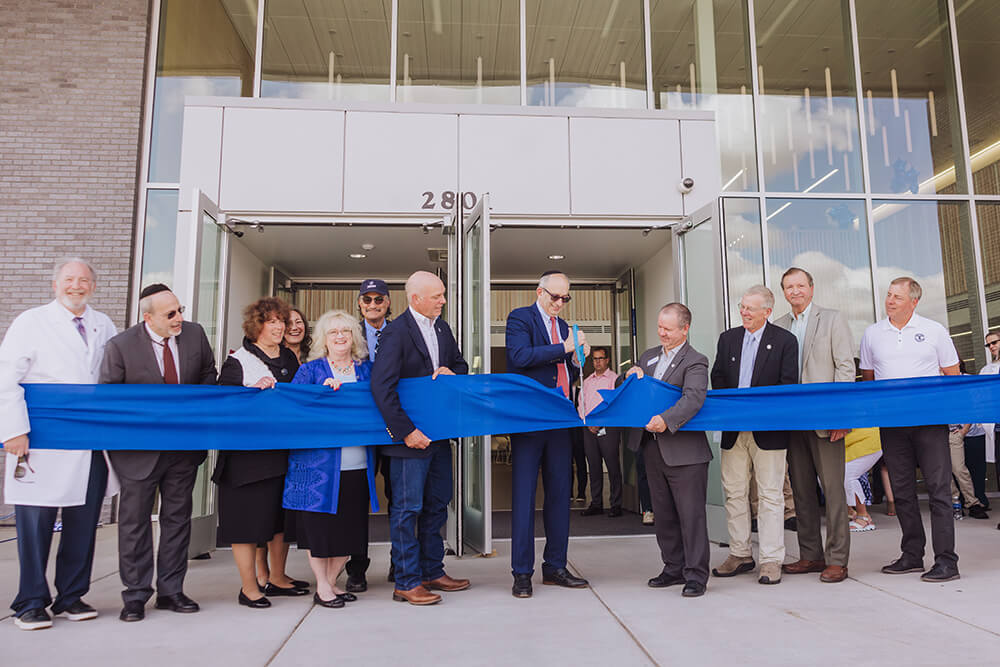 Touro leadership and Montana elected officials joined forces for the ribbon-cutting of TouroCOM Montana.
On August 7, Touro University celebrated the grand opening of TouroCOM in Great Falls and the arrival of its inaugural class with a ribbon cutting on its new state–of–the–art campus featuring a reception, words from local elected officials, including Montana Governor Greg Gianforte and Great Falls Mayor Bob Kelly. A White Coat Ceremony was held the same day when students received their stethoscopes and official white coats.
"One of the core pillars of our Touro University mission is to support underserved communities and the opening of TouroCOM in Great Falls represents a further expression of that," said Alan Kadish, M.D., president of Touro University. "We are eager to train the next generation of healthcare providers and offer much-needed medical care to Great Falls and the greater Montana community. We look forward to starting this new chapter in Montana by officially opening our newest campus and welcoming our inaugural class to the Touro University family."
The 100,000 square-foot building with state-of-the-art labs, a simulation lab and a kosher cafeteria will host up to 125 students and 60 faculty in its inaugural year and up to 500 medical students at full capacity. TouroCOM will clinically affiliate with several area medical providers, including Benefis Health System, to serve the local Great Falls community and improve access to medical care throughout Montana.
"Touro medical schools are creating culturally competent workforces that serve their local communities. In Montana, Touro aims to increase representation of Native American students in our classrooms, while also promoting primary care presence in small rural communities," said Dr. Kenneth Steier, executive dean of TouroCOM. "Our new presence in Great Falls speaks to our institutional vision of bringing exceptional educational opportunities to areas where they are needed and to the people who will truly benefit from our expertise."
Governor Greg Gianforte said that this is a "a huge milestone to welcome 109 freshmen students into this brand new medical school in Great Falls, Montana," and the start of better access to quality healthcare.
He anticipates that many of the students who graduate from TouroCOM's Great Falls location will stay and become practicing physicians in Montana.
"We have such a shortage of healthcare workers, doctors in particular, and it's been shown that when students study in a certain locality and then do their residency in those communities, they put down deep roots," said Gianforte. "And this is a big step towards creating a workforce pipeline so that Montanans have access to quality care."