TouroCOM Middletown Holds 5th Commencement
Class of 2022 Celebrates Together at Paramount Theater, Following Two Years of Virtual Commencements
May 26, 2022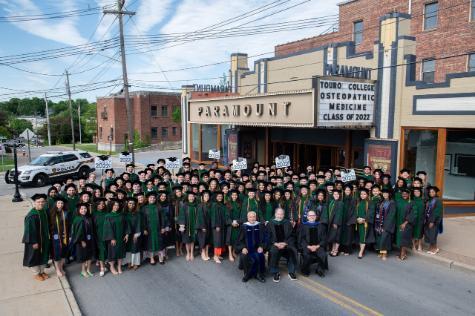 TouroCOM Middletown's Class of 2022
Touro College of Osteopathic Medicine (TouroCOM) Middletown graduated 135 new osteopathic physicians (DOs) Monday at the Paramount Theater in downtown Middletown.
The in-person event, emceed by TouroCOM's COO and Dean of Students Dr. Jerry Cammarata, followed two years of virtual commencement exercises during the pandemic.
As congratulations and best wishes flowed from speakers, including Middletown Mayor Joseph DeStefano, TouroCOM's mission of training osteopathic physicians with an emphasis on helping the underserved and increasing the number of underrepresented minority doctors was ever-present, with the pandemic intertwined.
"Medical school was complicated by the COVID-19 global pandemic. You responded most admirably, and many of you volunteered to help fight this disease and save lives. Thank you for that," said TouroCOM Executive Dean Dr. Kenneth Steier, in welcoming remarks.
Live TouroCOM's Mission
Senior Vice President for Academic Affairs and Provost Dr. Patricia Salkin reminded the graduates of the responsibility they will have as residents to help their patients, and to live up to the school's mission.
"We hope, class of 2022, that you will indeed practice medicine for at least part of your career in underserved communities. We hope that your time at Touro [has] demonstrated the need for primary care and even basic public health information in these communities," she said.
Dr. Salkin also praised the class for helping during the pandemic by working with local public health officials to administer vaccines, heading back to hospital rotations that were put on hold, and helping reassure patients in the midst of confusion.
"You put yourselves out there. You are the heroes of this pandemic. Everybody was nervous and scared but you knew you had a higher calling because you were entering the medical profession," she said.
Keynote speaker Alfred E. Pilong, Jr., president and CEO of Middletown-based Garnet Health Medical Center, also congratulated the class on their accomplishments and urged them going forward to strive for more than success.
"You should feel a tremendous sense of pride in getting to this day, all the while navigating an arduous journey through a pandemic, the likes of which have not been seen for over a century," he said. "However, this success is not the end of the road but a checkpoint on the journey to something greater…to the opportunity to go beyond success to live a life of real significance."
Awards for Academic Achievement, Community Service, Research
Numerous graduates won awards, with some receiving multiple recognitions. Alexander Robert Farrell shared the "Dean's Award" with classmates Athena Huixin Guo and Winston Yen, in a three-way tie for achieving the highest academic standing. Farrell also was recognized with the Arnold P. Gold Foundation's "Leonard Tow Humanism in Medicine Award" for clinical excellence, compassion in the delivery of care and respect for patients, their families and healthcare colleagues, as well as the "Excellence in the Clinical Years" award. Abigail Cueto-Dominguez received the Medical Society of the State of New York's Community Service Award and "D.O. Student of the Year".
Atif Towheed received the "Excellence in Research" award for his talent and commitment to research, including award-winning studies on healthcare provider attitudes towards vaccinations. Samantha Marshall, wife of student doctor Brenten Marshall, won the Donna Jones Moritsugu Memorial Award, recognition bestowed annually in cooperation with the American Osteopathic Foundation to an individual for going above and beyond to support the success of a graduating class. Shannon Kiss received the "Excellence in the Preclinical Years" award and Jermeen Maged El-Zabet's received the "Excellence in Public Health" award for community service and dedication to public health.
All of the graduates matched successfully into residency programs, located both near and afar. More than half matched into primary care-related disciplines such as family medicine, pediatrics, internal medicine and OB/GYN. Other popular specialties are emergency medicine and surgery.
Almost a dozen graduates will be working in Middletown or surrounding areas with healthcare providers TouroCOM is affiliated with and that service underserved populations. These include Garnet Health and Garnet Medical Center, Nuvance Health and its Vassar Hospital, and Montefiore St. Luke's Cornwall Hospital. Other hospitals and medical centers graduates will be going to include Staten Island University Hospital, University of Pittsburgh Medical Center, Coney Island Hospital, Lehigh Valley Hospital, Walter Reed Medical Center, Westchester Medical Center, University of Connecticut Medical Center and University of Miami Medical Center.