NY Rugby Team Doctor is TouroCOM Alum
Dr. Jeremy Hanson ('16) Keeps Players and Community Healthy
July 26, 2021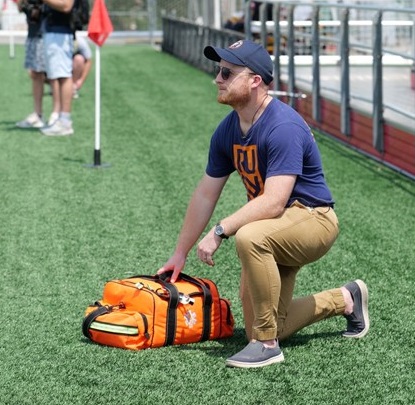 Fulfilling his passion for rugby and medicine, TouroCOM Harlem alumnus Jeremy Hanson serves as the team doctor for Rugby United New York, New York's professional rugby team.
When members of New York's professional rugby team, Rugby United New York (RUNY) need treatment or have medical questions they turn to their team doctor, TouroCOM Harlem alum Jeremy Hanson.
"Touro helped me achieve the career path I've always wanted," said Dr. Hanson, who, when he's not helping his players, is a primary care physician with a specialty in sports medicine at Kings County Hospital in Brooklyn.
Rugby and medicine have been two important parts of Hanson's life and Hanson, a native of California, was able to join them together.
"I always wanted to help people," recalled Dr. Hanson. "I wanted to be the person people could rely on. Healthcare is a convoluted and scary enterprise and I wanted to be able to steer people in the right direction. Being a physician is challenging, but you have the expertise and authority to positively impact people in incredible ways."
After graduating from UC San Diego with a bachelor's degree in mathematics, Hanson moved to New York to attend TouroCOM Harlem and graduated in 2016. "I always wanted to live in New York," reflected Dr. Hanson. "I learned my butt off those first few years, but every year was a stepping stone to the next. Our professors guided us to become better and better medical professionals."
Dr. Hanson's balm for the intense intellectual challenges medical school demanded? An equally intense physical challenge: playing as part of New York's semi-professional rugby team, Old Blue.
"Polo has been a huge part of my life," laughed Dr. Hanson. "Medical school was always an important priority, but I also needed to carve out time and energy to pursue another passion of mine—which was playing rugby. I would study on the bus rides to our games; I remember playing in a championship game on a Sunday in Denver during my first year and the next day I had to sit for a neuroanatomy final. Devoting so much time to medical training doesn't mean you have to give up doing other things that make you happy."
Dr. Hanson continued playing for Old Blue throughout his family medicine internship and residency at St. John's Episcopal Hospital in Far Rockaway. His passion for rugby led him to consider sports medicine and he completed a fellowship in primary care sports medicine at Northwell Health in 2019. When New York's professional rugby team needed a doctor this year, Dr. Hanson, then the president of Old Blue RFC, was a natural choice.
As a sports physician and team doctor, Dr. Hanson focuses on non-operative orthopedics, including managing sports injuries, as well as other chronic conditions like arthritis. "It's a big challenge," said Dr. Hanson. "The players and the organization demand a lot and it's difficult to keep everyone healthy in a sport like rugby, but so far we're doing quite well."
"It's an exciting mix of things," said Dr. Hanson about his jobs. "I'm able to help top notch professional athletes get back to playing at their peak and in my day-to-day job, I am able to work in a medically underserved area of Brooklyn. Starting my medical career at Touro was certainly one of the best decisions I made."