Leana Pande: "Artist in Residence"
Touro College of Osteopathic Medicine Student Wins Artist in Residence Award from American Medical Women's Association
August 19, 2022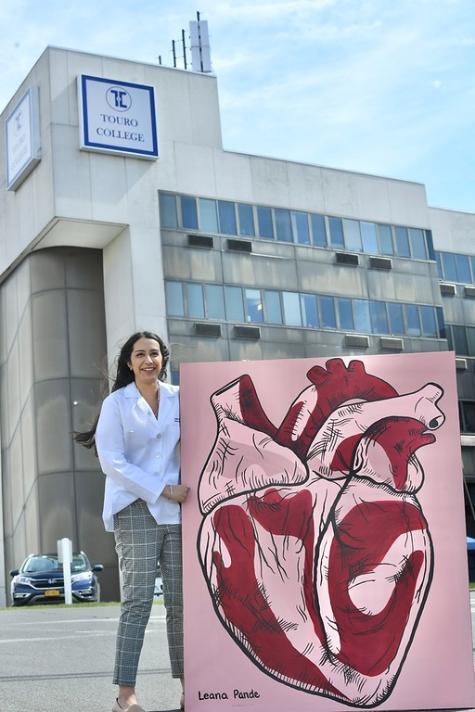 Leana Pande, OMS-II
Leana Pande, a second-year student at Touro College of Osteopathic Medicine (TouroCOM) in Middletown, N.Y., has won a 2022-2023 Artist in Residence Award from the American Medical Women's Association (AMWA).
Pande is the first DO student or physician to win the prestigious award, a year-long residency during which residents are mentored by artists and work on projects meaningful to AMWA and women in medicine. Pande will be mentored by Kathryn Ko, M.D., MFA, a New York City neurosurgeon and artist who helped establish the program.
Pande likes to paint anatomy, as well as plants and landscapes. Her work is highly stylized and realistic. She likes to oversaturate color and emphasize patterns and structure. In the coming year she plans to create anatomic art that will draw attention to and help educate society about public health issues.
"It's an honor to be selected for this award and to be mentored by other artists who share a passion for medicine and science," said Pande. "It's also a great opportunity to use a skill I didn't realize could benefit so many other people. I do believe that through art we can educate and encourage people who may be apprehensive towards science and medicine, especially given the past few years with the pandemic. We can show science and medicine in a more positive light."
Work on Display at TouroCOM Middletown
A self-taught artist who has been painting and drawing since childhood, Pande's talents were tapped at TouroCOM early on, before her first-year classes had begun. She was commissioned to create three large paintings now on display. More recently, she painted a backdrop of colorful viruses and bacteriophages for the research lab for the school's new physician assistant program also on display.
Her art has been shown and also published in a few medical outlets. She has also been commissioned to create specific works, most notably for Dr. David Langer, chair of neurosurgery at Lenox Hill Hospital, who starred in the Netflix docuseries "Lenox Hill".
At medical school, her appreciation of anatomy has grown, and her abilities are viewed as an asset to her future success in medicine.
"She's an artist. She has a different perspective on the anatomy," says Dr. Stephen Moorman, Pande's professor of anatomy and neuroanatomy last year. "When she looks at dissections she's doing in our lab, she sees an illustration. She sees the beauty of the structures. Most students simply memorize what they're seeing [and] are not visualizing."