"We Can't Sit Back"
TouroCOM Harlem Students Volunteer to Help the Community During COVID-19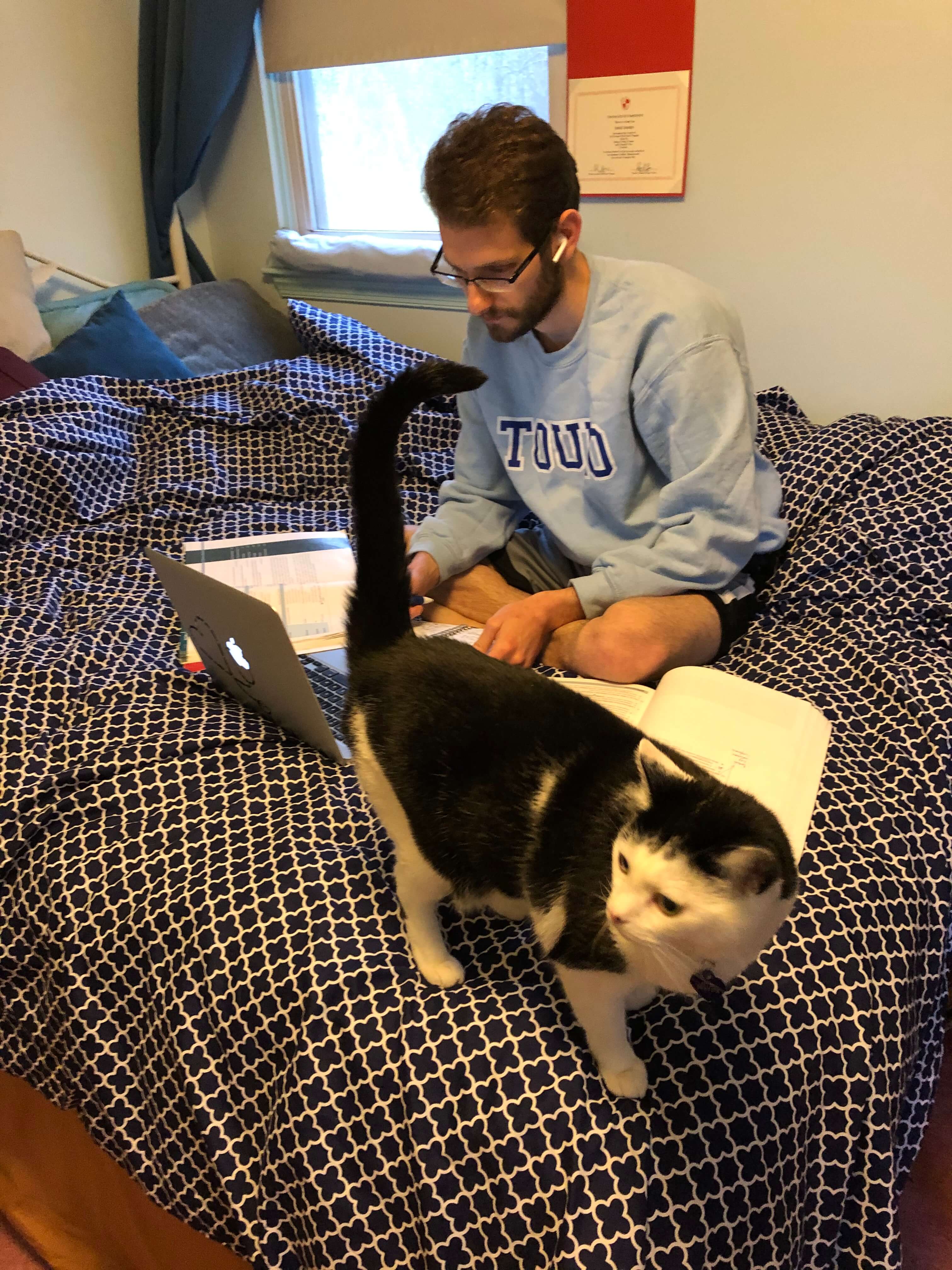 Many residents at the Harlem Center for Nursing & Rehabilitation Center on W. 138th St. either don't have family or can't be with them... and many are at high risk for infection. But each resident has a tablet, preloaded with the ability to video chat, so last week, TouroCOM Harlem students joined them on Skype for individual chats, showing their eagerness to help during COVID-19. More sessions are slated for the coming weeks, and our compassionate students are eager to participate.
"We're not giving health advice," said TouroCOM Harlem Student Government Association President Adam Halpern, OMS II, who discovered the opportunity to help by cold-calling the facility. "The residents don't want to talk about the Coronavirus. They want something to take their mind off it. Making a new friend allows them to do that."
In Middletown, TouroCOM students are volunteering for the Orange County Department of Health, taking calls from the public, reassuring people and keeping track of their information and symptoms. For those who test positive, students help track their activities since the onset of symptoms, and whom they've had contact with.
The effort began with an email from Executive Dean Dr. Kenneth Steier, who asked his students if they wanted to help. OMS II Jermeen El-Zabet reached out to the Department of Health and offered to create a schedule for the volunteers. "It got filled within a day," said El-Zabet. "The general feeling was we can't sit back and not do anything. This is the field we chose to put ourselves in for the rest of our lives, and now there's a crisis. There are thousands of people affected and if there's anything we can do, it's our duty to do it."
Meanwhile Halpern's efforts kicked off in mid-March, when school closed and remote learning became the order of the day. He networked with peers around the country involved in a DO community engagement initiative ("TOUCH"), securing over a dozen opportunities for his peers to help during COVID-19. Among them: digital tutoring (Tutor Doctor, Hang Tough Foundation), grocery shopping and delivery for the sick and elderly and others at high-risk (Invisible Hands Deliver, Shopping Angels) and listening for emotional support (7 Cups, Red Cross Digital Volunteers).
Third- and fourth-year Harlem students are also volunteering New Bridge Medical Center in Paramus, N.J., where they perform support work around COVID-19 screening.
The students are newly energized about their futures in medicine, and Halpern urges them to come up with more ideas. "Record yourself teaching a lesson or discussing a topic and share it on social media or YouTube," he suggests. "Use TikTok to provide words of encouragement and support. Send letters to the elderly and sick. Offer to edit college applications and resumes. Guide people over the phone as they fill out confusing paperwork for financial aid or unemployment benefits. Be creative!"