"We Can Do Better"
Focused on Increasing Care in Asian-American Communities, TouroCOM Harlem's Justin Chin Wins Student DO of the Year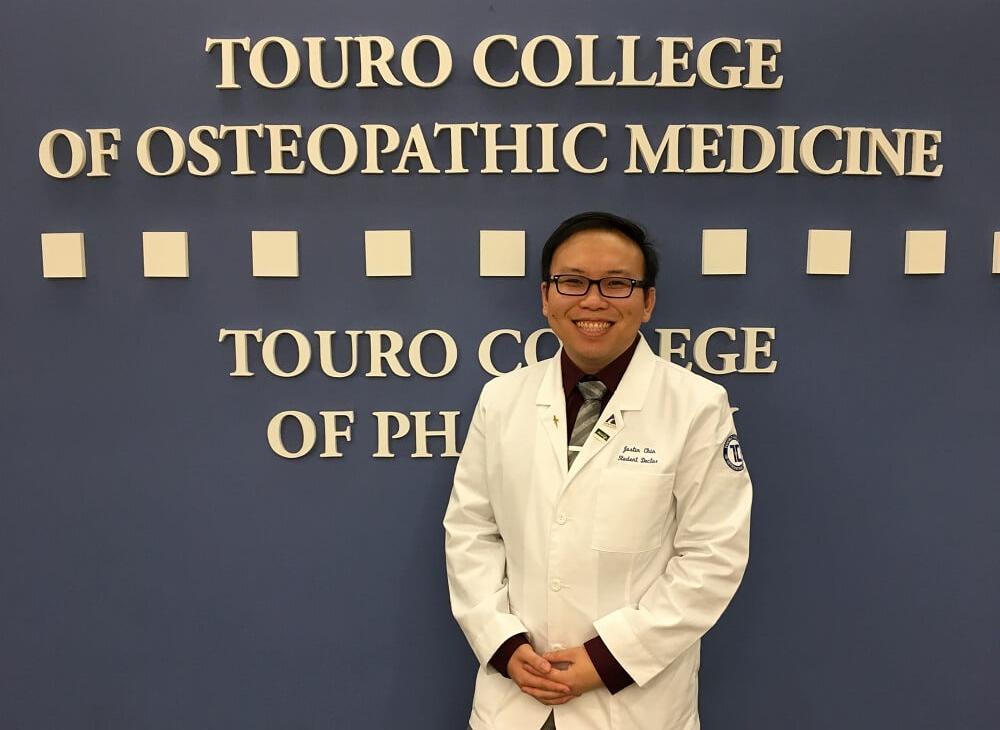 TouroCOM student Justin Chin was recognized for his work on behalf of the Asian Pacific Islander American community with this year's TouroCOM Harlem Student DO of the Year.
Chin, who is originally from San Francisco, graduated from UC Berkeley with a degree in Integrative Biology. Unsure of whether medicine was the right choice for him, Chin spent two years after graduation working in an ENT clinic as a scribe and medical assistant. Fluent in both Mandarin and Cantonese (and with working knowledge of several other languages), Chin worked as a translator between the physicians and the area's large Chinese population.
"We were able to explain to the patients what was happening to them in their own language," recalled Chin. "We were able to break down their condition to them in a way that they could understand. This allowed them to feel empowered in their own healthcare."
The position was a natural role for Chin who grew up being the primary translator for both his parents and grandparents. Chin also helped bridge the cultural divide between patient and provider, explaining smaller matters like why fewer patients came in during the Lunar Year celebration (it's considered a bad omen to see a doctor during that period of time), to larger ones like health risks associated with the Asian Pacific Islander American community.
"Our patients were primarily either elderly or new immigrants," explained Chin. "Many of them were navigating the health system for the first time, similar to my parents and grandparents when they arrived here."
During his time in the clinic, Chin decided that becoming a physician "was an opportunity to give back to the community in a way that satisfied me." He chose osteopathic medicine.
"The philosophy of osteopathic medicine: looking at the patient as a whole, melded with my mindset," said Chin. "The biggest tenet of osteopathic medicine is holistic health. The body has a way of going back to health and the physician's job is to optimize that."
Chin said he was attracted to TouroCOM by the school's mission and location.
"The school is located in close proximity to communities that I know I want to interact and work with," explained Chin. "The Harlem community is underserved, as are nearby immigrant communities. There's also the Chinese community in Manhattan, Queens and Brooklyn. There are many different opportunities to become engaged with members of those communities."
During his first year, he helped found the TouroCOM Harlem chapter of the Asian Pacific American Medical Student Association (APAMSA).
"We felt that the organization should be represented at Touro especially considering the mission of the school," stated Chin. "There's an incorrect view of the Asian and Pacific Islander population and they're being underserved because of that by the medical community—be it from the model minority myth to other various societal factors. They're often left behind in the medical dialog. We wanted to join the national conversation and have that voice present at Touro."
"When you look at Asian and Pacific American health and healthcare, we need to put an asterisk next to it," continued Chin. "There's a lot of data that comes out that generally says that Asian and Pacific Islanders are healthy, but when you dive deeper into the data you begin to see disparities. The Filipino population and the Hmong population have different health risks, but it's lost in the bigger picture."
The TouroCOM APAMSA chapter was quite active in the school, running health screenings and fairs in the Harlem community along with cultural events, like the popular Tastes of the World event, for their fellow students.
During Chin's second year, he was elected as the regional director for all New York chapters of the organization. This year, he is the external vice president of the organization as well as its CFO. Under his watch, TouroCOM has hosted the organization's regional conference, which was held last year at NYU. This year the school won the bid to host the organization's national conference.
"I truly believe that APAMSA is making the next generation of physicians conscious of healthcare issues that affect the Asian and Pacific Islander community," explained Chin.
Chin was also the president of OOPTIC, the ophthalmology and otolaryngology society of TouroCOM and has authored several papers with his fellow TouroCOM students and professors.
"We have amazing resources at TouroCOM," said Chin. "We have faculty advisors who are willing to say yes to interesting ideas and help make them a reality, especially Drs. Sumathi, Bahri, Sahni and Lomiguen."
The research paper he's most proud of dovetails several of his interests.
"We looked at osteopathic awareness in the Chinese community," said Chin. "We took to the streets of Manhattan and asked community members if they knew what osteopathic medicine was and a large number of people weren't aware of what it was. We, as a profession, can do better outreach to ethnic minorities."