Veteran Spotlight: Pritish Sahoo
TouroCOM Salutes Students Who Have Served Ahead of Veterans Day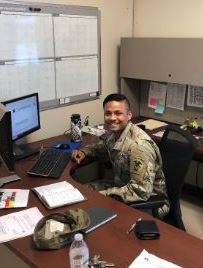 TouroCOM student and Army veteran Pritish Sahoo
As Veterans Day approaches, we caught up with Army veteran, and medical student on the TouroCOM Harlem campus, Pritish Sahoo, on why he enlisted, where he served, and more.
Reason he enlisted: I've always wanted to serve in the military as I idolize the discipline, camaraderie, and patriotism that the armed services embodies.
Active duty assignments: Schofield Barracks, Hawaii; Fort Hood, Texas; and Fort Leonard Wood, Missouri
Military awards: Commendation Medal, Achievement Medal, Overseas Service Ribbon, Global War on Terrorism Service Medal, National Defense Service Medal, and the Army Service Ribbon
Why he's passionate about the osteopathic medicine field: "I enjoy hands-on learning and osteopathy is the perfect example of hands-on healing. I find it fascinating that you can turn your hands into a diagnostic and therapeutic tool, and I'm so excited to help my patients of the future live a better quality of life."
Experiences had while serving that are helping him now as a TouroCOM student: Remaining disciplined and adhering to a strict schedule is vital while in the military. Understanding the importance of maintaining this rigorous lifestyle as a civilian has enabled Sahoo to prioritize important things including studying, completing vital course work, exercising, and spending time with family and friends.
"Serving in the military naturally makes you very disciplined and this skill will pay huge dividends in my career path. Also, because I worked with people from all walks of life while enlisted, I now find it easy to interact with and relate to diverse populations, like those represented in my classes at Touro."
Military skills applied at Touro: The leadership skills Sahoo learned while serving are constantly being leveraged in the college classroom.
"As an Engineer Officer in the Army, leadership and management were my primary focus. Now at TouroCOM, I utilize these critical leadership skills to form teams for important group assignments and pride myself on always taking on a leadership role to complete the task at hand."