Veteran Spotlight: Ben Olsen
TouroCOM Salutes Students Who Have Served Ahead of Veteran's Day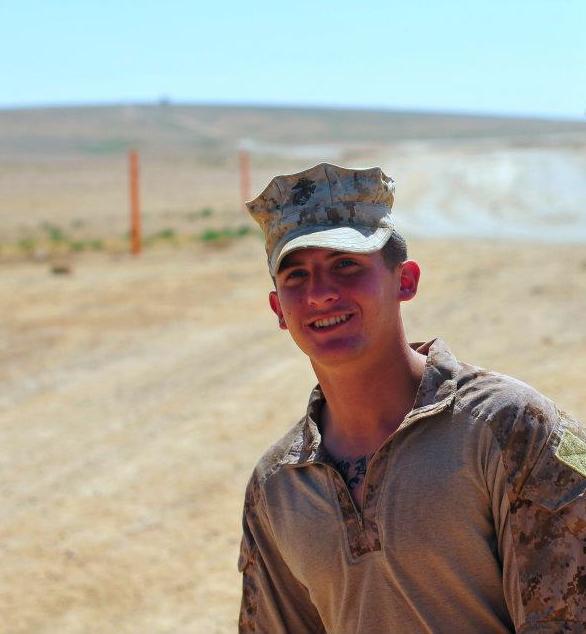 TouroCOM Harlem student and Marine veteran Ben Olsen
As Veterans Day approaches, we spoke with TouroCOM Harlem student and Marine veteran Ben Olsen on why he enlisted, the military awards he received for his service, and why he's passionate about osteopathic medicine.
Reason he enlisted: I wanted to serve my country as I grew up in a rural area where patriotism was highly valued. I have always looked up to war heroes, such as Audie Murphy and John Basilone, and wanted to follow in their footsteps. As I was already engaging in marksmanship and heavily involved in athletics, enlisting was the natural next step in my life.
Active duty assignments: After joining the Marines as a light infantryman in Camp Lejeune, North Carolina, I was assigned to a sniper team where I excelled in radio communications. I was then given the opportunity train as a machine gunner for a deployment to Marjah, Afghanistan. I was also part of a small unit mission in Jordan, where we trained native soldiers on tactics, and helped to start the Unit Deployment Program back up in Japan. I served as a Corporal and a Squad Leader and while attaining my undergraduate degree, I enlisted in the National Guard and achieved the rank of Sergeant.
Military awards: Combat Action Ribbon, Presidential Unit Citation, Good Conduct Medal, and Expert Marksman on pistol and rifle
Why he's passionate about the osteopathic medicine field: I always enjoyed learning about the medical field. While enlisted, I completed a combat lifesaving course, where I learned about how to keep people alive as they awaited medical attention on the frontlines. I quickly realized I needed to follow a career path where I could help as many people as possible.
Experiences had while serving that are helping now as a TouroCOM student: We did a lot of training where we were working 20-hour days and only slept for four hours, so it's almost second nature to me to still function well while sleeping very little. Now, as a father and a full-time student, I only have time to study at night. Luckily, because of these training experiences, late night studying has been working well for me.
Military skills applied at Touro: Since most of the equipment we used in the Marines was outdated and situations were ever-changing, I'm an expert on improvising, adapting, and overcoming a variety of situations. One of my favorite phrases to remember is to "break it down Barney style". This means that before you can fully understand hard topics, you must first be able to explain each step in easy to understand language as if you were Barney the dinosaur speaking to toddlers.