Unlocking Another Side of Their Minds
New Creative Arts in Medicine Club Allows Students to Learn and Relax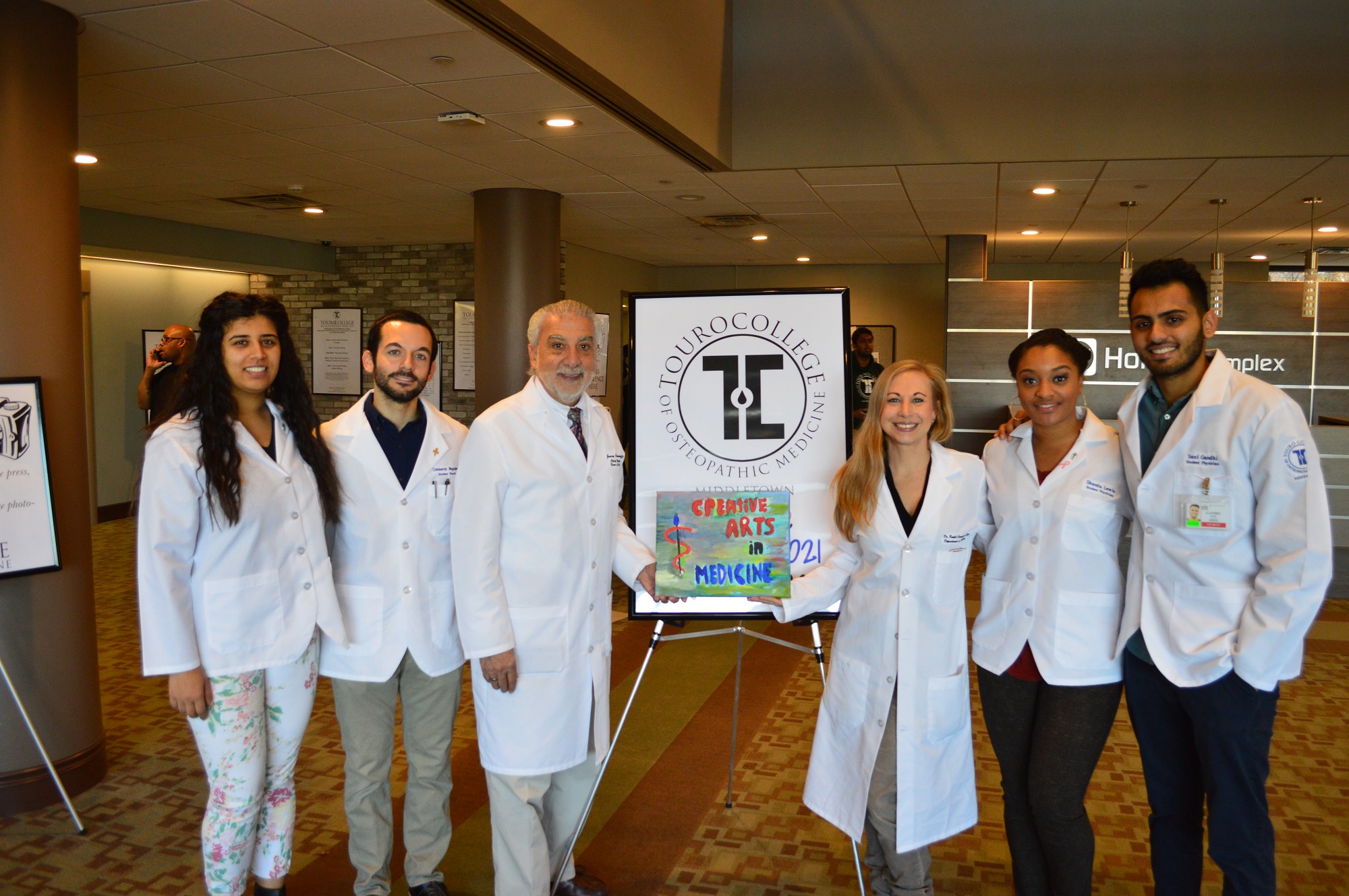 Medical students at the TouroCOM Middletown campus are engaging their artistic side.
Launched through a collaborative effort by OMS I and OMS II students Sani Gandhi, Shanda Lewis, Rubama Nasir and Umberto Napoletano, the Creative Arts in Medicine club provides students at TouroCOM Middletown with an artistic outlet and a much-needed respite from the intense academic pursuits required of medical students. Each month the club runs an arts-related event for students that is also open to members of the Middletown community.
"It allows us to unlock another side of our minds," explained club president Shanda Lewis.
So far, the club has hosted several popular events. A few weeks ago, Creative Arts in Medicine and Student Osteopathic Medical Association joined forces to host esteemed medical lecturer Dr. Bruce Mintz of Rutgers University, who spoke about the nature of medical disorders in the arts and through history. Participants learned that the famed painter Van Gogh painted with foxwoods, a plant that is an ingredient of the drug digitalis, and how President Abraham Lincoln most likely suffered from Marfan Disease.
In November, students on the Middletown campus were treated to an evening called Jammin' Arts Night. During the event, students were taught by Co-Advisor Dr. Rachel Connington and members of the Creative Arts in Medicine Club how to paint and make jewelry, while they listened to music by OMS II student and Secretary of the club, Umberto Napoletano, who formed an impromptu band with other musical students.
Most events the club runs are free and the club takes advantage of the artistic abilities of TouroCOM Middletown students. The bevy of talents is apparent in the board, which is replete with dancers, photographers, writers and artists.
"The Creative Arts in Medicine club allows us to learn about the different sides of our fellow students," explained club member Jennifer Lee. "We see the parts of them that we don't normally see since we're in class so much."
Doing something artistic also enables students to think about medicine differently.
"Medicine is an art," explained Vice President Sani Gandhi. "If you're training yourself to learn how to paint, visualizing the human anatomy becomes that much easier."
After a bold start in the school year, the club is gearing up an expansive schedule. In December, the club will hold a Pajamarama, a dance party in pajamas for students and faculty. Members of the Middletown community are invited to attend and Sani will be delivering an informative talk about Osteopathic Medicine at TouroCOM Middletown to participants.
"This way we get to know the community where we live," Sani explained.
The group is also planning to sing holiday carols as a way to celebrate post-finals and spend time with residents at a nearby assisted living facility. Future events include a poetry slam, free dance lessons and classes in photography. The club is also planning to organize a creative arts week in March featuring classes and lecturers.
The club has also found a strong proponent in their faculty advisor, Dr. Jerry Cammarata, COO and Dean of Students Affairs for TouroCOM Middletown. Dr. Cammarata is the author of The Fun Book of Fatherhood and, as an actor, had a role in the canonical film The Godfather.
"Our Creative Arts in Medicine Club reinforces the importance of vocations and avocations," said Dr. Cammarata. "We want our medical students to be well-rounded and never give up the arts in their lives. Their personal artistic pursuits represent the heart and spirit of who they are. I am overwhelmed with the creative talent our medical students have."