TouroCOM Middletown Holds Safe In-Person Medical Simulation Boot Camp
With Covid Precautions in Place, Students Practice Peripheral IV Insertion, Suturing, Nasogastric Intubation and Ultrasounds Before Rotations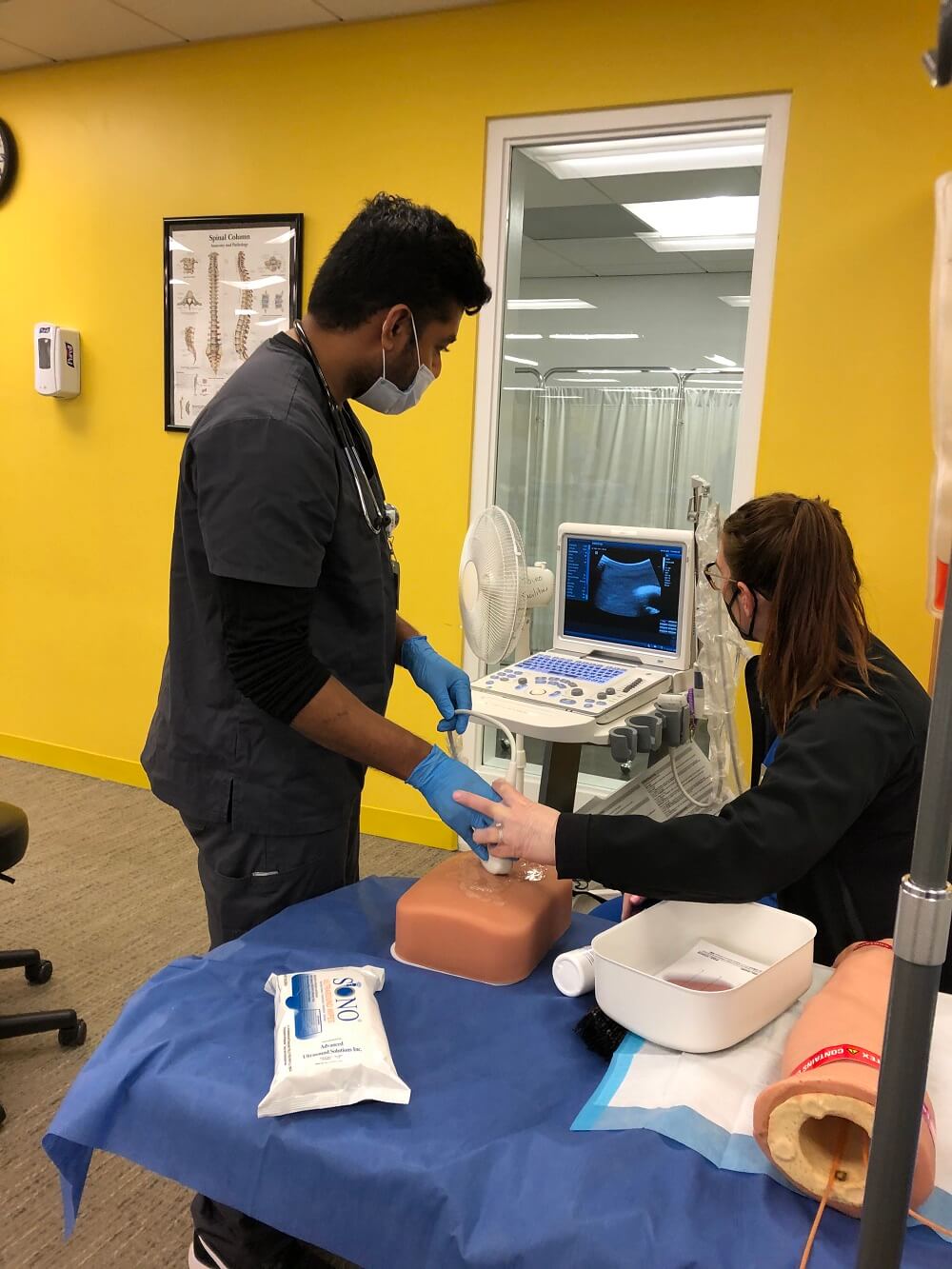 TouroCOM Middletown students had the chance to practice their skills during a Medical Simulation Boot Camp on May 4-5.
At the tail-end of a challenging year of online learning in the Medical Simulation Course, second-year students at TouroCOM Middletown participated in an in-person Medical Simulation bootcamp that ran for two consecutive days on May 4-5.
"It was a breath of fresh air," said OMS II Anthony Song. "It was really cool to be able to have a hands-on experience. It made us feel like we were more on our way to becoming physicians."
The two-day camp was the brainchild of TouroCOM Middletown faculty members Kelly Kohler and Dr. Joyce Brown, the school's director of simulation and associate chair of the Primary Care department. Since the coronavirus shut down most of in-person instruction for the 20-21 year, the class, given to second-year students and teaching a variety of medical skills and techniques like suturing and ultrasound, has been totally online. With students set to begin rotations in July and the cases of coronavirus in steep decline, Dr. Brown seized on the opportunity to hold the session.
Each student who attended was set up with an individual station while being instructed and supported by a faculty member.
"It was a really nice way to end the year and help our students as they start their rotations," explained Dr. Brown. The boot camp ran for eleven hours on both days. Dr. Brown was joined by eight faculty physicians, including Kelly Kohler, Drs. Nicole McGill, Yong Kwok, Avindra Ramnarian, Sue Schemel, and Amarnath Polepalle. Drs. McGill and Ramnarian were students of Dr. Brown's years ago at the TouroCOM Harlem campus. During the training sessions, students worked on four procedures: nasograstic intubation, peripheral IV insertion, suturing and ultrasound.
"It was awesome," said OMS II Anne Arcidiacono. "We learned how to place a nasograstic tube over zoom, but it wasn't the same as doing it in person. As soon as we got the email about the in-person MedSim program, half the class jumped on it even though we're studying for boards. It was so important to learn more about hands-on techniques that people use. We got a lot of one-on-one attention with the faculty."
OMS II Megan Brooks said that being able to practice on the lifelike manikins and task trainers was "fantastic."
"There's a lot of trepidation for second-year students about how we might mess up on rotations—the expectation is you will mess up—but here was this session where we could practice. The dummies were amazing realistic, and we were able to practice multiple different skills. I will feel much more confident when I step into my rotations."
Dr. Brown said that the Medical Simulation Course's transition to online learning had unexpected benefits. Some students picked up skills quicker and teachers were able to identify at-risk students faster than they had in past in-person sessions. Additionally, Dr. Brown found it was easier to explain parts of the curriculum and work on students' clinical communication decisions during online mannikin simulation sessions. "Sometimes when we have class in person those objectives get overshadowed by the physicality of doing the skills," she said.
Dr. Brown and Kelly Kohler presented their findings about the transition to online learning during the annual American Association of Colleges of Osteopathic Medicine convention and at the International Meeting for Society for Simulation in Healthcare.
The Medical Simulation Bootcamp was specifically set up on the days students were required to come in for their Advanced Cardiac Life Support/Basic Life Support (ACLS/BLS) certification so as to minimize the inconvenience to the students and maximize their time efficiency and learning opportunities, said Dr. Brown.
The professor also mentioned that students had reacted positively to the online transition and credited her fellow course instructors. "All of the faculty instructors showed extreme adaptability, dedication and commitment to the students and school in learning how to switch to online learning," said Dr. Brown. "The switch required each of them to learn how to use technology and teach in a way that was different than they were used to, but they still taught with the same excellence."
"The student evaluations of the course and the faculty were the same if not higher than what we received from in-person classes," she continued. "I'm truly touched by both the students' enthusiasm and their participation."
The feeling was mutual. (Dr. Brown's efforts on behalf of her students was recognized with TouroCOM Middletown's 2021 Teacher of the Year Award.)
"Touro's response to the pandemic was really student-centered and they really responded to the feedback we gave them during the troubling times of March and April," said OMS II Arcidiacono. "Touro came out really strong."
"All of our faculty are amazing," said OMS II Brooks. "Not only are they knowledgeable but they help and encourage us and give us a sense of confidence about ourselves. They let us know that this is a learning process and we're fully capable of completing it. Having such supportive faculty is invaluable."