TouroCOM Celebrates at MedAchieve Graduation
Program Paired High Schoolers with Students at TouroCOM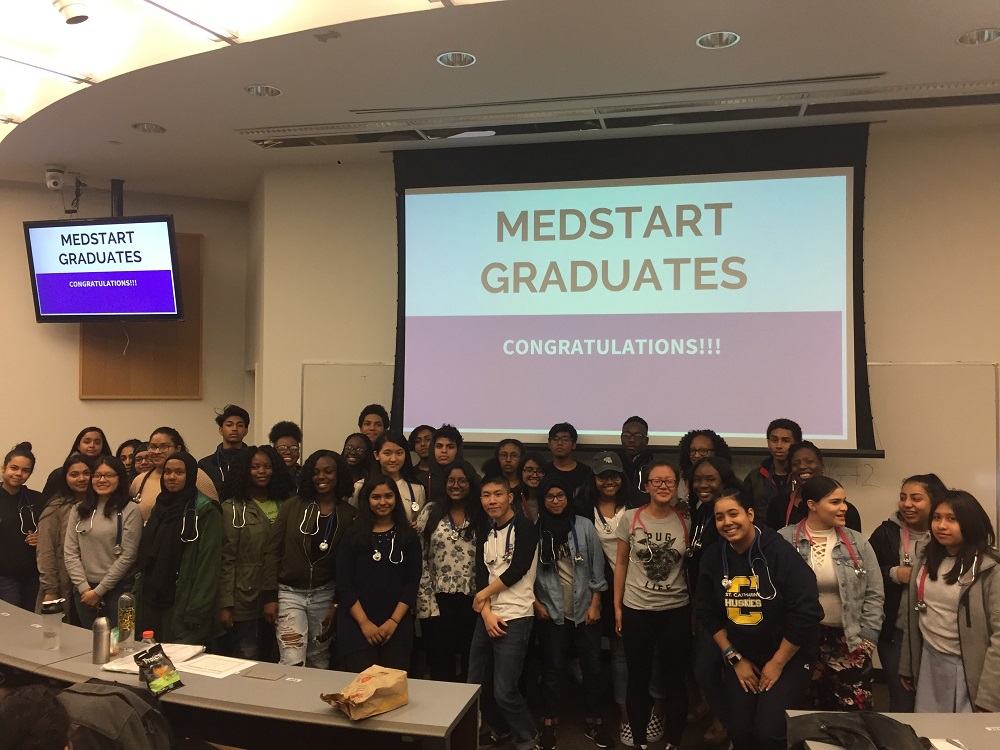 Both TouroCOM Harlem and TouroCOM Middletown held special graduation services when more than 100 high school students celebrated the completion of their MedAchieve program.
As part of the program, each week for the past year the high school students visited their respective campuses and met with their mentor, a TouroCOM student, and learned about medicine and the realities of medical school. First-year students of the program are MedScholars and second-year students are members of the MedExcel program.
64 high school students graduated from the TouroCOM Harlem program and roughly 55 high school students graduated from the TouroCOM Middletown program.
During the TouroCOM Harlem graduation, held on April 12, Dr. Nadege Dady, TouroCOM-Harlem's dean of students, conferred a certificate of completion on Harlem's MedAchieve participants. Dean Dady spoke about how proud the school was of the TouroCOM students and the high schoolers that attended the program. "At TouroCOM we value service," she stated. "Your dedication to attending the program each week was inspiring."
OMS II Sarika Ziemann, who led the TouroCOM Harlem program last year, congratulated the graduates. Speaking to the MedExcel students, she said that even though they graduated the program, their relationships to their mentors doesn't end. "Your mentors are still here even though you've completed the program," she said. "You can always come back here. Someone is here for you."
Each participant received a gift during their graduation: a stethoscope for MedScholars and a doctor's white coat for MedExcel students.
"MedAchieve was exciting," said Juleiddy Deleon. "I especially liked when we learned how to do suturing."
Subhra Jana, the MedStar coordinator for TouorCOM Middletown, said that the program benefits both TouroCOM students and the high school participants. "As medical students, we spend so much time learning and stuffing our brains full of information, it's really nice to have these two hours a week where we just put away the stress of medical school and focus on connecting with these kids," said Jana. "Sometimes we forget why we're in medical school and these kids remind us why we're here."
TouroCOM Harlem MedAchieve director OMS I Avnie Sheth said that many of the mentors felt fortunate to be able to help out high school students considering a career in medicine. "I didn't have anyone to explain to me what medical school would be like," said Sheth. "We're able to show them that medicine can be fun."
OMS I Melanie Small and her mentee Sakia Sraboni bought each other gifts to celebrate the occasion. "If you have a good mentor you get excited to come each week," said Sraboni.
Kadijatou Gory, who graduated the MedExcel program, said her second year in MedAchieve helped her formalize her next steps: she will be attending Hunter College in the fall and hopes to become either a pharmacist or pediatrician.
Gwendolyn Zhen, of the Lower East Side, said she was surprised by how fun the program turned out to be. "I didn't know we'd be seeing cadavers on our first day," she exclaimed, adding that one cadaver had pink nail polish.
After the TouroCOM Harlem celebration, the mentees were treated to a dinner of pizza and a medical fair where different school clubs provided information about their medical specialties.
Srinidhi Shyamkumar, the president of TouroCOM Harlem's neurology club, manned a table. "These kids get to see a glimpse of some of the specialties and the different things they can do in medicine," she said.
High school student Jeffrey Gao dressed in a suit and tie for the graduation. He said he joined the program after his school's guidance counselor recommended it to him. "It was fun," he said. Asked about his plans, Gao said he hoped to attend Columbia University and then pursue a career in medicine. What made him choose medicine?
"Honestly? This program."