Touro Students on Global Mission Address Health Disparities
Touro College of Osteopathic Medicine Students Traveled to Peru to Engage With Local Communities, Provide Health Care Screenings and Learn About Rural Health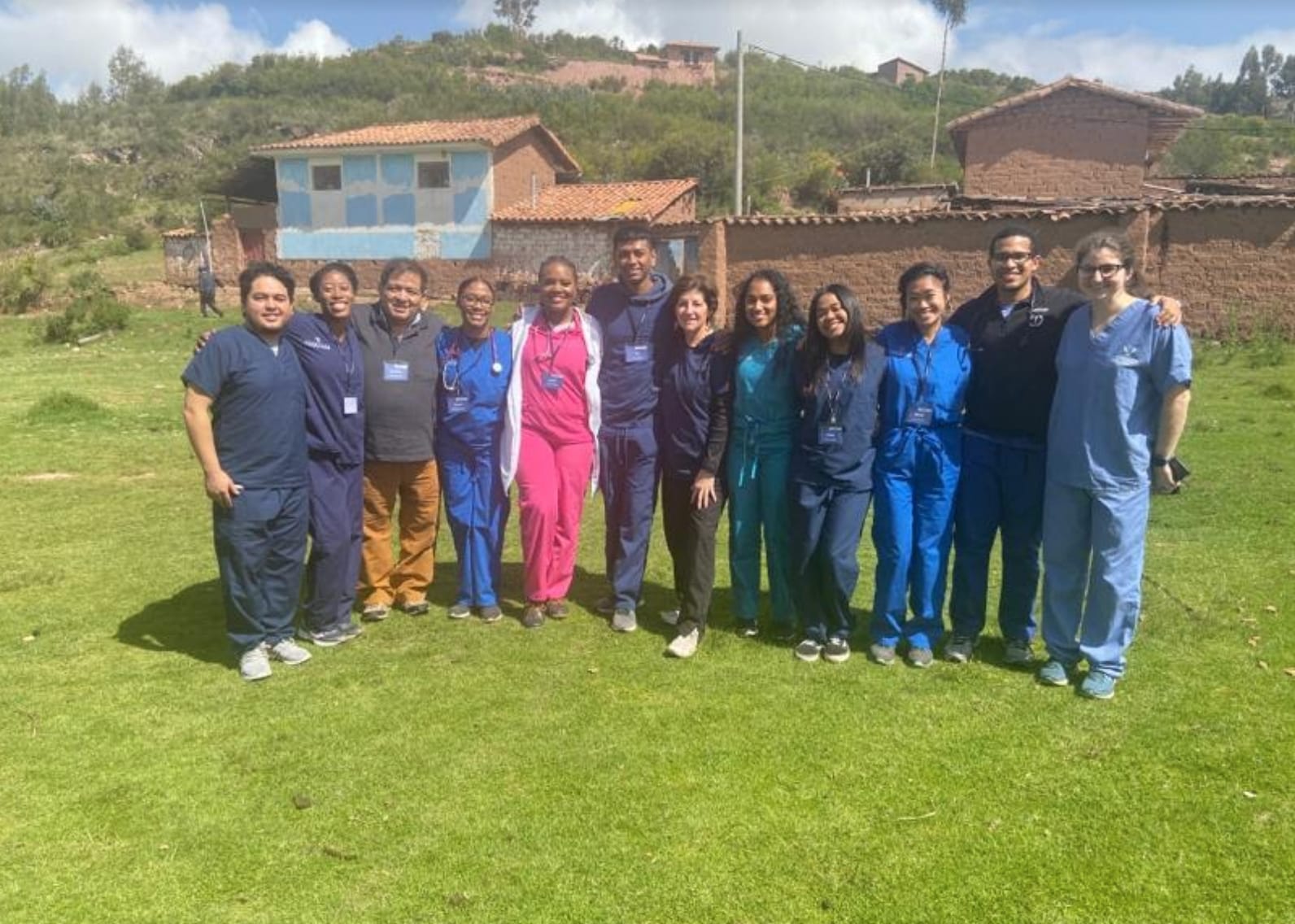 Dominique Pean, first year medical student (OMS I) at TouroCOM Harlem, shares how he and his fellow med students learned from and helped out local communities on a winter break mission to Peru.
We are seeing extraordinary advancements in medicine, yet some communities around the world still are not able to benefit, often due to geography. They continue to experience disparities in healthcare education and treatment, with rural communities facing the greatest challenges. Global health professionals try to help overcome these hurdles. They engage with different groups and cultures to address the disparities. They learn about healthcare systems outside of the United States, and then provide care and education in those areas.
Students from Touro College of Osteopathic Medicine (TouroCOM) - Harlem took to heart the importance of world health and went on a global medical campaign to Cusco, Peru. As first-year students, my fellow classmates and I were eager to put into practice the skills we learned at TouroCOM and to understand the culture of Peru.
TouroCOM faculty members accompanied us. Associate Professor Janet Grotticelli, DO and Assistant Professor Carlos Quinteros, M.D. ensured we did not miss a beat. Together, our team of 12, along with Peruvian healthcare professionals, went to work to make a difference among the marginalized, indigenous populations.
"Morning Rounds"
Mornings started by talking through how best to set up our stations to gather patient information, form diagnoses, do physical exams and lab studies, and provide therapies. Then the clinical day officially started, with students measuring vital signs and asking patients for their chief complaints.
Next, patients made their way through our assembly line of stations while the medical team determined diagnoses and appropriate management. Students performed osteopathic manipulation treatment (OMT) and educated patients about preventive measures and exercises they could take home. Visits were finished at the pharmacy table, where instructions were provided on how to take medications and follow-up questions were answered - with Peruvian healthcare professionals standing by providing supervision.
Clinic days ended with periods of reflection. We talked about what we had witnessed, and the faculty facilitated dialogue about the causes, manifestations, and management of the pathologies we had seen. Together, we pinpointed possible improvements from previous days, and then loaded our supplies and traveled by van to a new area for the next day. In this way, we were able to experience the many diverse regions of Peru.
Reinforced Calling to Medicine
Over the course of our weeklong medical campaign, we applied what we learned in class at TouroCOM to our encounters with patients. Practicing hands-on applications, coupled with helping the underserved, reinforced what our student cohort felt they had learned back in Harlem and the school's mission. Our decisions to attend TouroCOM were validated and our calling to medicine was reinforced.
"I was surprised by how much knowledge and how many new skills I was able to put into practice after only one semester of medical school," observed first-year student physician Chanelle Campbell.
I, too, felt a newfound confidence as we applied our knowledge gleaned in medical school. We forged bonds while serving others. I was impressed with the skills and empathy displayed by my classmates, which reassured me that the future of healthcare is bright. It was a privilege to participate in this medical campaign and gain experience in global health!