Touro College of Osteopathic Medicine Graduates the Class of 2021
Pandemic Volunteers Survive Medical School, Head to Top Residencies Both Near and Afar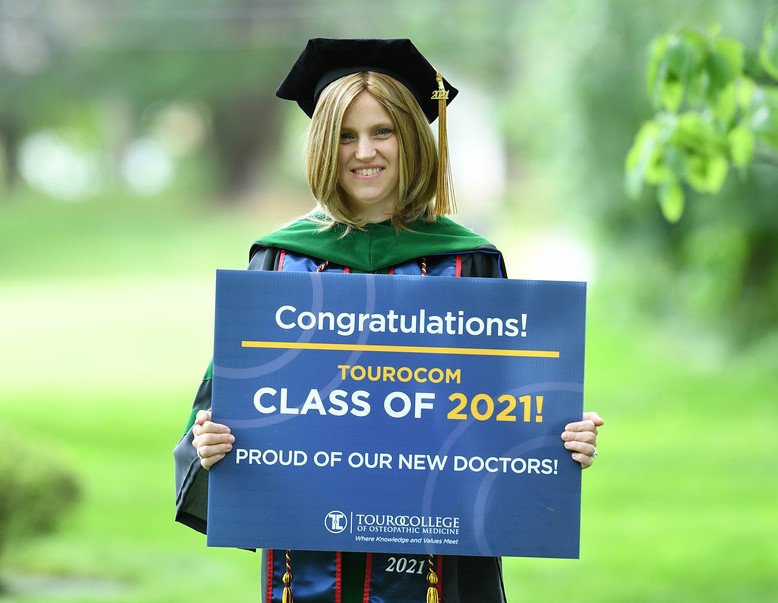 Alexandra Friedman
Touro College of Osteopathic Medicine graduated 239 new Doctors of Osteopathic Medicine last week from its two New York schools - in Harlem and Middletown.
At twin ceremonies, the graduates celebrated with classmates, family and friends on zoom and via virtual chats as they listened to speeches, recalled fond memories and were formally congratulated by Touro leadership and other well-wishers.
"Your last year of medical school was complicated by the COVID-19 global pandemic," noted Executive Dean Kenneth Steier, DO, in opening remarks. "You responded most admirably and many of you volunteered to help fight this disease and save lives. I thank you for that."
Adapted Readily to Change
Students and faculty adapted readily to the changes brought about by COVID-19. For nearly a decade, TouroCOM has been using the "flipped classroom" model, which allows students to listen to recorded lectures on their own time. Additionally, interactive zoom discussions replaced in-class experiences, and clinical skills were introduced at home using mannequins and faculty-guided simulated encounters. Critical skills that must be learned in person were taught on campus, and clinical rotations proceeded mostly uninterrupted.
"I am confident, graduates, that you will continue to transform your aspirations into realities," said Dr. Alan Kadish, president of Touro College & University System. "For the rest of your lives, you have the opportunity to be healers in a society that truly needs healing. Never has that been more true than today, in the midst of our worldwide health crisis…I urge you to fully dedicate yourselves to becoming the professional that you would hold up as a standard bearer - ethically, spiritually and professionally."
Residencies Ahead, Near and Far
Nearly all of the graduates are going on to residencies in noted hospitals and medical centers. Middletown students matched to core affiliates including Garnet Health and Nuvance Health, and Harlem students to Coney Island Hospital and Nassau University Medical Center. Further from home, students matched to highly competitive residencies at Kent Hospital/Brown University, Boston University Medical Center, Tufts Medical Center, University of Massachusetts, Cleveland Clinic, the Mount Sinai Hospital New York City, and George Washington University.
Keynote speaker Dr. Franz Duffoo, Designated Institutional Official, Garnet Health, provided the students a glimpse of what lies ahead. A nephrologist with vast experience as a medical educator, Dr. Duffoo urged the graduates to build trust and rapport with medical teams and other allied professionals and to treat patients with respect and courtesy.
"Listen carefully, and explain things in ways that patients can understand," he said. "It does not come as a surprise that many patients do not see the doctor's office as a safe place. Not only are patients afraid to ask questions, they also fear being judged. When doctors respond kindly and without judgment, patients take particular note."
Awards Recognized Academic Achievement, Leadership and More
Many awards followed the remarks. The Dean's Award, given to the graduating student with the highest academic standing, went to Alexandra Friedman from the Middletown campus and to Elie Flatow, Shreel Parikh and Tobin Thuma from Harlem.
The DO Student of the Year Award, for outstanding service to TouroCOM, leadership, research and dedication to the profession went to Michael Dorritie from TouroCOM Harlem and to Harry Qi from Middletown. Qi also presented the Middletown student address to classmates; Harlem graduates heard from student speaker Shannon Sunny.
Friedman's husband, Yosef Friedman, received the Middletown campus' Donna Jones Moritsugu Memorial Award, presented to a spouse of a graduating student for their unwavering support. Friedman gave birth to three of the couple's ten children during medical school, and Yosef worked nights so Alexandra could care for patients during the day. David Scrirotto, husband of Harlem graduate Elena Anigati, received the spousal recognition from the Harlem campus for his support, which included caring for the couple's three children.
Watch the TouroCOM Middletown DO Class of 2021 Commencement