The TouroCOM Students Behind Behind Our Heroes
How One Group of Touro Students is Making a Difference in the Fight Against COVID-19 by Supplying Much-Needed Medical Supplies and More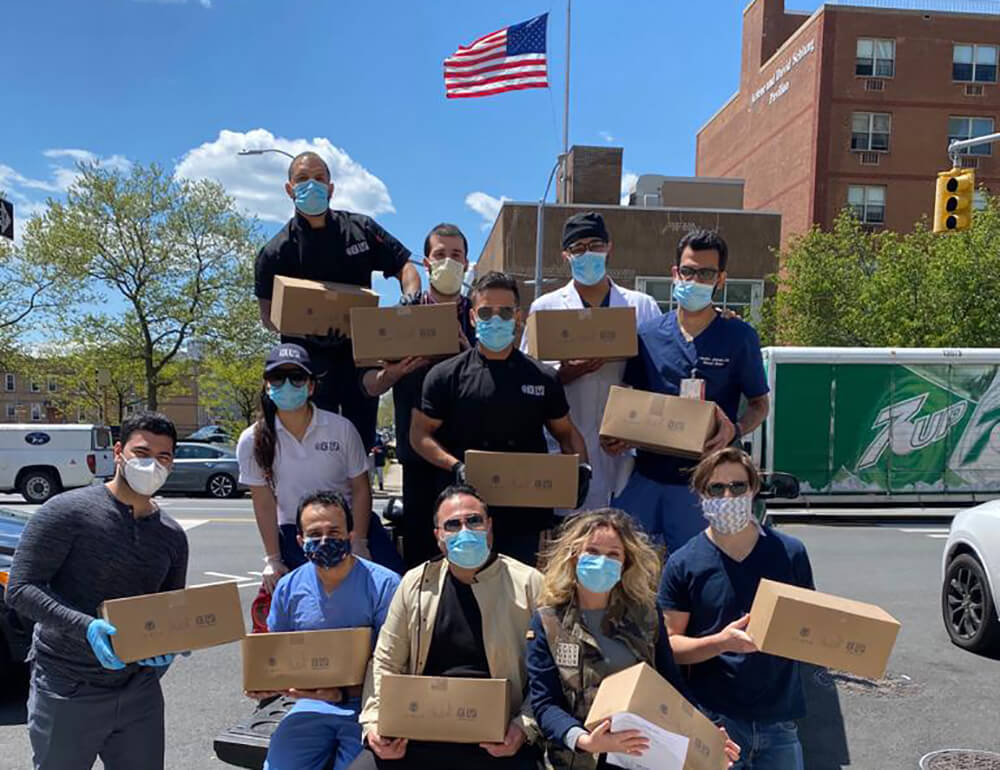 At the end of March, COVID-19 was ravaging everything in its path, and it seemed there was no end in sight. TouroCOM student Tamar York picked up the phone and dialed her friend and classmate Sarah Fahmy. "I have an idea," York told Fahmy.
As doctors in training who were pulled from rotations four weeks prior, we yearned to be able to make a difference and support our mentors, but weren't quite sure how. We started to brainstorm and discuss the possibilities - delivering Personal Protective Equipment (PPE), handling grocery runs for health care workers, offering pet care and providing meals to hospitals all made the list. Overwhelmed by the endless tasks on our potential "to-do" list, we agreed to do some research.
We reached out to other organizations, sought volunteers and gauged interest from hospitals on what was needed. Before we knew it, we had amassed nearly 100 volunteers from all around New York. We got a website up and running, a successful GoFundMe page going, and of course, a name: Behind Our Heroes. The name was chosen to embody our mission - supporting our mentors and teachers and the heroes on the front lines. We began to chronicle their journey on Instagram, and before we knew it, there were even more volunteers, support and interest. In less than a month, our organization had gained over a thousand followers. Behind Our Heroes was gaining traction.
Now, Behind Our Heroes focuses on three main goals - raising funds for PPE, distributing PPE and delivering food to hospital workers. In addition, we offer grocery runs for hospital workers, as well as tutoring services for the children of hospital workers.
We also started an initiative called "Connected with Cards" that sends hundreds of cards to hospital workers and patients in the hospital who have had to endure the nightmare of a hospital stay without family visits or support.
We are fortunate to have connected with donors and sponsors who have abundant resources and a desire to help the cause but lacked the personal connections to hospitals and resources. Behind Our Heroes stepped in and utilized our internal medical network to serve as a "matchmaker" between sponsors and hospitals, allowing PPE and food donations to reach places where it was needed most.
As of today, our PPE team has raised more than $8,000 in funds that have been used to buy over 1,000 gowns and masks. We are grateful to Beit Medrash of Great Neck, which became a major sponsor, helping to secure 20,040 N95 masks, 344,400 surgical masks and 3,312 bottles of hand sanitizer - that's more than $400,000 in contributions!
Another major sponsor is the Manhattan-based Sage Kitchen, which provided over 400 meals that we personally delivered to Kings County Hospital Center and Maimonides Hospital. We have also received support from Brooklyn's Union St. Pizza, which provided 300 meals to distribute to staff at Coney Island Hospital and Brookdale Hospital Family Care Center, and from Ask Ilysa LLC's catering services (sponsored by pro-golfer Ian Poulter), which contributed over 300 meals and grocery boxes to workers at Brookdale Hospital and Maimonides Medical Center in Brooklyn, and St. Francis Hospital on Long Island. Without our meal partners, we would not have been able to achieve our goals. We hope that by donating these meals to front line staff we are supporting all hospital workers as they face the COVID-19 challenge.
The success of Behind Our Heroes is even more than we dreamed. We are so grateful for the opportunity to help in some way as we face this crisis together. The Behind Our Heroes team is thankful to everyone who has contributed their time, money, supplies and heart thus far to this cause.
By: Sarah Fahmy, Tamar York, Benjamin Souferi, Benjamin Traisman, OMS-IIIs, & Brianna Goldstein, OMS-II at TouroCOM of Behind Our Heroes