"Stand Tall in Your White Coats"
TouroCOM Middletown's Class of 2022 Celebrates at White Coat Ceremony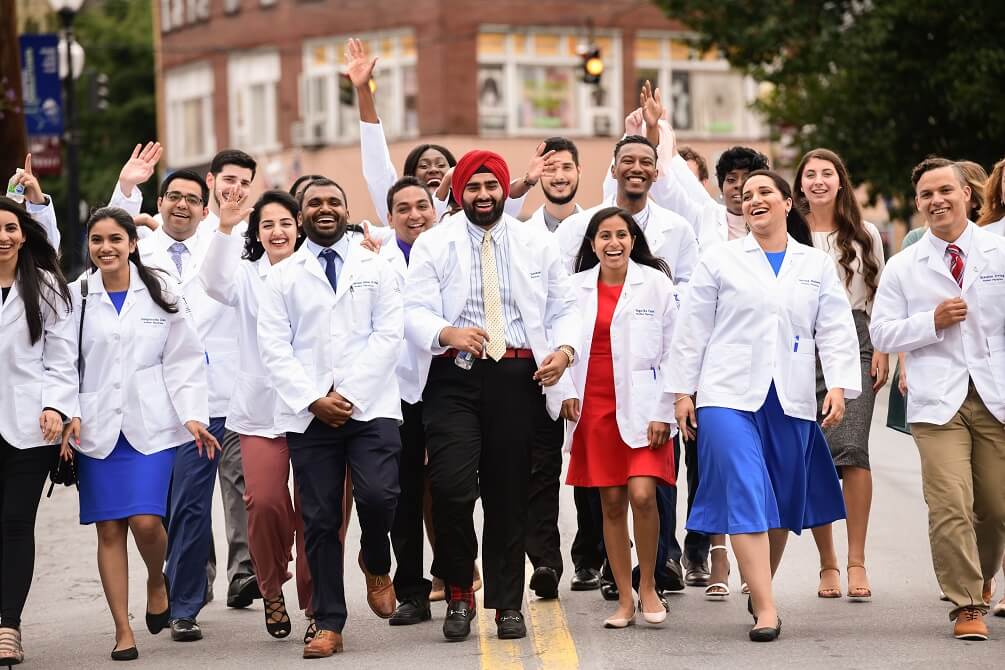 Members of TouroCOM Middletown's Class of 2022 donned their white coat on July 23.
The 135 members of TouroCOM Middletown's class of 2022 began their medical school experience by donning their white coats at a ceremony at the Paramount Theater in Middletown on July 23.
"It's all very surreal," said Brandon Irving, of New Jersey, who graduated from the TouroCOM Middletown master's program in 2018 and joined the DO class of 2022.
Stephen Hongach's family drove in from Brooklyn to celebrate with him as he donned his white coat. "We're very proud of him," said mother Angela. "We want him to reach for the stars."
Attendees at the ceremony included Dr. Jim Oxley, Chief Medical Officer of Orange Regional Medical Center; Dr. Kenneth Steier, Dean of TouroCOM Middletown; Dr. Jerry Cammarata, Chief Operating Office and Dean of Student Affairs for TouroCOM Middletown; Middletown Mayor Joseph DeStefano and hundreds of friends and family members who journeyed in from around the country to wish the future doctors well.
Dr. Cammarata opened the event by reading a prepared speech by philanthropist and TouroCOM Middletown developer Tony Danza who was ill with a summer cold. This was the first white coat ceremony that Danza, the developer of the Horton Complex, has missed.
"Having the medical school in the Horton Complex of Middletown is a labor of love for many of us and continues to be a significance value to the people of the Hudson Valley community," Dr. Cammarata said. "Stand tall in your white coats, charitably be the beacon of hope to those who seek your wisdom."
Dr. Steier welcomed the class to the school by recounting a short history of TouroCOM Middletown and the school's close relationship with the surrounding community.
"Our school was described as one of the best new medical schools the inspection team had ever seen," said Dr. Steier, "Out of 135 first-year students, 133 made it through the first year, a 98.5 percent passing rate, which I was told, is some kind of record. Our second year was even better."
Touro College Provost Patricia Salkin spoke of the students' newfound responsibilities and what their white coats symbolize.
"Regardless of your student status, you represent the medical profession on a whole new level. People will judge all doctors based on you," said Provost Salkin. "You must carry yourself with integrity, always."
Provost Salkin also encouraged the future doctors to always remember the TouroCOM mission.
"With your white coat think how you can help those in need in underserved communities and think about how you are now a role model for younger people, and not even so much younger people, who could not see themselves in medical school before they met you. "
Keynote speaker Dr. Oxley called the donning of the white coat an important step in the students' medical journey.
"The white coat doesn't make you smarter, it doesn't make you more compassionate, it doesn't bestow prestige," He explained. "You must work hard every day for those things. Medicine is very humbling. There will always be someone smarter or more confident knowledgeable than you but when you walk into that patient's room with your clean, pressed, sparkling white coat you become in that patient's eyes, the smartest and most prestigious and most confident person on the planet."
"Why? because you are going to listen, answer their questions and mediate their fears. You are going to be honest and seek help when you need it. Most importantly you will form a bond, one human being to another. That is sacred."
The ceremony also included the presentation of awards to the DO Teachers of the Year: Dr Fernando Bruno and Dr. Rachael Connington. OMS III Johnny Truong received his Student DO of the Year plaque as well. OMS II Harry Qi and Leandra Trydal delivered the final speech on behalf of the Student Government Association.
"The next four years may be some of the most challenging and rewarding years of your life," said Trydal. "We are here to support you… You have not only been accepted into medical school but to the Touro family."