Shooting for the Moon
Touro College of Osteopathic Medicine Student Aims for a Career in the Military and Possibly Outer Space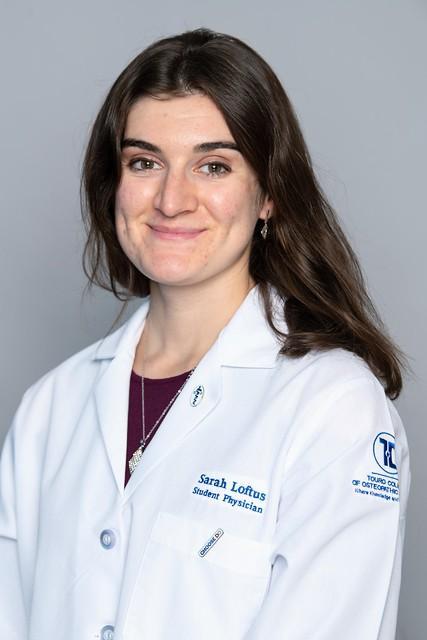 Sarah Loftus, OMS-II
Sarah Loftus, OMS-II at TouroCOM Middletown, is a 2nd Lieutenant in the United States Army and president of the school's Armed Forces Medical Club. Recently she organized and moderated a well—attended webinar for students with NASA Astronaut and Colonel Andrew Morgan, an astronaut on the International Space Station. They explored how a medical career in the military can be rewarding and propel physicians into space. We discussed with Sarah her interest in medicine and military service.
Can you share your background and interest in medicine?
When I was younger my mother was a pediatric oncology nurse and she often brought my brother and I to work. We would interact with children undergoing chemotherapy and this introduced me to the medical world. Throughout high school and college I kept this career hope alive by continuing to work in the medical field as an EMT and emergency room scribe.
How did you come to pursue the military and outer space?
I commissioned in the military after receiving financial aid through the U.S. Army's Health Profession Scholarship Program, which helps pay for medical school in return for time served as a military physician. But more than the financial help, I am very excited to see where a military career will lead me, with opportunities to live and work in exciting places, undergo challenging physical training and also work with unique patient populations. As for space, it captures my imagination! It's the final frontier!
Why did you choose the Army and what is involved in reaching your goal?
In addition to the financial help, I grew up right here in Orange County, N.Y., in the hamlet of Fort Montgomery on the banks of the Hudson River. It's near West Point, home of the United States Military Academy for the Army. While no one in my family is in the military (except me now!), I had numerous friends from high school attend West Point or join the Army, which motivated me to do the same. My goal of becoming an Army physician means I need to continue to do well at TouroCOM and then go on to residency at a military hospital. What specialty and where remains to be determined and is something that both excites and terrifies me. But I know I need to get better at push-ups!
What do you like most about medicine so far, and why become a DO?
Studying medicine satiates my curiosity about the human body and people. I love learning and see a career in medicine as dedicating myself to lifelong learning. Also, I consider myself a "people-person" and medicine is a hugely social field. When applying to medical schools my main goal was to stay close to home, and fortuitously the closest school was TouroCOM Middletown. I greatly appreciate our holistic curriculum and approach to patient cases. Additionally, having weekly classes in Osteopathic Manipulative Medicine has made me comfortable touching the human body and strengthened my knowledge of anatomy.
Tell us about the Armed Forces Medical Club.
The AFMC is a club of students from both Middletown and Harlem that allows students on military scholarships to network with classmates and alumni. Having peers to engage with about training, navigating military responsibilities while in school, and filling out the endless paperwork is extremely helpful. There are about 30 students in the club representing the U.S. Air Force, Navy, and Army. During my master's year at Middletown the club was super helpful in helping me decide to apply for my scholarship; thus, come second year I wanted to be more involved and so joined the e-Board.
What are the main benefits of TouroCOM and how is it preparing you for your future?
For me, the main benefits are the small class sizes and homey feel. I love the close-knit community of professors and students and feel cared for as a student and individual by all the staff and professors. Also, as someone who grew up in the surrounding community, I appreciate the opportunities provided to give back through the multiple volunteering opportunities that TouroCOM provides students.