Practicing Rural Medicine
Five TouroCOM-Middletown Students Spent Two Weeks in Connecticut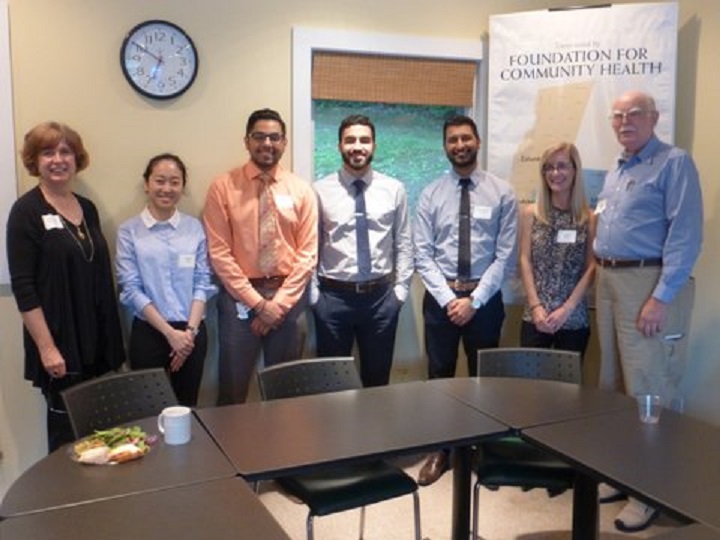 Five TouroCOM Middletown students spent two weeks in a rural area to learn about practicing medicine in underserved areas.
Five TouroCOM-Middletown students had an experience this summer that many medical professionals never receive: an immersive medical experience in a rural community.
The second-year students—Saran Patel, Mouhammed Shilleh, Shubhdeep Ahden, Carly Rice and Aeree Lee—were part of a two-week immersion program run by the Foundation for Community Health. During the program, students were housed in Connecticut and visited several medical sites around the area, including Sharon Hospital, Geer Nursing and Rehabilitation, and Columbia Hudson Area Health Education Center. TouroCOM students shadowed physicians across departments, worked with administrators in nursing homes and saw how individuals with drug addictions were rehabilitated.
"I had a very limited experience interacting with rural communities since I'm from New York City," said TouroCOM Middletown student OMS II Aeree Lee. "For me, the experience was a taste of what it's like to practice medicine in a rural area. It's a refreshing potential career and it's nice to know about this place."
Rural areas are particularly underserved by medical professionals. The National Rural Health Association believes that rural areas could be short 45,000 doctors by 2020. More than 70 rural hospitals have closed since 2010 according to NPR. One of the core tenets of TouroCOM's mission is training doctors to serve in underserved communities and areas, both nationally and internationally.
OMS II Saran Patel, who grew up in Lancaster, Pennsylvania, said that Sharon was more rural than he was used to.
"When I got to Connecticut, I realized this is what a rural community is like."
The participants spoke at length about what they thought as the positives and the negatives of practicing medicine in a non-urban areas.
"Transportation is a huge issue especially in rural communities," stated Patel. "We drove thirty miles to pick up a patient. Thankfully they have services like dial-a-ride so patients can get to the hospital."
"Life is especially difficult for patients who are critically ill in these areas," said Lee.
In addition, there was a language barrier between some doctors and patients, an issue that could be overlooked in an urban area, but one that could be catastrophic given how few doctors there are in rural areas.
Unlike more crowded areas, rural settings allow doctors to have a closer relationship with their patients.
"You are really able to get to know the patients," said Lee. "There was a family vibe to the medical centers. You don't feel rushed when you're examining a patient. It's more quality-centered than quantity-centered care."
"Everyone knew each other by a first name basis," recalled Patel. "We rotated through different sites, but there were no loose ends when a patient transferred between them. The doctors would know the patients because of the close-knit nature of the community."
OMS II Ahden Shubhdeep who said he was already considering working in a rural community, said the experience strengthened his decision.
"The program made my decision resolute," he said.