Lifestyle Medicine Finds New Ground at TouroCOM Middletown
Touro College of Osteopathic Medicine Student Recognized for Promoting Specialty of Lifestyle Medicine at Middletown Campus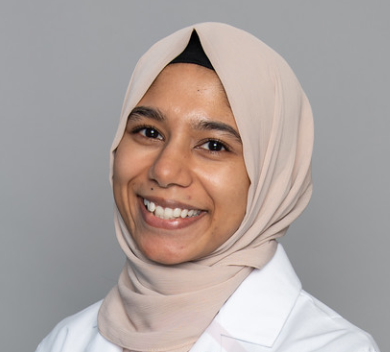 Simal Ali, OMS-II
In November, Touro College of Osteopathic Medicine Middletown student Simal Ali, OMS-II, was recognized by the American College of Lifestyle Medicine for her efforts in promoting the field. She launched a lifestyle medicine campus interest group earlier this year that now has over 110 members.
What is "lifestyle medicine"?
It's a relatively new medical discipline that complements both osteopathic and allopathic medicine and is relevant to all medical practices. It focuses on evidence-based practices by clinicians trained and certified in the specialty, to prevent, treat and often reverse chronic disease and improve health and quality of life. Benefits can range from reducing hospital stays and post-surgical recovery to improving pregnancy outcomes and pediatric development. Almost 80 percent of chronic diseases are preventable through lifestyle interventions, which can offer more long-term benefits for patients than pharmacological treatments alone. Practitioners are eager to find the root cause of disease and eradicate it as much as possible rather than simply managing it.
Why did you start the group?
The philosophy complements our osteopathic curriculum. My classmates and I share a desire to become comprehensive providers for our patients, and so sharing resources on how lifestyle modifications can be used as primary treatments for chronic diseases just made sense. We have subcommittees focused on education, nutrition, and physical activity, among others. With over 100 members it's obvious we have articulated a vision that anyone can get behind!
What is your group's mission?
It's three-fold: to learn how to educate patients on lifestyle modifications; enable students to implement healthier lifestyle habits for themselves; and to collaborate with our local community in the Greater Hudson Valley to help them take charge of their health. Since 2010, our neighbors in Sullivan County have ranked at the bottom for health outcomes in the state, according to Robert Wood Johnson Foundation health rankings. To improve these outcomes we have several initiatives in the works.
What have you accomplished so far?
We've created grocery guides and hosted a registered dietitian who spoke on using nutrition to manage and mitigate diabetes. We launched a "Step Challenge" to get our busy students and faculty moving, and have spoken to high school students about how diet, exercise, and sleep can optimize their performance. Our advisor is a culinary medicine-trained nephrologist who is going to help us revive a community garden with fresh, organic produce, and we're planning a workshop on aromatherapy to relieve stress. Funds raised will go towards improving health outcomes for the county.
How did you get interested in lifestyle medicine?
Having grown up a few extra pounds heavier than my peers, I developed a strong interest in nutrition and physical activity after discovering the benefits of healthy choices: longevity, strength, restfulness, and general well-being. Also, I saw a relative succumb to diabetes, obesity and kidney failure. Everyone deserves to live the healthiest version of themselves. That belief motivates me to spread the knowledge. While an undergrad, I worked as a research assistant at the Weight, Eating, and Lifestyle Science Center at Drexel University. We conducted NIH-funded clinical trials using behavioral therapy to overcome obesity. It was very rewarding and since then I've enjoyed educating others about small, practical ways they can contribute to their health.
Can you share more on your background and path to medical school?
I grew up outside of Philadelphia. I did not have physicians in my immediate family, but I did have people who could have benefitted from going to a doctor more often. In my culture, even people who pursue medicine rarely see their doctors regularly. This is partly because there's a fear of being prescribed medications for diseases they are not aware they have. The other factor is they haven't found a doctor who accommodates their religious and cultural needs. I hope I can be that doctor for some.
Fun fact: outside of school I love soaking up the sun and listening to The Genius Life podcast. I'm also in the U.S. Army and this past summer I spent six weeks with hundreds of medical students from across the country training and learning all about military medicine! I plan to pursue residency with the Army and become board certified in the field. I hope we can shift the focus of medicine from disease mediation to health retention and that lifestyle medicine principles eventually will become our first choice tools for treatment.