"I Stand With My Community"
TouroCOM Harlem Alumna Stages a Rally for Change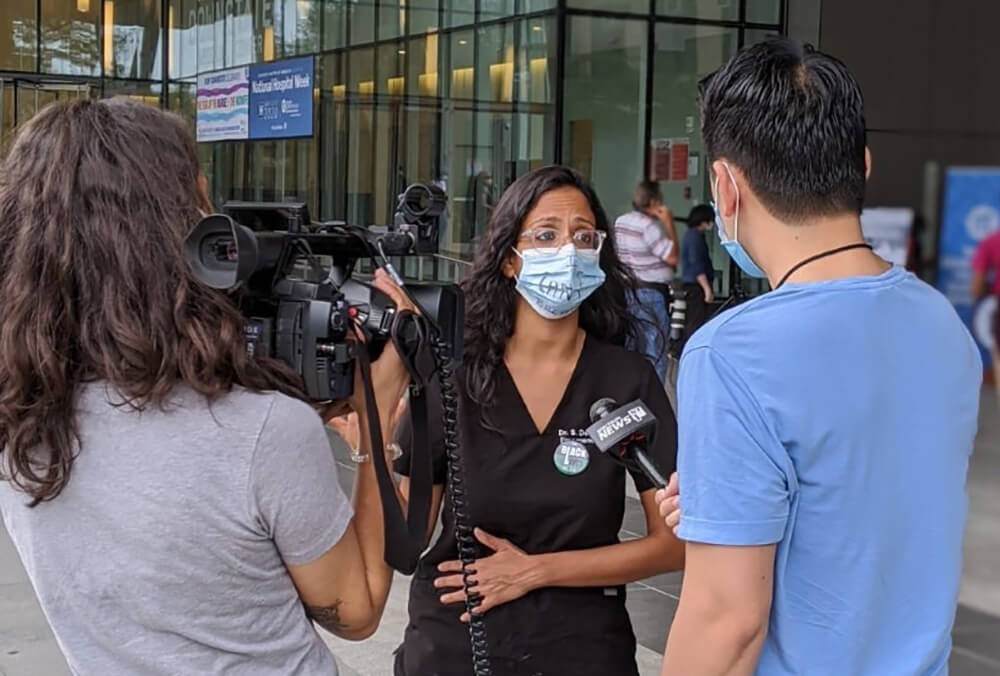 Dr. Desai was interviewed at the demonstration she organized
Dr. Smruti Desai, TouroCOM Harlem '17, has been working nonstop since the pandemic began, helping patients and families of the Central Brooklyn community where she works as a third-year resident in emergency medicine. At both Kings County Hospital Center and SUNY Downstate Medical Center, she has seen how health disparities among the patient population have led the community to suffer some of the highest mortality rates in the country.
As in other parts of the city, COVID-19 admissions and mortality rates have come down for now, but the community remains traumatized from the aftermath of the crisis on its resources, she observes. Shortly before Desai began residency, the state announced a revitalization program for Central Brooklyn, calling it "one of the most disadvantaged" in New York. Cited were higher rates of obesity, diabetes and high blood pressure; limited options for healthy food, quality health care and physical activity; high rates of violence and crime; and wide economic disparities from unemployment to poverty levels.
Patients Remain At-Risk; Fear of a Second Wave
Desai is worried. Her patient population, mostly African American and Caribbean, remains very much at risk. "It was a very, very rough time. I am very glad it has slowed down, but we fear that it's going to come back," she says.
The impact of COVID-19, fear of a second wave, increased unemployment and uncertain economic conditions have all become seemingly overwhelming for both patients and their physicians.
"Our patients dealt with a pandemic that caused disproportionate losses of life and jobs in their community, and while still recovering, they see that people who look like them are still being murdered for no reason," she says. "As providers, we are very close to our patients. This is too much for any single community to deal with on its own."
A Rally at SUNY
Determined to effect change where she can, Desai gathered with like-minded people and started planning to mobilize the hospital community. First, she collaborated with a fellow resident to organize a peaceful lunchtime rally outside the SUNY Downstate School of Public Health. At the June 4 event, she and other residents and faculty spoke to a large crowd of hospital workers about the effects of systemic racism on their patients, and urged them to advocate for them. Following the speeches, the crowd of close to 100 lay down, knelt, or sat down in silence with posters and signs.
Now, with multiple suggestions for next steps and with the approval of the hospitals, Desai is developing a hospital-wide Community Advocacy Program to realize change. Her vision is to establish committees, staffed by hospital residents, to begin to address areas of need like health disparities, community outreach, advocacy training and voter registration.
"The pandemic and structural violence have clearly shed light on the divide," she says. "Physicians feel that addressing systemic racism is our lane, and the very least we can do is advocate for our patients to reduce these barriers that place them at additional risk. I stand in solidarity with my community. If we can fight for them, that's what we'll do."