"I Never Thought I Could Become a Doctor"
TouroCOM Middletown Student DO of the Year Abigail Dominguez-Trujillo Reflects on Her Journey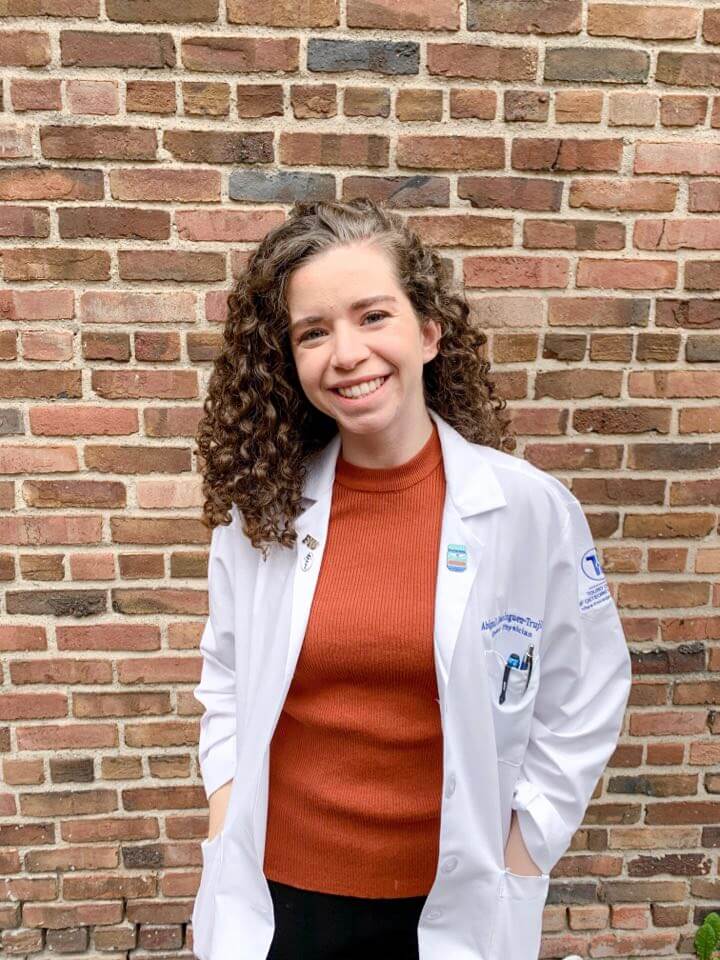 OMS II Abigail Dominguez-Trujillo is TouroCOM Middletown's Student DO of the Year.
Known for her outgoing personality and warm demeanor, Dominguez-Trujillo served as the president of the TouroCOM Middletown's Simulation in Medicine (SIM) Club, the health coordinator for the school's student-led clinic, and the secretary of the American College of Osteopathic Internists Club.
Though born in Florida, Dominguez-Trujillo spent several years of her childhood in Haiti while her parents worked for a shipping company. That experience had a profound effect on her, especially when the family returned to Florida. "Sometimes I think that Hispanics are categorized as one group, but there are so many cultural backgrounds," said Dominguez-Trujillo. "Growing up in Haiti I got to see what it's like over there and I feel that living there and coming back to Miami provided me with a new perspective and different world view."
Dominguez-Trujillo attended Florida International University, initially intent on becoming a veterinarian. She spent some time working at a farm in Wisconsin, but something clicked in her and she realized she wanted to work with people instead of animals. She decided to try to become a PA and one of her first steps was working with a neighborhood health program. While there, a physician urged her to consider becoming a full-fledged doctor.
"Up until the physician told me that, I had never considered becoming a doctor," said Dominguez-Trujillo. "I'm a first-generation college student. I'm the first person in my family to get a bachelor's degree. I never thought I could become a doctor."
Dominguez-Trujillo applied to TouroCOM Middletown's Master of Science in Interdisciplinary Studies in Biological and Physical Sciences. It was a big jump, she admitted.
"It was the first time I was going out on a limb to do something," said Dominguez-Trujillo. "I'm the type of person where I like to know that the step I'm about to take is safe and not wobbly. Coming to Touro—moving to New York—was so out of my personality."
Her faith paid off. She finished the Master's program with a 4.0 GPA and became a part of the class of 2022. (She also served as her class's representative.)
As she settled in as a DO candidate, Dominguez-Trujillo began to feel that she could do more. She applied for an internship at TouroCOM Middletown's state-of-the-art simulation (SIM) lab and began working with the student-led clinic which visits the local homeless shelter every week.
"I wanted to be true to my roots," she explained. "The reason I'm becoming a doctor is because I fell in love with helping the underserved community. The neighborhood health program showed me a part of myself that I was passionate about and wanted to continue. I wanted to make an impact on the community."
In her second year, Dominguez-Trujillo became SIM club president as well as the health clinic coordinator.
"Being SIM club president and being involved in a weekly basis in the lab has helped me become a better physician," said Dominguez-Trujillo. "SIM required me to do research since I had to debrief everyone after the events. More than one person said that they got a question correct on an exam because of what we did in the SIM Lab. Running the SIM club felt like a way I could give back to Touro as a thank-you for accepting me into medical school, while also allowing me to learn the material and help my classmates. The lab is a great aspect of what Touro offers all of its students."
Dominguez-Trujillo credited her success to her adviser Dr. Joyce Brown and TouroCOM Middletown professors Dr. Angela Cavanna and Kelly Kohler.
"All of our professors are wonderful but these three in specific really affected me," said Dominguez-Trujillo. "Dr. Brown has always guided me and been a great resource. Professor Kohler was my advisor for SIM Club and has always pushed and encouraged me. The stories Dr. Cavanna has told us resonated with me; I don't forget certain patient presentations because of how good she is."
Dominguez-Trujillo also thanked her classmates.
"Every day I'm surprised by how amazing my classmates are," concluded Dominguez-Trujillo. "We all have very different stories and past experiences. Some of my classmates have PhD's, some have launched companies and others are social media influencers. It boggles my mind that all of us are so different but so united in what we want to become."