Healthfirst: what to focus on
Students intern at Healthfirst.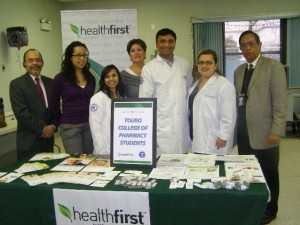 Students intern at Healthfirst.
"Being out in the community with members really showed us how many patients actually knew about their disease state," Dhara Shah, second-year student, said. Often, they didn't know what their goals were, what they were trying to achieve by taking medication. Now we know what to focus on. We can't just give them a prescription; we have to advise them on their disease."
Shah, along with Sanket Parikh, interned at Healthfirst in January as part of their Advanced Pharmacy Practice Elective rotations. The internship at Healthfirst gives students an overview of what a pharmacist does in a managed care organization. The internship is offered four times a year, when rotations (Advanced Practice Experiences) are offered.
Healthfirst offers a variety of government-sponsored health insurance programs, including New York State's Child Health Plus, Family Health Plus, Medicaid, and Medicare. After spending the month of January in Healthfirst offices, out in the field with Healthfirst members, at senior centers and events, the students presented their final project on Medication Therapy Management Programs to Maurice Elbeck, Pharmacy Director, and other Healthfirst staff on January 26. George Hulse, VP, External Affairs, attended the presentation and thanked Shah and Parikh for their work. "This partnership between Healthfirst and Touro has really made a difference in the community," he said. "Healthfirst receives lots of congratulations for bringing on students like you to work with our members."