Healing in the Epicenter
TouroCOM Alum Delivers "Wellness Bags" to Lift Spirits of Fellow NYC Doctors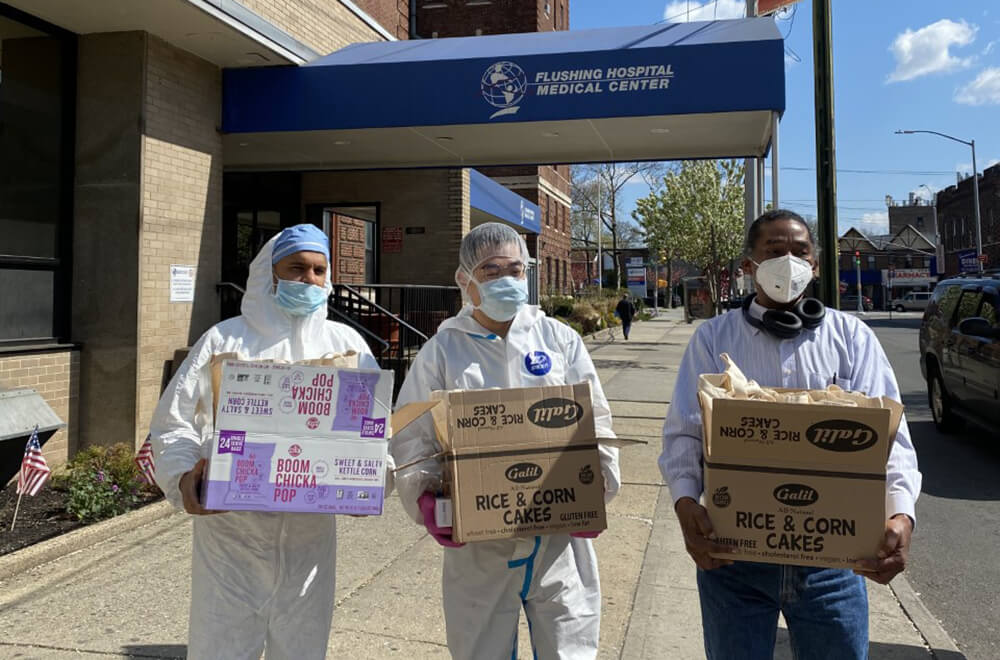 As the coronavirus pandemic continues to upend lives throughout New York City, a TouroCOM alumna steps up to support her fellow healthcare heroes on the front lines.
Dr. Gayatri Malhotra-Gupta, Touro College of Osteopathic Medicine (TouroCOM) Harlem Class of 2017, wanted to do something to help, and she also wanted to lift her own spirits. With her experience and contacts, she launched the wellness project on April 5th with a gofundme page that quickly met and surpassed her $5,000 goal to finance 750 care packages – or "wellness bags" – for NYC's resident doctors fighting the pandemic.
A third-year resident in internal medicine, she was caring for COVID-19 patients in the ICU at NYC Health + Hospitals/Kings County in Brooklyn and saw first-hand how the crisis was affecting healthcare workers, mentally, physically and emotionally.
"The ICU was overwhelmingly busy. All of my colleagues are burned out and morale is very down from watching patients die, one after the other," she recalls. "I needed to do something positive between back-to-back shifts, and this project has been uplifting me. People have also been making donations so I can make this small wellness initiative possible."
Packing the Bags
Community service has always been one of Dr. Malhotra-Gupta's passions. While a first-year student at TouroCOM, she helped create a nonprofit organization, Global Physicians Network Foundation (GPNF). GPNF identifies and addresses community needs, of which mental health and wellness are a big part. A GPNF board member, she tapped a few GPNF volunteers to help assemble and deliver the bags to the physicians.
"Typically we have healthcare workers volunteer for our community initiatives, but this time we decided to do something for them," Dr. Malhotra-Gupta said.
The bags were packed with healthy snacks, water bottles, lip balm, hand lotion, pet toys and free yoga lessons, among other items. She reached out to small businesses and some not-so-small, and found many eager donors. To her surprise, the founder of BKR (pronounced "beaker") offered to donate one of their high-end, signature and stylish reusable water bottles for every water bottle her company sold on April 7, World Health Day.
She also partnered with the Manhattan wellness spa Modrn Sanctuary, temporarily shuttered because of the virus. The spa pledged a $30 gift certificate for every $30 gift card bought on their website during April, for use when they reopen.
"Everything in the bags was designed with a healthcare worker in mind, even the bags themselves – they're cloth, reusable bags that can be taken to work and thrown in the wash afterwards!" Dr. Malhotra-Gupta noted.
"We Will Get Through This Together"
She is grateful for the support and the responses ("super happy") of the resident doctors receiving the bags. Still, the patients are never far from her thoughts. It's challenging to find ways to keep patients and families together when they cannot visit, as well as ways to stay positive during the pandemic, she notes.
"One of the toughest aspects for me, and many of my colleagues, has been watching our sick patients go through this alone, without their family members present to hold their hands or comfort them at bedside. Our patients truly are our everyday heroes. We will get through this tough time together."
What lies ahead? Come July, a fellowship in pulmonary and critical care medicine at Yale New Haven Hospital. Meanwhile, Dr. Malhotra-Gupta says she finds happiness in helping others and hopes to keep making wellness bags for residents at more NYC hospitals.