Annual Brazil Conference Addresses Health Issues for First Time
TouroCOM Professor Co-Moderates Session on Present and Future Health of Brazil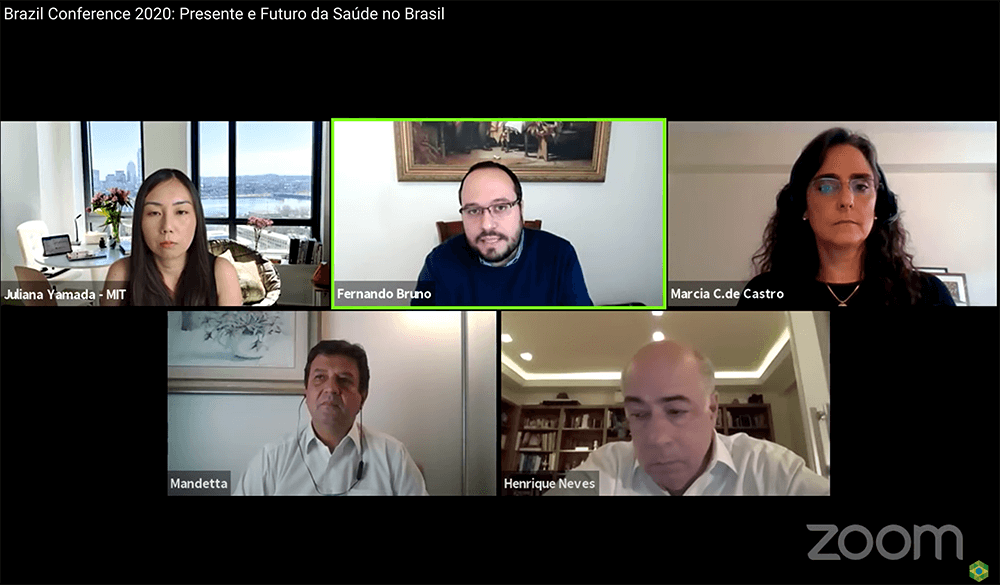 Brazil Conference Health Panel Zoom Screenshot
TouroCOM Middletown Assistant Professor of Anatomy and Pathology Fernando P. Bruno, M.D., MPH recently co-moderated "Present and Future Health of Brazil", a panel discussion with Brazilian academics and health officials about health care in Brazil. The program was part of the 6th annual "Brazil Conference at Harvard & MIT", which convenes to talk about topics related to Brazilian politics, economy, culture and society. The panel marked the first time the conference hosted a discussion focused on health.
The conference went virtual this year due to COVID-19. "We discussed lessons learned from the Brazilian Unified Health System (SUS), its collaborations with private health and its resilience amidst its underfunding and the COVID-19 pandemic," said Dr. Bruno, who co-moderated with engineer and economist Juliana Yamada, an MBA alumn from MIT. Panelists included Marcia Castro, professor and chair of the Department of Global Health and Population at the Harvard T. H. Chan School of Public Health; Henrique Neves, general manager of Sociedade Beneficente Israelita Brasileira Albert Einstein, one of the largest private health groups of Brazil; and Luiz Henrique Mandetta, until recently the Minister of Health of Brazil.
"Brazil has continental proportions and a complex and heterogeneous socio-economic structure. Nevertheless, it is the only country with a population of more than 100 million people to offer a public health system. Despite its challenges, the Brazilian Unified Health System (SUS) has many success stories and plays a central role as the primary means of service to the majority of Brazilians. Brazil's response to the COVID-19 pandemic has been controversial; nevertheless, the free health care system has been fundamental to shield the population amid the chaos. Although deficient, the lack of SUS would have resulted in worst numbers"
The event began in 2014 by the Brazilian student community in Boston, and has been called by the press as "the Brazilian Davos". Last year, the conference welcomed 80 speakers, and 900 participants on site and over 10,000 online. The virtualization of this year's event made the team reduce the number of speakers to 40, but it has already yielded more than 100,000 visualizations online.