A Picture of Health
TouroCOM Alum Thrives in Multiple Roles – Mom, Doctor and TV Medical Contributor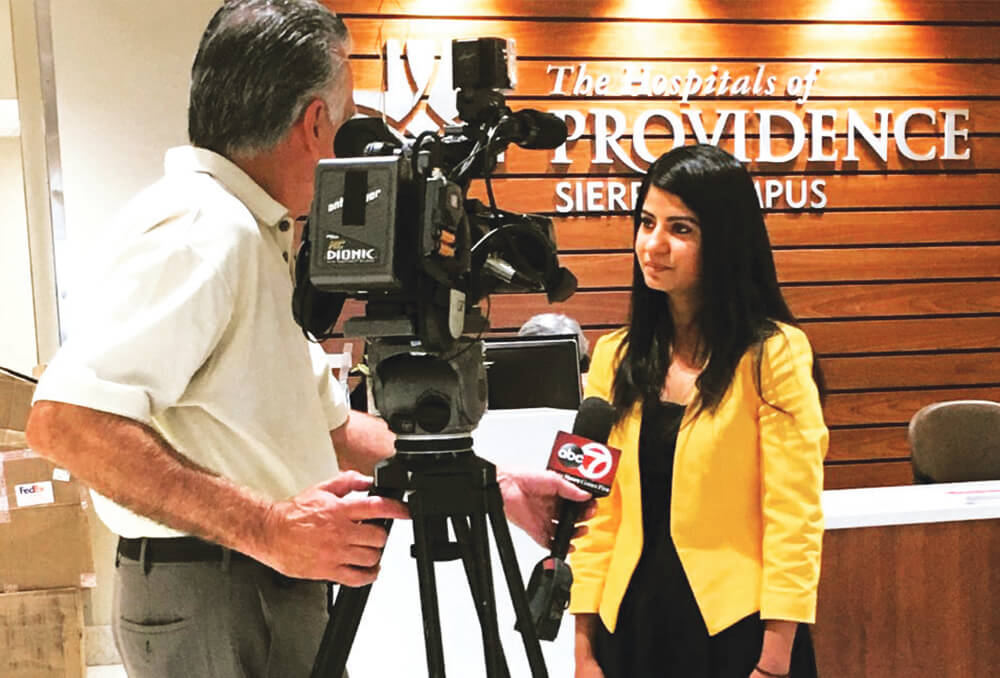 Most doctors have busy lives. Dr. Neha Sharma has more than one. Not only does she serve as chief hospitalist at Ascension Seton Williamson Hospital in Austin, Texas, she is also a medical contributor for local television news, on-air commentator, surgeon's wife and mother of a two-year-old daughter.
To hear Dr. Sharma tell it, her life is simple because none of her jobs are full-time. But then Dr. Sharma is also someone who has always found a way to succeed. When she entered the Touro College of Osteopathic Medicine (TouroCOM) in 2007, most of her classmates arrived worried about completing their work and performing well. During Dr. Sharma's first few weeks at Touro, she underwent treatment for thyroid cancer.
Although she initially had considered postponing school while undergoing treatment, Dr. Martin Diamond, who was serving as interim dean of TouroCOM in Harlem at the time, encouraged Dr. Sharma to matriculate. "He told me, 'If others are giving 100 percent, you'll have to give 150 percent, but you can do it.'" And she did, graduating with her class and going to an internal medicine residency at Southampton Hospital in NY.
During the third year of her residency, Dr. Sharma had a block of elective time which allowed her to a ply for a medical internship at the ABC News headquarters in New York City, with Chief Health and Medical Editor Dr. Richard Besser. Having originally become interested in medicine through the patient stories she heard as a hospital volunteer during college, she saw the internship as a way to meld together her love of patient stories and medicine. She applied for the spot and landed the position. During her two-month internship, Dr. Sharma vetted research, interviewed researchers, wrote articles, and fell in love with medical journalism.
After marrying her other love, a U.S. Army surgeon, the couple relocated to Texas, where Dr. Sharma found a way to continue her work as both a hospitalist and a journalist. At Ascension Hospital, she works 14 shifts a month (nine clinical, where she cares for about 15 to 18 patients a day and five administrative). During her off days, she develops two monthly segments for the local ABC News affiliate in Austin, KVUE, which is a convenient 20-minute drive from her home. Most days Dr. Sharma is up at 5:30 AM, readying herself for a day at the hospital, or to care for her daughter or meet a news story deadline. "I wanted a career with a good work-life balance," says Dr. Sharma. "Being a hospitalist allows me to pursue my passion for medicine and also provides time for journalism and caring for my two-year-old daughter, Anayah, and baby boy due later this year."