"A Bit of Knowledge that No One Else Knows"
Luis Vidal is TouroCOM Harlem's 2020 Frank Gray Teacher of the Year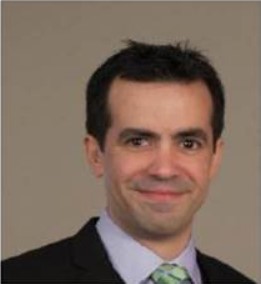 Luis Vidal, PhD, said that the best compliment he ever received from a student initially seemed like an insult. A student in the TouroCOM Master's program wasn't accepted into the DO program, but asked Dr. Vidal to help prepare her for interviews at other schools.
"She said 'I have an interview at this medical school and since you are the teacher that scares me the most, I'd like you to prepare me,'" recalled Dr. Vidal, TouroCOM Harlem's 2020 Teacher of the Year. "I was shocked and completely devastated. But it turned out, she wasn't being mean she was just receptive to the fact that I drive a hard bargain in the class but I'm fair."
The two worked together and the student was accepted into a medical school and just completed her residency. "I couldn't be prouder of her," said Dr. Vidal.
The difficulty of his classes combined with his fairness had been a trademark of Dr. Vidal's teaching style since he joined the TouroCOM Harlem faculty in 2010. Currently, Dr. Vidal is an assistant professor of anatomy, histology course director, and the chair of the curriculum committee of basic biomedical science. Dr. Vidal initially intended to become a doctor, but as a student in the University of Puerto Rico, he began doing research at the Institute of Neurobiology and quickly fell in love with research. He used his undergraduate research as the basis for his eventual PhD in anatomy, studying a neurotransmitter active in the circadian rhythms of a diurnal rodent.
"When you're doing original research, you're the only person on the planet who knows this one bit of knowledge that no one else knows," explained Dr. Vidal. "It's a little rush. There's a "Wow, I'm going to tell the world something that no one has known before." Even if it's a very minute detail, it's still a bit of new knowledge that wasn't there before."
Dr. Vidal was eventually recruited to Stony Brook University and then to City College where he looked at the effects of cocaine on a molecular level as well as conducting behavioral research on the effects of cocaine, including whether an amino acid in popular energy drinks might have an effect on neuroprotective effects. Despite his successful research career, Dr. Vidal always hoped that teaching would also be a significant part of his work.
"I knew teaching would be part of my focus," said Dr. Vidal. "When you do a Ph.D., the expectation is being in the lab and getting funding. Teaching is viewed as this thing that's going to get in your way, but I never felt like that. I had always hoped that teaching would be a large part of my work. I find it incredibly fulfilling."
Over the years, Dr. Vidal said that his teaching style has changed from feedback he's received from students and fellow teachers.
"We've stressed a more clinical approach in our classes," said Dr. Vidal. "Instead of asking a student what the function of a microbials is in the intestine, we make sure the students understand the structure from a clinical perspective. We would ask if a patient is diagnosed with celiac disease, what structure on the intestinal biopsy would be affected. Students are more interested from the get-go once they know that there will be a clinical significance. More engaged students make for a more engaged classroom."
Dr. Vidal's students are typically first-year DO students and members of the master's program. Seeing his students graduate is always a special moment for him.
"When our students arrive in their first semester, they seem a bit overwhelmed by how daunting DO school can be," said Dr. Vidal. "But then they come back from graduation and it's like meeting a totally different person. That fact amazes me."