TouroCOM Students Participate in NJ Health Fair
Students Shadow Specialists and Help Patients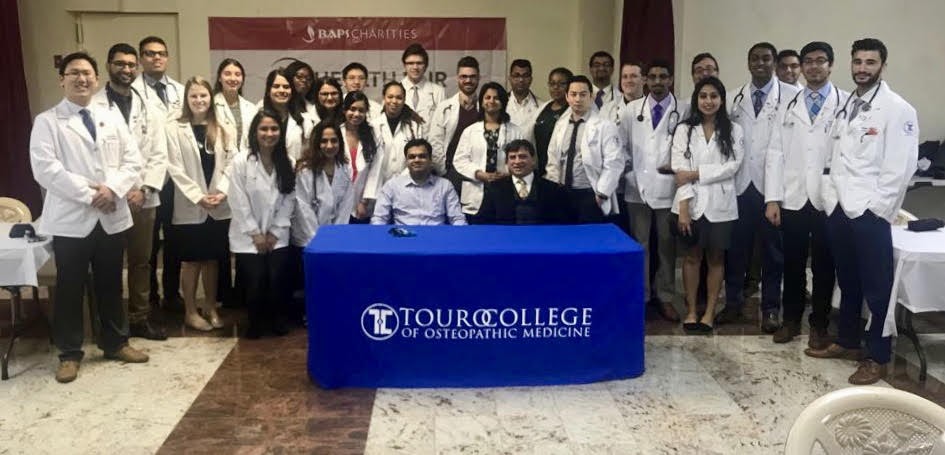 38 Tourocom Middletown students participated in a free health fair for NJ residents.
On November 19, 38 students from TouroCOM Middletown joined a host of doctors for a free health fair in Clifton, NJ. The fair, spearheaded by Dr. Nilank Shah, a professor at TouroCOM Middletown, along with several other doctors from NJ, offered indigent residents the chance to meet with medical specialists in a variety of fields.
"We have a tradition of helping out in this community," explained Dr. Shah who said that this is the 12th year the free health fair has been organized. "Many of these patients lack adequate access to health care; most don't have health insurance and they suffer because of it. Our mission—and the mission of Touro—is to help the underserved."
A week before the health fair, residents were offered the opportunity to have bloodwork and several other tests and screenings done free-of-charge. The day of the health fair, a swarm of doctors from across the specialty spectrum were on-hand to explain the results.
TouroCOM Middletown students directed patients to the correct specialist and helped doctors at various booths.
"Many first-year students don't have any exposure to clinical settings," said Dr. Shah. "They are learning so much, but they don't get to apply it. By attending the health fair, they are able to see what the realities of healthcare are like."
"As first year medical students, much of our time is devoted to studying the foundations of medicine but we rarely get a chance to give back to communities in need," said Harry Qi, OMS I. "Helping patients at the BAPS Health-fair reinvigorates us and motivates us to continue on in our studies to become physicians. Thank you to BAPS and Dr. Shah for giving us this opportunity, and thank you to the patients who allowed us to learn from them."
OMS II Saran Patel, who's native tongue is Gujarati, was also able to translate for many of the patients who didn't speak English.
"It was a great opportunity," said Patel who explained that most of the patients he worked with were in their 40-50s and came from the surrounding areas. "Sometimes our interactions with the community are limited, and this was a great chance to see an underserved community and see what their struggles are."
The health fair also offered students the opportunity to see specialists at work and briefly shadow doctors from different fields. Patel, who plans to go into internal medicine, recalled watching a neurologist test a patient's walking style to gauge possible nerve damage.
"Even though those specialties aren't going to be what I do, it's vital to be familiar with them," Patel explained.
Master's student Alyssa Piscitello spent time with Dr. Dipak Pandya, a neurologist. "Not only did Dr. Pandya offer us different techniques for approaching neurological diagnoses, he also spoke about the importance of being a genuine, caring person," said Piscitello. "He practiced what he preached. Each patient he met with was greeted with genuine concern. I feel very fortunate to have spent the day learning from him."
OMS I and SGA president Johnny Truong said he felt the event showcased TouroCOM's mission.
"It is very rewarding to see students and physicians working and learning together," said Truong. "Strong TouroCOM Middletown student participation demonstrates the commitment we have to community health and wellbeing."
OMS I Swara Shah explained that the students were surprised to learn how many people depended on the free health fairs.
"Many of these people didn't have any health insurance," Shah explained. "This showed us how primary care is really important in the lives of these underserved populations. It reinforced our dreams and goals of helping people in the world lead healthy lives."
OMS II Shubhdeep Ahden said he was grateful for the opportunity and said the fair's example was a powerful one for him.
"By collaborating with his fellow doctors and BAPS organization, Dr. Shah serves as a model of how to provide free healthcare to a community in need," said Ahden. "The event was very beneficial for those that required healthcare and it was an invaluable experience for medical students like us who were able to gain clinical experience while also serving our surrounding communities. I also gained interpersonal skills by engaging with people of various cultures and languages."
Next year, Dr. Shah hopes to bring sixty TouroCOM students to the fair.