TouroCOM Middletown Students Relax During Wellness Week
"Building a Stronger Community Makes This a Safer Environment"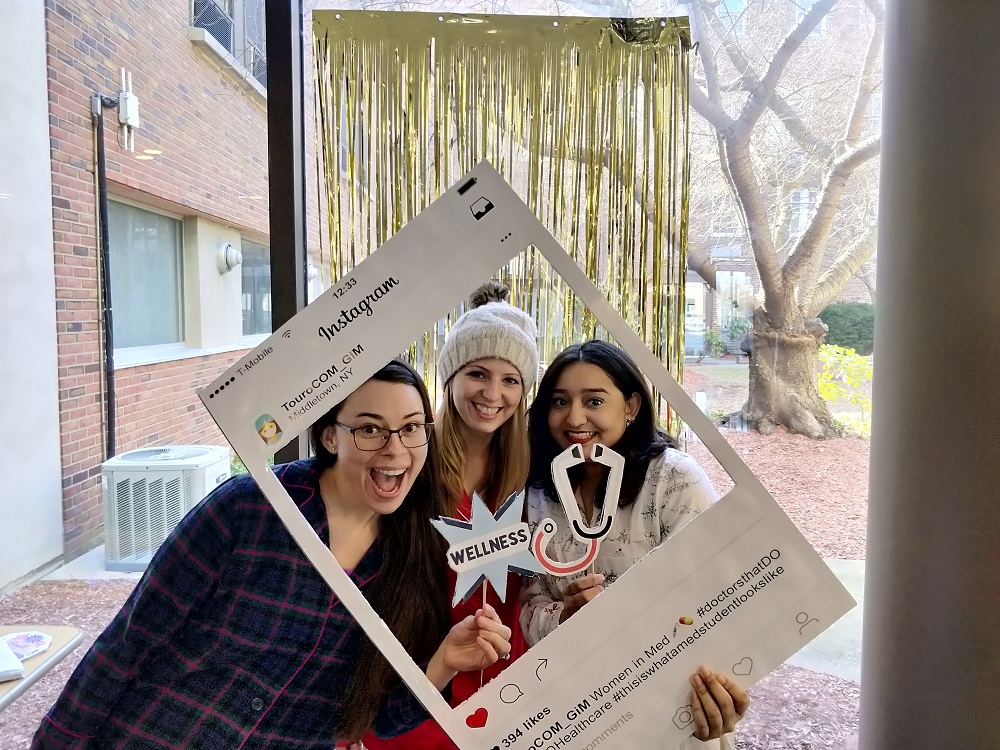 Students enjoyed a week of fun activities during TouroCOM Middletown's Spring Wellness Week.
For a week in February, students at TouroCOM Middletown—who chose a profession where they could help others—took a week to help themselves.
Dubbed Spring Wellness Week, each spring the week-long program offers yoga, meditation, chill-out events, movie screenings and free food to allow the busy medical students a chance to relax during their studies. The week also provides a forum for students to talk about any issues they might be having during their school experiences. This year's wellness week took place the week of February 12.
"We're bad at saying that it's okay to not be okay," explained Wellness committee member and organizer OMS II Farah Aziz. "At some point during medical school, we all crack a bit and it's okay to acknowledge it. We're not good at talking about our own mental health and this is an effort to change it."
Each day featured a theme and dress theme with Tuesday, Feb. 12 dedicated to vulnerability and pajamas; Wednesday to sexual wellness and red/pink clothing; and Thursday to self-care and fun socks.
(Aziz wore pajama pants and this year's D.O. Gender and Medicine Club t-shirt: a picture of Rosie the Riveter with the caption "We Can D.O. It.")
The Spring Wellness Week also builds community, said Aziz, with students mingling over the free food and activities.
"Building a stronger community among students makes this a safer environment," she said.
On Feb. 12, students wearing pajamas stopped to pose for quick pictures by an Instagram booth.
"It's important to enjoy the little things in the middle of the stress of medical school," stated OMS II Suhaira Choudhry, who also doubled as the day's photographer.
"Wearing pajamas symbolizes our vulnerability," explained OMS II Ashley Adamo, who strutted through the dining hall in a pair of purple checkered Ralph Lauren pajamas. ("Did you go to Hogwarts?" one student joked). "Doctors have a high suicide rate. Mental health isn't only a patient issue, it's a doctor problem as well."
"It gives us, not only physical relief, but mental relief as well," said OMS I Chrisian Politi, who sold candygrams during lunch as part of a fundraising drive for Vietnamese children organized by the Sigma Sigma Phi Honors fraternity.
OMS I Ina Hyscko, who is a member of the wellness committee said that mental, physical and spiritual wellness was a principle of osteopathic medicine.
"We are in the process of training to become healers within our communities, but we can't care for others if we don't care for ourselves first," she said. "As medical students, there are many obstacles we face, and it can be really easy to get lost in our hectic schedule and forget about our well-being. Wellness Week is a time to encourage each other to stop for a few minutes and participate in self-care."