TouroCOM-Middletown Celebrates Second White Coat Ceremony
Welcome, Class of 2019!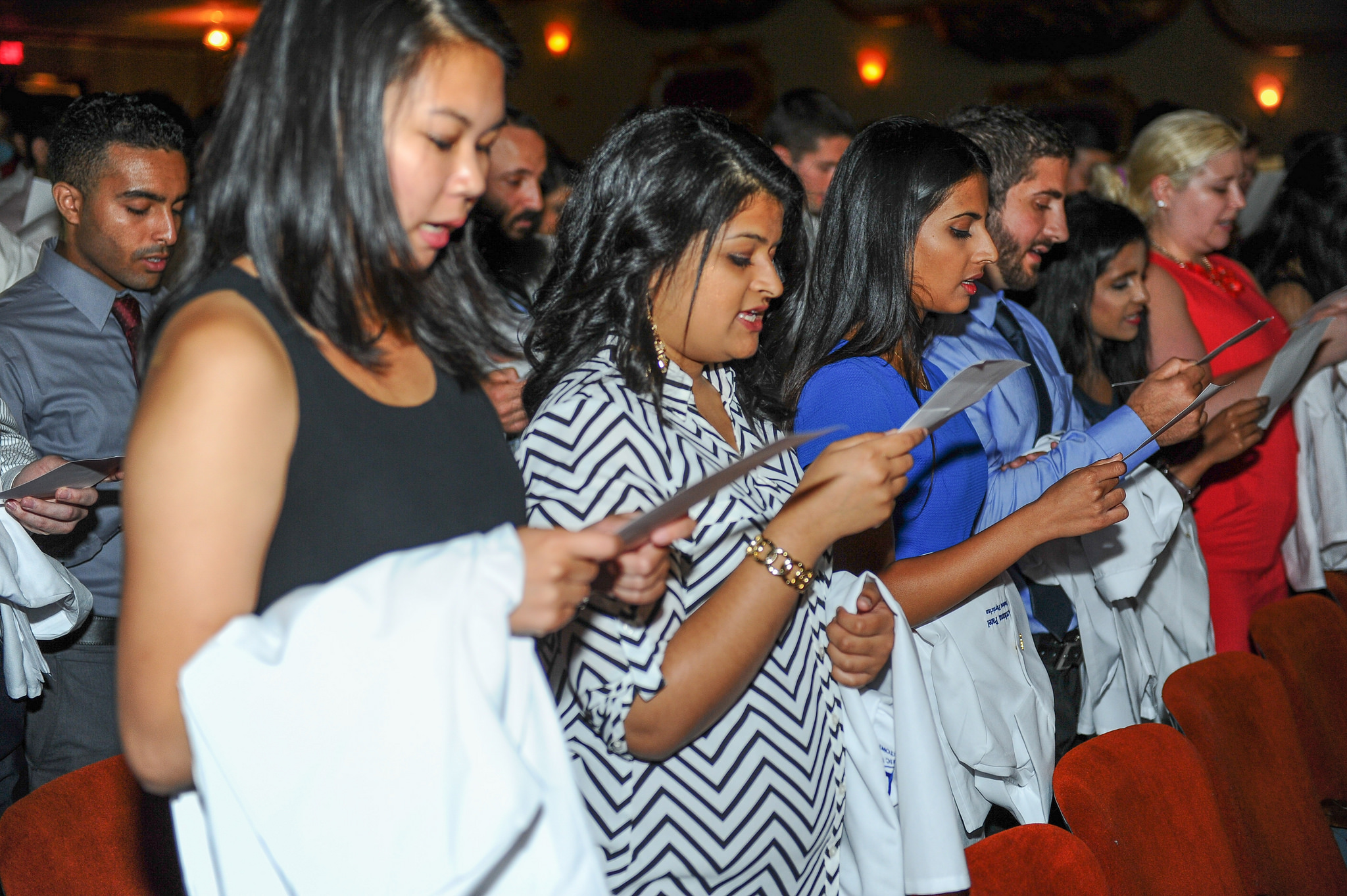 On August 16th, the Touro College of Osteopathic Medicine (TouroCOM)-Middletown Class of 2019 participated in their formal White Coat Ceremony, the second annual ceremony since the opening of the new TouroCOM campus in Middletown, New York.
The ceremonial cloaking event drew parents, Touro faculty and deans, Middletown community members, and dignitary guests—as well as student doctors from the class of 2018 and Masters students from the class of 2016—to the historic Paramount Theatre.
Preceding the processional of students, a brief introductory address was given by Dean of Student Affairs Dr. Jerry Cammarata. The ceremony included the recital of the Pledge of Allegiance by Cadet Jose Ramos and the raising of flags by Middletown High School's color guard; a convocation address and recital of the traditional Jewish blessing for physicians by Executive Vice President of Touro College and University System Rabbi Moshe Krupka; the singing of the National Anthem by tenor Christopher Macchio; and a musical recital by Mr. Daniel Colallilo.
Following the delivery of special greetings by Middletown Mayor Joseph DeStefano, keynote speaker Scott Batulis, President and COO of the Hudson Valley Health System and Orange Regional Medical Center, congratulated the senior administration for a "successful" first year. "We are thrilled with the success of the medical school and the excellent partnership we enjoy with Touro College," he said. Addressing the class of 2019, he continued, "We know you've worked hard to get here, and you have a dream of becoming doctors. We want you to know that we all share your dream: your parents, the faculty of Touro College, the staff at Orange Regional and Catskill Regional, our community physicians, political leaders, local businesspeople, and even our local citizens—all wish you the greatest success in your education and your careers in medicine."
After congratulating each member of the class of 2019, Dr. Kenneth Steier, founding dean and chief academic officer, spoke about the connotation of the white coat in his address. "As you put on your white coat, you begin this transition to becoming a healer, someone who cures disease and saves lives. With this coat comes magical powers—wear it proudly and use your powers wisely."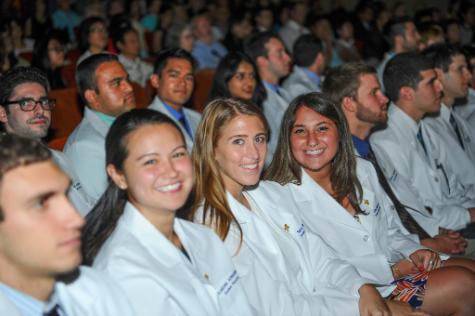 Daniel Lee, OMS-II, class president and president of the Student Government Association (SGA) President, and Bianca Zapanta, OMS-II, SGA Vice President, delivered SGA greetings. "We may no longer be the stars of the show, but trust me, we are so happy to share the spotlight with you," said Zapanta. "On behalf of the second-years, we are excited to welcome you all into our TouroCOM-Middletown family." Daniel Lee concurred, thanking friends and family on behalf of the student body for their "continuous outpour of love and support."
"Our only desire is to celebrate the successful finish of this four-year race with you right next to us," said Lee. "Today is just as much about the first-years as it is about all of you here today."
‌‌During the ceremony, numerous scholarships—given on behalf of Tony Danza of Danza-Leser—were also awarded to outstanding second-year students "who support each other, support the community of Middletown, and work on advancing their own academic and clinical skills." These scholarships included the Danza Dean's Scholarship, presented to Christine Miller; Danza Dean of Students Services Scholarship, awarded to Daniel S. Lee and Tyler Tantillo; Danza Mayor's Community Service Scholarship, presented to Ali Syed; and the Danza County Executive Research Scholarship, given to Ali Syed, Odinachi Moghalu, Brendan Skeehan, Shiv Patel and John Bessada. The 2015 Teacher of the Year Award was presented to Dr. Sankhavaram R. Panini, Professor of Biochemistry.
The recital of the Osteopathic Oath was led by Joyce Brown, D.O, Vice Chair of Primary Care and Director of Stimulation. Following the oath, second-year students Daniel Lee and Christine Miller passed on white coats to incoming students Alexis Taddonio and Devin Howell, who then symbolically presented the coats and model stethoscopes to two elementary-school children from the Middletown School District in a symbolic gesture that signified the start of a new generation of doctors. The 135 student physicians then marched across the stage as Dean Kenneth Steier formally robed each student in his or her own waist-length white coat.
Welcome to the profession of medicine, class of 2019!