TouroCOM Hosts First National Conference
Students Present Research, Learn and Discuss Human Rights with Leaders in the Field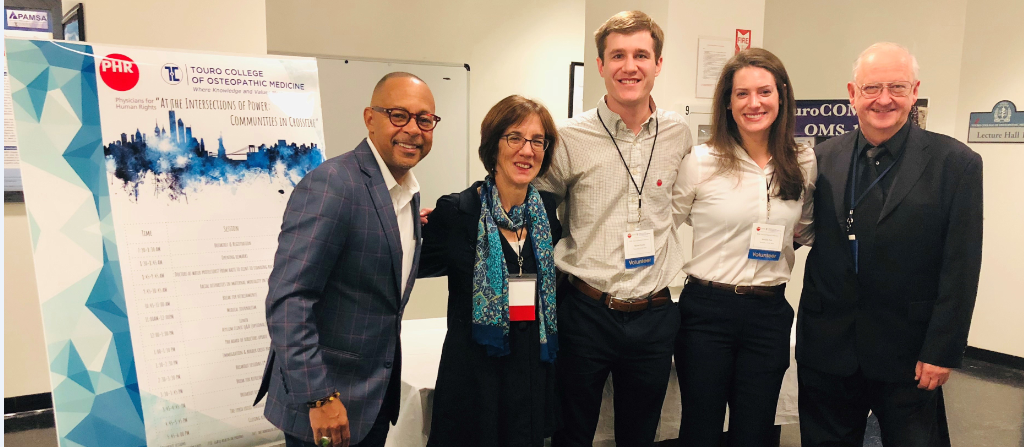 Pictured, L-R: TouroCOM's Dr. Gardere, PHR's Ms. Sirkin, Touro student organizers Mr. Dorritie and Ms. Peck, and TouroCOM Dean of Research Dr. Kozlowski.
The Touro College of Osteopathic Medicine hosted its first national conference this fall at its Harlem campus. The 2018 Physicians for Human Rights (PHR) National Student Conference, "At the Intersection of Power: Communities in Crossfire," drew dozens of socially conscious medical students from around the country and speakers from around the globe to discuss health crises and how physicians advocate for policy change.
"The students learned about vulnerable people around the world and the health crises under which they suffer," said TouroCOM Dean Dr. David Forstein. "They left the conference motivated to help provide better healthcare to people who are incarcerated, living in war zones, refugees, minority pregnant women, and others. Inspiring speakers opened the eyes and minds of medical students, giving them the vocabulary and tools to make a difference."
TouroCOM Leads in Human Rights
Keynote speaker and PHR Director of International Policy Susannah Siskin set the stage by opening with individual students reading aloud each of the 30 articles of the United Nation's Universal Declaration of Human rights. Other speakers included Drs. Sheri Fink and Michelle Morse. Dr. Fink is author of The New York Times bestseller, Five Days at Memorial: Life and Death in a Storm-Ravaged Hospital, a book about choices made in the aftermath of Hurricane Katrina.
Participating Touro faculty included TouroCOM Dean of Research Dr. Piotr B. Kozlowski,who organized a poster session; Assistant Professor of Basic Sciences Dr. Jeffrey Gardere, who spoke on the human rights of senior citizens; Associate Professor of Medicine, Physiology and Pharmacology Dr. Conrad Fischer, who participated on a panel about the medical crisis in Syria; and Clinical Professor of Law and Director of the Immigration Law Clinic at Jacob D. Fuchsberg Law Center William Brooks, who participated on a panel about immigration.
Other panel discussions also took up issues such as "Doctors as Water Protectors" and medical care during emergencies.
"There were really great speakers who were super passionate," said Natalie Walsh, a first-year medical student at Dartmouth College, who said she enjoyed all of the subjects taken up. "I learned a lot."
At the poster session, students presented research on humanitarian work, epidemiological studies, disease prevention, and reproductive health interventions around the world. Second-year TouroCOM student Tiguiran Kane presented on how global injustices led to dumping of toxic waste in her home country of Ivory Coast. The session also drew students from UCLA, Brown University, and the University of Pennsylvania, who presented on their schools' asylum clinics and models for expanding forensic and psychological evaluations for displaced immigrants worldwide.
In addition to being the first TouroCOM conference, it was also the first time a DO school hosted the National Student Conference, noted Michael Dorritie, a second-year TouroCOM student and conference co-chair with third-year student Meredith Peck. The conference was sponsored by the Student Osteopathic Medical Association (SOMA) Foundation.
"We could not have been more excited and honored," to be hosting said Dorritie, adding the organizers worked eight months on developing the program, securing funding and speakers. "We were delighted by the turnout and the power of the ideas shared. We look forward to continuing to make TouroCOM a leader among DO schools as a champion of human rights."